Does Eero support Wi-Fi 6?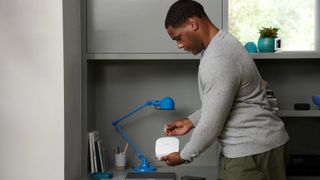 (Image credit: Eero)
Best answer: Yes. Eero now has two mesh routers that support Wi-Fi 6 with one that does not. Eero 6 supports AX1800 Wi-Fi 6 speeds while Eero Pro 6 supports up to AX4200.
Simple Wi-Fi 6 mesh for up to 500Mbps: Eero 6 ($129 at Amazon)
Tri-band Wi-Fi 6 for gigabit connections: Eero Pro 6 ($229 at Amazon)
Not all Eeros are Wi-Fi 6
Eero now has two models that support Wi-Fi 6 with either tri-band or dual-band Wi-Fi. The less expensive option, the Eero 6, has dual-band Wi-Fi 6 producing speeds up to AX1800. That's 1200Mbps at 5GHz and 600Mbps at 2.4GHz. When this router is deployed in a mesh, it will need to use some of those resources to communicate with other Eeros. Eero recommends an Eero 6 mesh for connections up to 500Mbps.
If you need a bit more speed, you can elect the Eero Pro 6. This router adds another 5GHz band taking the full speed up to AX4200. A mesh with Eero Pro 6 routers will have no issue keeping up with a gigabit internet connection.
Eero still offers the Wi-Fi 5-base third-generation Eero for a lower price and for most people, it will be fast enough supporting internet speeds up to 350Mbps. Eero is not alone in this. In our round-up of the best mesh Wi-Fi systems of 2020, many of them still use Wi-Fi 5. Support for Wi-Fi 6 is growing in new devices as well as affordable routers but it's still not that important for many people.
One nice thing about building an Eero mesh is that you can mix and match any Eero router to strengthen the mesh. If you already have an older Eero, you can keep it as an extender in an area that doesn't need as much speed.
What's the big deal about Wi-Fi 6?
Known also as Wi-Fi 802.11ax, Wi-Fi 6 is an evolution of current wireless technology. It's considerably more efficient than its predecessor, providing up to 30% faster data transmission. This extra efficiency also means that a Wi-Fi 6 router can support more simultaneous connections than routers using the previous standard.
In other words, not only is a Wi-Fi 6 router faster, but it's also better at multitasking. CNET's Ry Crist likened it to replacing a human bartender with the four-armed Goro from Mortal Kombat. He can serve bigger drinks to more patrons with greater efficiency.
Wi-Fi 6 has made it to most new flagship phones by now including the Galaxy S20 series, LG V60 ThinQ, and iPhones 11 and newer. Even the Playstation 5 will support Wi-Fi 6 ensuring your new console will be able to keep up with gigabit speed downloads even connected wirelessly.
Does Wi-Fi 6 matter yet?
If you need a mesh network in your home, Wi-Fi 6 probably shouldn't be a critical purchase driver. Many of the best wireless routers are still using Wi-Fi 5. Given the current shortage of devices that can actually connect via the standard, your focus should instead be on factors such as speed, coverage, reliability, and ease of installation. Eero's mesh networking hardware scores high points in all three, so it gets our recommendation.
If Wi-Fi 6 is non-negotiable, for example, if you want to future-proof your mesh network, then Eero has you covered with a couple of solid options depending on how much speed you need. Still, Wi-Fi 6 can help you to create a faster and stronger mesh network than Wi-Fi 5 if you're willing to spend a bit more. Just don't forget that you'll need a Wi-Fi 6 device to get the full benefit of the new network.
A new Eero
Plenty of speed for most people
Eero 6 has enough speed for connections up to 500Mbps and can be set up and expanded in a mesh with the excellent Eero app.
The fastest Eero
Gigabit internet in a mesh
If you want to use your gigabit connection all over your home, look no further than the Eero Pro 6 with its fast AX4200 tri-band speeds.
Get the Android Central Newsletter
Instant access to breaking news, the hottest reviews, great deals and helpful tips.