Did you pre-order the Galaxy S21?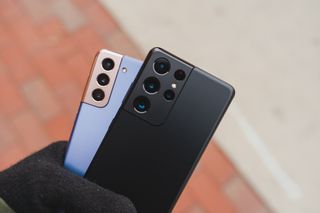 (Image credit: Hayato Huseman / Android Central)
It finally happened. Following months of rumors and leaks, yesterday gave us Samsung's official unveiling of the Galaxy S21 family!
The phones look incredibly promising so far, touting the new Snapdragon 888 processor, 120Hz AMOLED displays, upgraded cameras, and lower prices compared to last year's S20 handsets. Overall, it's a really strong lineup.
Our AC forum members are already discussing their stance on pre-orders, and so far, it looks to be a mixed reaction in regards to who's actually buying and who's not.
What about you? Did you pre-order the Galaxy S21?
Join the conversation in the forums!
New hotness
(opens in new tab)
The latest Galaxy S has landed
Samsung has a really compelling phone on its hands with the Galaxy S21. Top-of-the-line specs are present across the board, including a Snapdragon 888, 120Hz display, three rear cameras, and a large 4000 mAh battery. You're getting all of that for just $800, making this a strong competitor in the flagship and value flagship spaces.
Joe Maring was a Senior Editor for Android Central between 2017 and 2021. You can reach him on Twitter at @JoeMaring1.
Had an S10+ for 2 years and I am grabbing the S21+ in black. The ultra is more than I need. Sammy is giving really good trade-in deals right now making it hard to pass up.

Same here! With all of the extra incentives, I got the case with the pen, the buds pro, 550 for my plus and an extra pad! I excited!

The no SD card is a stupid reason not to upgrade. Maybe you have to pay a little more for more storage but that's literally the only downside to no SD card. Plus obviously the s22 won't have a card so apparently you will never own another Samsung or Apple product?

False. I use the SD card to quickly get footage from my DJI Mini drone and my Sony Alpha camera. I'll be stuck with glacially slow bluetooth for the drone and glitchy direct WiFi for my camera. I also did backups to SD on my 10+ and 20U. I will miss the SD.

Yep. Last night. $250 after trade in - a no brainer! If the wife's happy I'm at peace! 🤣

Yep,ordered a silver Ultra 128 gig on Vodafone UK upgrade,cannot wait to test those cameras especially with that zoom. For me 128 gig is enough I barely even fill up 64 gigs. I mostly take photos and all my music is online

Yup. Got the 256 version of the Ultra. The trade in and ask of the pre-order goodies were too much for me to refuse. I'm also super excited for the improvements to video in the camera. That Director's View feature looks second. The laser focus and 10x optical will be much appreciated, as well. I got the pen, but without the case. I'm hoping some 3rd party cases will come out that I like better. Any suggestions?

Pre-ordered an S21+ In a heartbeat; upgrading from an S20. For the following reasons:
-the insanely good trade in value;
-larger (and new) battery;
-larger screen;
-larger and faster fingerprint scanner (it is not so good on the S10s/S20s);
-was getting the galaxy buds plus anyways so pre-order bonus covers those;
-and being speculative here, having the 888 SoC will offer better 5G network handling - my S20 is a bit wonky sometimes and pretends it can't find the internet;
-finally, was kinda tired of the false touch recognitions with the curved screen So I was mentally ready for something new. Was considering all sorts of devices but it turns out that I am sufficiently a snob that i want a high-end device that will get software updates on a timely basis. Things I do not care about:
-the loss of MST since I moved to Google Pay (works faster) and I only ever used it for the snack machine when I used Samsung Pay (and this was all pre-COVID).
-8GB of RAM (I have not seen my phone go over 6GB used in the last four months that I have been checking it. Perhaps I am not the power user I think myself to be!
-1080pixel wide screen - have been running the S20 in 1080 mode since day 1 as I truly like the 120Hz refresh (and I am old and blind so more pixels don't matter to me)
-lack of headphones in box - I had used the ones from the S20 exactly twice and am not sure why I am keeping them around
-lack of charger in the box - I have more chargers than I can shake a stick at Things I am bummed out about:
-lack of 1/8" jack - still bitter about this
-lack of SD card. Although not sure why because I have not used it in the S20. I upgraded to 256GB on the pre-order to ensure I don't have oh I wish I had done it moment when I am travelling again.
-the lack of colour choices on my carrier with 256GB. In summary, for a lot less money than a Pixel 4a, I get a high-end phone with the latest software and hardware improvements in a form factor that should be more usable (for me) along with free headphones that I was going to get anyway. So count me excited for Jan 29!

You're lucky you live in a country that will give you a trade in. Most countries are "You want it, you buy it" not such thing as a trade in.

Pre-ordered. Happy that I got $350 for my aging S9+, not stoked about losing the SD card or boring color choices. Thoroughly pissed that I wound up losing a $100 discount because Samsung's stupid system took two days to update my shipping address. How can you make the most advanced phone on the planet, but are incapable of calling an API?
Android Central Newsletter
Get the best of Android Central in in your inbox, every day!
Thank you for signing up to Android Central. You will receive a verification email shortly.
There was a problem. Please refresh the page and try again.