The compact Palm Phone is now available unlocked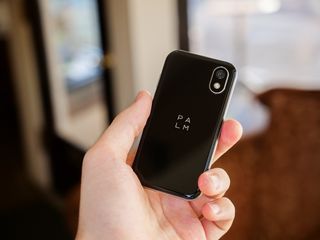 (Image credit: Hayato Huseman / Android Central)
What you need to know
The Palm Phone is now available unlocked.
It can be pre-ordered on Palm's website for $350 and includes a free leather case and lanyard.
Originally, it was only available on Verizon.
The tiny Palm Phone is now available for pre-order unlocked. Previously, if you wanted to get your hands on one you had to be a Verizon customer. Now, Palm has opened it up to users on AT&T, T-Mobile, and other compatible GSM networks.
The Palm Phone is available from the Palm website for the price of $350, and for a limited time, includes a free leather case and lanyard valued at $30.
Originally, the miniature Palm Phone was launched as a phone companion meant to help you detach from your full-featured smartphone. However, Palm soon backtracked on this and transformed the Palm Phone into a standalone device.
Considering the original intention of the Palm Phone, the specs aren't that impressive. The 3.3-inch screen features a 720p resolution and it is powered by the Snapdragon 435, 3GB of RAM, and an 800 mAh battery. Then there is the 12MP camera that we found to be quite unremarkable in our review.
Overall, it didn't wow us, with Hayato saying, "I like the idea of this phone a lot more than the implementation." Regardless, you can now pick one up for yourself if the tiny credit card sized phone has piqued your interest. However, you'd probably be better off spending another $50 and grabbing the Pixel 3a (opens in new tab).
Now available for GSM networks
(opens in new tab)
Palm Phone
Unlocked potential.
Once nothing more than a phone accessory, the mini Palm Phone is a standalone device that is no longer tethered to Verizon. The Palm Phone packs everything you need while on the go into a phone the size of a credit card.
Worth 150 max. If it was I'd pick one up to use when I go running etc for emergencies as it's small and discreet. But nah

Or, just hear me out on this... don't.

No thanks. Can get better for a lot less, unless you want it for its tiny form factor.

When it gets to $140ish I'll probably bite. Mostly though just for all the conversations it'll start when I pull it out and actually use it!!

What's the point in a smartwatch without a band?

See now you've said that I can totally see band cases being sold on ebay and amazon to use these in landscape mode 😂

It has received updates to battery life and camera. But still expensive

They've been out of the industry for like 15 years, and this is what they've come up with? Really? I give it a month before it gets sold off to HP and they bury the product for good.

HTC One Mini, $114 on Amazon. Just sayin'!

I would buy this for my kids as an emergency contact phone. Something they carry around but don't really use.

"you'd probably be better off spending another $50 and grabbing the Pixel 3a." Or spend $50-$150 less and get a full featured Nokia.
Android Central Newsletter
Get the best of Android Central in in your inbox, every day!
Thank you for signing up to Android Central. You will receive a verification email shortly.
There was a problem. Please refresh the page and try again.