The Palm Phone can now be used as a standalone device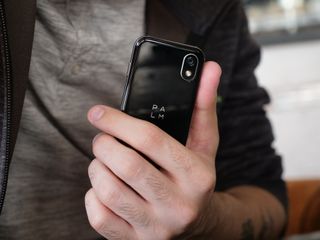 When the Palm Phone was released last year, one of the biggest draws to it was that it was supposed to act as a companion device to your primary smartphone — essentially allowing you to stay connected with fewer distractions. Now, Palm's backtracking on that.
Beginning April 4, 2019, you can now purchase the Palm Phone and use it as a standalone Android device. It's still being sold as an exclusive to Verizon here in the United States, but for the entire month of April, it can be purchased for just $200 instead of the usual $350.
What's interesting here is the that if you previously bought a Palm Phone, it won't be updated for use as its own thing. In order to use it as a standalone phone, you'll need to buy the new one. That said, you can still purchase the companion version of the Palm Phone if you're interested.
While we're talking about Palm, a software update is rolling out which promises to improve both camera quality and battery life — two things we complained about in our full review. The new standalone model will come with this update preinstalled out of the box, whereas the companion models floating around will be updated at some point in April.
Works on its own
(opens in new tab)
Cheaper and more functional than before.
The Palm Phone had a rocky start, but now it's better than ever before. It still has its quirks, but it can be used as a standalone device, features improved cameras and battery, and has a much better price.
Get the Android Central Newsletter
Instant access to breaking news, the hottest reviews, great deals and helpful tips.
Joe Maring was a Senior Editor for Android Central between 2017 and 2021. You can reach him on Twitter at @JoeMaring1.
I think it would be better for TCL to just redesign the model and focus the palm brand on small smartphones as a whole because that's a market they could do very well in. Very few companies do one handed small smartphones , it seems perfect for Palm to enter that market.

I played with the little Palm toy at a Verizon store the other day. While I wouldn't trade my big phone for it, I can see the draw of a cute little phone. I can see why there might be a market for such a thing, but having it a Verizon exclusive will kill it.

Of course, we don't know how much the camera and better life is improved. May not be much different.

This could be a great first phone for 6-8 year old. Not too much and at the same time they won't feel left out.

Well, now we've solved the issue of what phone to buy for a 6 year old, I just need to figure out what kind of bike to buy for my goldfish.

Does it work as a companion to tmobile phones too? I want one.

Ug. $350 real price. $200 only if you sign a 2 year contract or do it on a device payment plan. So sick of these misleading stories.

I don't think it being a companion device was a big draw. If it was they wouldn't be backtracking.

I would buy 1 just for the hell of it if it worked on AT&T. I think it's pretty cool.

I'd grab one if it were unlocked to all carriers and cost the $50 it's worth.

I wish it had webOS on it.