Carphone Warehouse no longer selling Nexus 5 SIM-free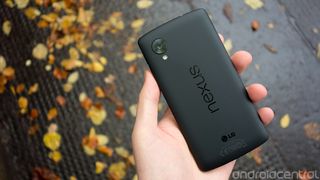 If you wanted to get hold of a Nexus 5 from Carphone Warehouse at the staggeringly good SIM-free price of £295 then hopefully you were quick off the mark last Friday. The UK retailer is no longer offering the device without a contract, and as such its online store no longer lists a SIM-free price. A spokesperson told Android Central that only a "limited number" of SIM-free Nexus 5s were available and that these have now sold out. From this point forward all of Carphone Warehouse's Nexus 5 stock will be contract-only, with prices starting at £21 per month.
While that's bad news for anyone wanting to get hold of a Nexus 5 immediately, some variants of the device are still available from the UK Google Play Store, albeit with a short delay. The white models are marked as ready to leave Google's warehouse by this Friday, Nov. 8. Meanwhile the black 32GB model is sold out, and orders for the the 16GB version in black won't be despatched for another 2-3 weeks.
Android Central Newsletter
Get instant access to breaking news, the hottest reviews, great deals and helpful tips
Alex was with Android Central for over a decade, producing written and video content for the site, and served as global Executive Editor from 2016 to 2022.
That was one of the best deals ever, getting a Nexus 5 for less than the price on the Google Play Store and no postage to pay either. Shame this was a limited deal. This made a mockery of O2 and their £529 off contract price for the 32Gb version Posted via Android Central App

Bigger shame none of Carphone's press releases or promotional materials mentioned this.

Their website would have probably crashed and people would be all pissed off at them like what happened during the Nexus 4 launch with Google.

I tipped this to android centrel yesterday morning as my g/f's sister was on the website monday night, was going to reserve and collect one, but then decided she'd leave it and just try in the store the next morning, to her surprise the price has rocketed up. Would of been nice to know that it was a short term thing, glad i got mine on friday. Though she ordered one from the play store yesterday afternoon, and its on a wagon on route for delivery today which is an amazingly fast turn around to be fair.

thank god, i got my sim-free nexus 5 through carphone warehouse on friday 1st :)

I was glad I managed to snag one before they ran out (I actually got the last one they had in the store I went to) but was disappointed not to see ANY promotional material up on display whatsoever. While this was never going to sell in volume like Samsung devices it would have been nice to see them representing. Posted via Android Central App

Very glad I got mine on the Saturday morning in that case. Posted via Android Central App

Had already ordered from the Play Store but popped into their stores and they weren't selling any sim free at all, were all reserved for contracts. For mine eventually though. Posted via Android Central App

If only I could order it from the Play Store.. :-( Posted via my Motorola Startac

It was on some of the POS in Bristol, but they're now hiking the 16gb price up £30 from the £295. Posted via Android Central App

I wish, we had a Carphone Warehouse, in the US. Checking out their website, they have a lot of sweet deals. Posted via Android Central App

Swings and roundabouts. I wish we didn't have to pay £1.50 for a litre of fuel. ;)

Pounds and litres or is it liters? Ahh, you lost me ;) I think that's like $9 a gallon if my google math was correct. Pretty crazy. You do get the nice high mileage diesel small cars over there though don't you? They are pretty rare here, unfortunately. Other than Volkswagen or maybe the odd Mercedes/Audi... A lot of people commute from suburbs with trips upwards of 45 minutes to an hour each way as well. Do people tend to drive far for work over there? I wouldn't mind that fuel price if I only had to fill up once per month I guess. It wouldn't seem much different.

Most of the price is tax Posted via my Motorola Startac

Mercdroid even if you did have a Carphone Warehouse in the states i would assume that the extange would be as it is now and that wouldnt translate into a then sweet deal, but you really have to shop around here on various 3rd party sites to get a great deal, or one that suites your requirements. The deal however on the Nexus 5 was great. And was to be expected that the offer would be limited. But as one aptly put it we here in the UK pay alot more for other things mainly most things lol and the Big one being fuel at £1.50 a liter which of course then translates into my above statement we pay more for most things, as well as the £160 per year t.v licence and 20%vat ect ect lol Posted via Android Central App

Well if the Store can't meet demand they're hardly going to be filling the shops with them! (unless perhaps you want the Liquorice Allsorts variety which frankly looks vile). As an aside from CPW this is the Nexus 4 debacle all over again: no sour grapes from my part as I was never going to buy it in any case, but just thought I'd make the observation

Wow , that deal didn't last long , all of 5 days !!! Posted via Android Central App

I preordered mine, black version, that they are getting around the 15th of november. just a couple of hours before they stopped it. since i have already paid for it i assume it will arrive as promised???
Android Central Newsletter
Get instant access to breaking news, the hottest reviews, great deals and helpful tips
Thank you for signing up to Android Central. You will receive a verification email shortly.
There was a problem. Please refresh the page and try again.