How to use a Chromebook offline with no internet connection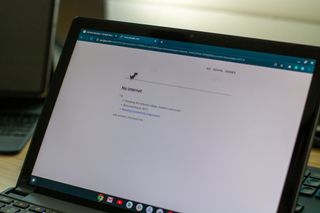 (Image credit: Andrew Myrick / Android Central)
Chromebooks have a reputation of being an online-only machine. While that was true when they first came out, things have changed. There's no doubt that having a connection to the internet is the best way to use a Chromebook — or any laptop for the most part — but Chrome OS has evolved and there are plenty of apps that let you do your thing while you're not online.
How to access Google Docs/Sheets/Slides offline
Download the Google Docs Offline Extension from the Web Store.
Navigate to the Google Drive website.
Click the Gear icon in the top right-hand corner.
Tap on Settings.
Under the Offline section, toggle the box next to Create, open and edit your recent Google Docs, Sheets, and Slides files on this device while offline.
From creating documents to editing spreadsheets, you will be able to use Google Drive offline to get your work done. Then, when your Chromebook connects back to the web, all of your work will be synced and can be accessed on other devices.
How to check Gmail without an internet connection
Open the Chrome app on your Chromebook.
Navigate to mail.google.com.
Click the Gear icon in the top right-hand corner.
Tap on See all settings
Select Offline in the top toolbar.
Toggle the Enable offline mail checkbox.
Click Save Changes.
Once completed, you will be able to access Gmail even if you are without internet. You can compose, read, edit, or manage your Gmail inboxes and everything that you do will be synced when your Chromebook is back online.
How to create a Chrome OS shelf shortcut for offline use
Open the Chrome app on your Chromebook.
Navigate to the site you wish to create a shortcut for.
Click the three-dot overflow menu in Chrome.
Select More Tools.
Select Create Shortcut
This will add a shortcut to the shelf (or dock) in Chrome OS giving you the ability to access those sites even if you are offline. In the event that you forget about the shortcut or try to type in the webpage manually, it will not load in Chrome when you are offline.
How to save web pages for offline reading
Open the web page that you wish to save.
Right-click on the page itself.
From the drop-down menu, select Save As.
From the file manager window, click the drop down next to New Folder.
Select Webpage, HTML Only
Rename the page, if you want.
Change the download location in the Sidebar.
Click Save.
Once saved, you can use the Files app on your Chromebook to navigate to the saved page whenever you're ready to. In order to keep things tidy, you might want to consider creating a new folder for these HTML files and change the name to something shorter.
Some great apps and extensions for use offline
If you visit the Chrome store, you'll find a nice selection of games, text editing and writing tools, entertainment features and utilities that don't need an internet connection to run. You'll even find tools web developers can use to package their own applications to work with Chrome while the user is offline. And here are some of our favorites.
Apps and extensions make offline-life easier
Of course, every Chromebook is better with an internet connection. The web is the platform of the future, and we see Microsoft and Apple making their web services better every year, and making great ways we can use them from our computers. Google has a leg up here because they have been an internet-first company since the beginning.
As they continue to improve Chrome — and get users familiar with the idea of Chromebooks by getting schools and businesses on board — the gap between Chromebooks and "real" laptops, whether genuine or perceived, will continue to close.
Android Central Newsletter
Get instant access to breaking news, the hottest reviews, great deals and helpful tips
Senior Editor - Chromebooks, tablets, and wearables
Andrew Myrick is a Senior Editor at Android Central. He enjoys everything to do with technology, including tablets, smartphones, and everything in between. Perhaps his favorite past-time is collecting different headphones, even if they all end up in the same drawer.
Great writing Jerry... Asking & answering the definitive question about the platform.
Bravo!

It still fails at two basic things for me (where my Surface Pro 3 succeeds); using a pst file with a full blown version of Microsoft Outlook and having full administrator access when needed to implement a system wide blocking hosts file (ex. MVPS) that blocks not only ad networks (such a more pleasant browsing experience) but known malicious Internet stuff (much more valuable than any AV product)!

Well don't use one then. Posted from my Nokia 3310

Someone's hurt. Posted via the Android Central App

Really ticks me off when a $175 product can't match the abilities of one that's over 1k. Plus all that Chromebook malware...

Spin it how you want, but chrome "os" is just a web browser with fancy expansions, and chrome books aren't computers Posted via the Android Central App

No. You've already been schooled on this subject.

So you say Posted via the Android Central App

This is one of the very rare occasions where he is right Posted via the Android Central App

Lol yup Posted from my Nexus 6/Nexus 7 2013/Surface Pro 3

Chromebooks are computers, the same way that phones and tablets are. Posted via the Android Central App

A web browser is not a computer Posted via the Android Central App

RTFA Posted via the Android Central App

Why not? Posted from my Nokia 3310

And a chromebook is more than a Web browser... Posted via the Android Central App

Still better than saying a mobile OS is a desktop one. (psst. Ios)

Thank you Thanks for much explained my question to answer Android Central App

Idiot number one Posted from my Nexus 6/Nexus 7 2013/Surface Pro 3

Whatever promo number don't mate it wish you never did trust me look up **** your nose get it ha Nigeria butymuck Android Central App

Well, gee, thanks for straightening me out. I guess I'll sell mine, my wife's, my son's, and my dad's now that you've enlightened me to their worthlessness. Posted via the Android Central App

Please forgive me! I accidentally hit the "Reported" button when I was actually trying to up vote you in the comment....I'm so sorry please forgive me. They should make a button on here if a person accidentally presses a button they can take it back. I tried to undo the "reporting" but I can't. Again please forgive me and my clumsy fingers.

Too late. His account has been terminated. Posted via the Android Central App

I have just installed Cloudready on an old laptop and I can confirm that it is still a computer. Posted from my Nokia 3310

You're missing the point, though. For many people, their 'computers' are just web browsers (with all the fancy extensions that implies). So, for those people, a Chromebook is as much of a computer as their old laptop Windows machine was. i.e., all the computer they need...

Define "computer" for us. Posted via the Android Central App

It has all the basic hardware components a computer has, a bios, and it runs a program. It's a computer, dude. Posted via the Android Central App

The statement that laptops work best when connected is not true. If you're using applications that are local with local data, having a connection is unnecessary. In fact, I don't think it's a question of the machine working "best." It's a question of the application working, in most cases, or working differently. I'm not aware of an application working better because the machine is connected. You might gain functionality. If that's what you mean, then I understand. I disagree on the usage of the word, best, but that's for English class. Posted via the Android Central App

"I'm not aware of an application working better because the machine is connected." Really? How could you make that statement with a straight face? Have you not heard of desktop applications that rely on data provided from the Internet? Is this a joke?

Hmm. Let me think of an app that works better with a connection. Oh wait, every Web browser ever. Posted via the Android Central App

I specifically said application, not web-based application. Using Quickbooks to enter a transaction, iTunes to watch a movie on local media, or a local copy of Word to create a document, etc. are not acts dependent upon the Internet and work the same either way. So, when the author says without qualification a "computer" works better when connected to the Internet is just not true. What you are doing is the key. If you're using a web-based application that requires an Internet connection, then the application will not work without a connection. If an application working is better than not working at all, then okay. Posted via the Android Central App

.... And idiot number two Posted from my Nexus 6/Nexus 7 2013/Surface Pro 3

Ahahahahahahaha Posted via the Android Central App

Why is it that this site is populated by people who can't recognise that other people have different needs. And having those different needs does not make them wrong. If a chrome book does not work for you then don't use one. Where is the problem? Posted from my Nokia 3310

I agree...when I got my Chromebook, I was hesitant. But, I figured most places have pretty lenient return policies, so why not? After 3 days, I was hooked. A year later, I got a Chromebox. I understand that they aren't for everyone. But that doesn't make them useless. Nexus 5X, Android Central Ambassador Team Leader

Exactly. I have a Chromebook at work and it doesn't a couple of basic things I need when I'm remote (SSH into server, remote desktop, and Citrix for some other apps). That doesn't stop me from using my desktop at home to play games. And my grandpa had his old desktop give up on him. Installed a Chromebit for him and he's quite happy with it and it does all he needs from a computer.

I didn't know they could be used offline. Thanks for enlightening me. Windows is still my desktop OS of choice, even though I'm a hardcore Android fan, but Chromebooks do look interesting. I want to know, though, how do they store offline stuff with the tiny hard drives they usually have? Posted via the Android Central App

Try downloading Cloudready onto a usb memory stick and booting from it. That way you can have a play with chromium. It is quite interesting what it can do. Posted from my Nokia 3310

That's an issue. I get around it by using an external hard drive (this one: http://www.amazon.com/Book-Desktop-External-Drive-WDBFJK0040HBK-NESN/dp/B00E3RH61W?tag=hawk-future-20&ascsubtag=UUacUdUcU1606027) with my Pixel. Most any will work, I just got that one on sale. Some Chromebooks can also have the internal storage upgraded. Several models from Acer and HP make it pretty easy to do. I think we'll have to start seeing chromebooks with more storage in the near future. Carrying around an external drive isn't a pretty or practical solution.

Umm... SD cards, Jerry. Posted via the Android Central App

I think that Jerry ment 512gb storage at least Posted via the Android Central App

And something more permanent. I've burned out several SD cards using them as regular storage on my Pixel and MacBook Air. That's not what they are designed for.

Interesting. I'll keep that in mind. Posted via the Android Central App

SD cards burn out after a while? I'm planning to build a raspberry pi and if SD cards fail, then that's a major issue. Posted from my Nexus 6.

SD cards aren't meant for constant, on the fly reading and writing. They're really good as secondary storage, but when you mount one as a system drive (or incorporate it into the system any other way) and they get indexed they don't like it. Don't let that stop you from setting up a Pi. Just buy a second card and clone it anytime you make any important changes. You'll get random errors well before it goes dead, and you can swap them. An interesting aside — I once used an SD card as a swap file on some crappy netbook I put Gentoo on. It didn't last the day :P

Thanks for the tip, Jerry. Hadn't thought of that, and for the previous comment, I might actually try out that Cloud ready. Cheers. Posted via the Android Central App

Here shortly in going to be completely transitioning to a Chromebook. Windows 10 was the nails in the coffin for me. Be Together Not The Same

Lol I want dx12 sooo Posted from my Nexus 6/Nexus 7 2013/Surface Pro 3

The one and only reason I upgraded from W7. Posted via the Android Central App

Are you on Google+ Be Together Not The Same

That only works if you 100% invested in Google -- gmail, google docs, google drive, google photos, etc. I have been using a Chromebook of late, but I prefer outlook.com and OneDrive so It's not quite as good if one likes to use Microsoft services. I don't Skype much, but Skype is also pretty much useless on a Chromebook. I also miss my Spotify App and some of the Microsoft apps like News, Sports, and Weather. So, I concur that Chromebooks are useful devices -- especially for techno phobic seniors. But I'm about to purchase a new Windows laptop because there are some things I miss.

Yeah windows isn't going anywhere of you need to REALLY do WORK. Posted from my Nexus 6/Nexus 7 2013/Surface Pro 3

After I bought my Hisense Chromebook after a Cheapskate deal for $99.00 in the end of December I've been totally hooked on Chromebooks. I barely use my MacBook Pro anymore except for very important things, but I do still plan on keeping it...I still use my iPad constantly. I definitely use my Chromebook more than my Windows PC's....At the same time I was using my MacBook Pro more than my Windows PC's. I liked my Chromebook so much to the point that I bought another one used on EBay for $84.00 (HP 11) and just bought another an Acer CB5-571-C4G4 with the HD screen 15.6" from Groupon for only $174.00. They boot up so fast and they do what they need to do very well! Watching Netflix on the new Acer is excellent because the HD screen is so beautiful! , I'm not a fan of Google due to privacy concerns, I have owned Androids in the past before switching over to an iPhone, but I sure as heck have grown to love their Chromebooks which I never thought that I would. The good thing about them is that they're very affordable and they can make excellent gifts for someone who maybe in need of a computer to have access to the Internet.

One thing that still bothers me to this day is that I can't use my Micro SD card for storing Google Play Movies for Offline Playback. Hopefully Google will remedy this soon as I'd prefer to use my 64GB card for movies as I already have all my music on my phone.

sounds like a great situation for adoptable storage. or to just merge Chromeos and Android...

BigBrotherOS. Has to be the most awful OS in history. Can you install Linux on a chrome book?

Yes, through Crouton. ChromeOS devs like linux.

A lot of people only need a web browser. Some people need more. I'm studying software engineering, so I need to be able to use Visual Studio and other IDE's. If we had an equally robust system on a Chromebook, sure, I'd get one. Some of my non-engineering friends work just fine with a Chromebook. They work fine for watching Netflix, writing (and printing) essays, chatting with friends, checking email, etc.

as a developer I use both. i have a chromebook for convienent mobile "full size browsing" (as opposed to chrome on my "big" phone). i have full desktop/laptop systems with "full" OSs for developer and family use. although speaking of family use, many of them have really enjoyed using chromebooks.

I can't see myself buying into Chrome OS when I can go on to the Microsoft store and buy a nice little laptop that runs Windows like a dream for under $300, which I did and it does. I also can install Chrome on it or just use Edge or Firefox browsers all on a laptop that has excellent battery life, touch screen, and a mature OS for about $100 more than a Chromebook. Besides that, I still can't figure out how Chrome has anything more to do with Android than Windows or Linux. Posted via the Android Central App

Report back in two or three years. My chromebook from NOV '13 still runs like it did out of the box. That's the appeal.

What Windows laptop "runs like a dream, has excellent battery life and a touch screen for under $300"? I'd buy two.

C'mon Jerry... Are you implying that unless you need to do "professional level" video editing (e.g.: for prime time television shows, movies etc...), then a chrome book would be fine for video editing?? I highly highly doubt that. Even amateur level video editing takes a lot of processing power, and tons of disk space -- two things that most Chrome books aren't likely to have. Sure it could do tiny edits on small clips, but there is a huge range of functionality between that and "professional level". Posted via the Android Central App

I dunno. A core i7/16GB/64GB M.2 solid state drive and 4TB over USB 3 sure seems better than my MacBook Air. Maybe your definition of processing power and storage is kind of like your definition of professional, and is tailored for your specific argument :) All I know is my Pixel can easily run Pitivi when booted to Debian, and could edit any video I'd ever be able to shoot. Seems to me that software is the limiting factor.

I've been using Chromebooks exclusively for the past three or four years and have never looked back...absolutely love them. The notions that they're not "real" computers or can only be used online just isn't true anymore. The whole Web app approach is brilliant, as is the ability to be working fully within 5-10 seconds from a cold boot. Every once in awhile I come across some feature that seems limited, but that's a rare exception.

I have a surface 3, and I am going to buy a new chromebook as well. Both have strong points, both have weaknesses. Neither are crap! simple. I you don't like the chromebook, Don't buy one. SIMPLE. I however am going for an imported pixel 2. quality.

What is a chrome book bio by the way any way please might you add and tell my branch of officer's. Thanks me Android Central App

Well it please it doesn't run on it's rained on water gotta be computerze Android Central App
Android Central Newsletter
Get instant access to breaking news, the hottest reviews, great deals and helpful tips
Thank you for signing up to Android Central. You will receive a verification email shortly.
There was a problem. Please refresh the page and try again.