Can we all just agree that smart watches are pretty dumb?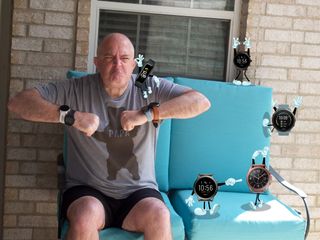 (Image credit: Android Central / Jeramy Johnson / Nick Sutrich / pch.vector)
I hope this article finds you enjoying a relaxing mid-May Sunday, but I'm going to diverge a bit from my typical sunny disposition. You see, I tend to be a pretty positive person, both in life and in the articles I write here at Android Central. I always try to focus on the positives as much as possible when writing a review or opinion piece, and I like to give companies the benefit of the doubt (Benefit of the Doud?) whenever I can. However, I've had this persistent, nagging itch building for a while that I feel I must scratch, and now's the time to let loose.
Now don't get me wrong, I still love to try out and experiment with smartwatches. I'm very eager to have a device manufacturer change my mind — which actually almost happened recently when I reviewed the Garmin Venu 2. That fitness-focused smartwatch has a lot going for it — it's easy to use, it looks and feels nice, and it has a long-lasting battery. And yet, it still costs $400 and is packed with more features than I suspect most people will use or need.
I don't deny that many millions of people derive tons of value from the best smartwatches, and the benefits of a good fitness watch are well-established. Yet as much as I try, I just haven't been able to see the appeal of continuously wearing one. In my view, smartwatches generally cost too much, have short lifespans for what they are, have underwhelming battery life, and just try to do too much.
Sure, you can find traditional wristwatches that cost much more than the latest Galaxy Watch, Apple Watch, or high-end Garmin, but those timepieces can last decades, have replaceable batteries, and often emotional attachments beyond their functional purpose. And I don't know about you, but I have enough devices that have built-in planned obsolescence. I don't need to feel like I need to replace a smartwatch after a few short years because the chipset is underpowered to run the OS and apps are no longer supported. Those expensive Mont Blanc and Tag Heuer Wear OS devices — who's actually buying those? They'll be bricks in two years or less.
Beyond the device's lifespan, I absolutely hate that many smartwatches have to be charged every night or every few days. At least the Venu 2 that I mentioned is capable of lasting a week and a half. I love that some devices from the likes of Garmin and Casio support solar power — let's have more like this?
I'd also be curious to know how many people who use an Apple Watch or Galaxy Watch take advantage of the entire feature set or app ecosystem beyond basic fitness and sleep tracking and replying to messages. I know I'm an "old," but what else do you really need to do on your wrist. I've found the experience of typing on those little screens and interacting with voice assistants to be frustrating at best, and it's almost never better than just pulling out my phone or laptop to accomplish the same thing. I realize there are people in certain professions (teachers, doctors, police, etc.) who benefit from this flexibility, but it seems superfluous.
With rumors of an upcoming Google Pixel Watch and deeper Fitbit integration, I've had some mixed emotions ahead of Google I/O 2021. I've always preferred basic fitness trackers due to their simplicity, slim profile, and long battery life, and I remain nervous about what might come of non-smartwatch Fitbits in the coming years.
I can feel my own hypocrisy while writing this piece because I happen to be currently wearing a Fitbit Sense, but I have a good reason. As much as I love my basic Inspire 2, I simply can't read it outside in the bright sunlight when I'm on a walk or a run (and truth be told, my eyesight is slipping indoors too). I'm finding that I need the larger, brighter screen to see the time and my workout stats. Hopefully, the newly-announced Luxe will be a good compromise for me. I'll report back on that when I can.
I long for the days when my beloved Pebble Time was still alive and kicking and have been giving some serious side-eye to pseudo-smart watches like the Casio GSHOCK series (though even those are starting to get too smart for my liking). Hybrid smartwatches are an option, I suppose, but I'm not 100% sold on those either. Maybe I'll just go back to that cute little Amazfit Neo I reviewed last fall!
Simple notifications, large bright and readable displays, solid fitness tracking, no unnecessary apps, extra-long battery life, alternative charging options (replaceable batteries, wireless charging, solar charging)... those are all the smarts that I need or want in a wearable. In fact, I'd actually pay more for that stuff than a fancy case, AMOLED screen, or futuristic features.
Ok, thank you for putting up with my grump old man rant. Now, here is a short list of things I've come across recently that I think are pretty smart:
Amazon is finally bringing modern charging tech to its popular lineup of devices, including the new Echo Buds (2nd Gen) and upcoming Fire tablets. Both will now have USB-C charging, and both have options for wireless charging. Better late than never!
Facing increasing competition and pressure from Apple's AirTags and Find My and Samsung Galaxy Smart Tags, Tile is doing everything it can to stay alive and relevant. From partnering with more third-party devices and companies like Fitbit to integrating with Amazon's Sidewalk initiative, the O.G. device tracker seems to be making some smart moves right now. I'm pulling for them.
This past week, some device renders leaked purporting to show what the new Google Pixel 6 might look like. The design has been a bit polarizing, but I'm a big fan. The Pixel shine had worn off with the 4 and 5 series, and if these are accurate, it looks like Google is ready to make a statement with the Pixel 6.
I also wanted to highlight some of my talented colleagues' brilliant work this week. If you haven't read them yet, you should tuck in:
Okay, now that I've got all that off my chest, I can get back to enjoying my weekend. I hope you're doing the same because we've got a busy one coming up this week!
— Jeramy
Jeramy is proud to help *Keep Austin Weird* and loves hiking in the hill country of central Texas with a breakfast taco in each hand. When he's not writing about smart home gadgets and wearables, he's defending his relationship with his smart voice assistants to his family. You can follow him on Twitter at @jeramyutgw.
I really dont like wearing anything on my wrist, but i keep my phone on silent since sound notification annoy me. I rarely feel vibate notification with phone in my pocket. At work, my phone is on a stand next to my monitor, so no problem with notification. So anywhere else, i wear a Mi Band whose only function is vibrate notification, other functions are turned off. I tend to filter my communication so i only get important notifications, so its been working out great. Mi Band vibarates, I get my phone to see whats up. That the band is $20 with month long battery is also great. If i really need heart beat monitor while working out, i have a Wahoo Tickr chest strap.

I love my Galaxy 3 and use it everyday. That is all... Sometimes, we really do overthink this stuff.

Nope. We don't agree on this one. 😁

I use a smart watch every day and I find it essential, but I more or less agree with you. I use it to 1) tell the time 2) see but not respond to notifications 3) use it for fitness, especially running 4) listen to podcasts/music without my phone while running. 5) timers. The RTOS watches can basically all do that, but they are all kinda terrible at the podcasts offline thing. Garmin tends to fit my needs the best.

Deliberately antagonistic title ? You surprisingly raised some good points. I presently have an Apple Watch 6 and Galaxy Watch Active 2. The former is my daily favourite. It's great for my professional life. I don't do anything elaborate with it:
1. Make and receive calls.
2. Monitor and send email and SMS.
3. Schedule my life via voice memos, reminders and calendar.
4. Monitor my workouts.
I never get emotionally attached to devices or objects so buying a new one every 2 years isn't a problem. The watches, it must be said, are still having equivalent and often better battery life than our phones.

I loved the idea of smartwatches when they first appeared. But having owned 2 I've ditched them. I found the constant notifications irritating (damn WhatsApp family groups!!!) and charging every night a pain. I'm currently wearing an honor band 5 for fitness tracking with all notifications turned off. I'm actually looking for a fitness tracker without a screen that looks good. I tried the misfit ray but never managed to get it connected to my phone!

Smartwatches are a waste of money. I tried a few times to adapt to using a smartwatch, and always went back to a traditional watch. I found a smarwatch redundant. It basically did nothing more than my smartphone, which of course was always on my person. The smartwatch was nothing more than a redundant notification device in addition to my smartphone. The only additional use for a smart device on the wrist, is a health/fitness device. You'd be better served with a dedicated fitness device like fitbit, than a full blown smartwatch. And fitness devices are much cheaper.

No I don't agree with the general statement. I like my Samsung Galaxy watch and use it everyday.

Yup, they pretty much are. I've switched from Galaxy to Fenix lately, and the Fenix does what I need, with stellar battery life. But still, I've come to the realization that these things are pretty superfluous and haven't lived up to their promise.

If you have a proper smart watch like Apple Watch then it's not dumb. Use and enjoy my Apple Watch for many years. I do agree I hated using the Galaxy Watch with tizen and also Wear OS watches. They are dumb and suck compared to Apple Watch. Let's see if Google can step up this fall and get wear Wear OS to a better state

I've had a Pebble, Galaxy Gear, Moto360, Gear S2, and Fossil gen 3. I really liked having the cellular connectivity on the Gear S2 and that really made it worth it. However, after what.....a decade now? I'm sort of bored with them. Maybe it's turning 39 this year but I don't really care about my notifications anymore. If I'm expecting something I'll leave my phone out... otherwise nothing is that important. I'm thinking about a hybrid next. Would like to have ideally 3 or 4 day battery life at minimum and cell connectivity. Pair it up with some decent buds and there might be a winner.

I half agree and half disagree. I agree that smart watches are overpriced and underpowered (so battery life sucks), but I also find mine valuable on a daily basis. What's most important to me is the notifications. Often, when I get a notification, my hands are busy. I can't take my phone out right away, but I can turn my wrist so I can see what's up. I also use the alarm feature and very much like that I can cancel or snooze an alarm without having to pull out my phone.
On a similar note, I don't always hear or feel my phone notifying me, but I always feel the buzz on my wrist. Of course, you could accomplish all of this at a fraction of the cost and battery draw.
I do also make use of the fitness aspects of my watch and have also answered calls on the go using the watch interface. I appreciate those as well.
I agree that input is not the strong suit of a watch. I don't even try. I'll pull out my phone for that.

The ones you have to charge every 2-3 days are horrible. I have had various Fitbit's (Charge 2, Versa, 3) and a Samsung Galaxy Active. The Active does marginally more and has "apps" but I find absolutely the worst in regards to battery life and what I use one for. The Charge 3 was good but the FitBit app is horrible on any device. I did just purchase the Amazfit T-Rex Pro and it is by FAR the best smartwatch I have ever owned and it gets 18 day battery life with it connected to Bluetooth on my phone daily. It has everything I need and more. I greatly prefer that I get notifications (if I want) but cannot reply via the watch. I wouldn't think of it anyway on such a small screen. I get to choose if I want to get my phone from my pocket or not. Did I mention 18 day battery life? Also has 15 military grade certifications for ruggedness.

I live my Garmin Vivoactive and only need to charge it once a week. I keep GPS off.

As a pseudo phone replacement, yes very dumb I'll stick to my old traditional Timex Weekender for daily use, but for exercise smart watches are pretty fantastic.

I've had so many Smartwatches over the years from Apple Watch, to Samsungs and various WearOS ones and usually get bored with them pretty quick once the novelty wears off and you stop using many of the pointless features and you get sick of charging them every day or every other day. Currently using the Samsung Watch 3 and Watch Active 2 but feel myself going the same way with them now too. The watches I always go back to are my Garmin's and especially the Fenix. My Fenix 5 Plus has all the smart features I need - contactless payments, onboard music, notifications that you can reply to with canned replies, every health and fitness metric you could ever imagine and the battery lasts 1 week to 2 weeks depending on GPS tracking. It's a fitness tracker that also does well as a smart watch whereas even the best of Apple and Samsungs best offerings are good Smartwatches with pretty poor to average health/sports tracking
Android Central Newsletter
Thank you for signing up to Android Central. You will receive a verification email shortly.
There was a problem. Please refresh the page and try again.