What do you think about the Pixel 6 design leaks?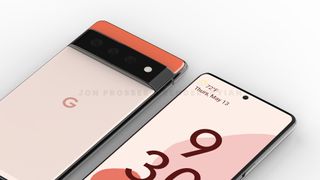 (Image credit: Jon Prosser)
Yesterday the internet was abuzz with leaked renders of what is allegedly a radical new design direction from Google for its forthcoming Pixel 6 smartphones.
According to the images shared by Jon Prosser, it appears that we're getting somewhat of a return to the two-toned rear panels that we had with the first three generations of Pixel phones, along with a fairly prominent and redesigned camera bump on the back.
Not only that but there are also indications that we will see two Pixel 6 models, including a regular and a "Pro" model, which will supposedly bring back the larger sized phones we used to see in the Pixel XL variants.
New designs in what has been one the most popular and best Android phones are sure to be polarizing, but I happen to really like what I see in these leaked renders. What about you?
Get the Android Central Newsletter
Instant access to breaking news, the hottest reviews, great deals and helpful tips.
Jeramy is the Editor-in-Chief of Android Central. He is proud to help *Keep Austin Weird* and loves hiking in the hill country of central Texas with a breakfast taco in each hand. You can follow him on Twitter at @jeramyutgw.
I think people are just really fascinated by the splash of color on the back. Otherwise, it's any number of Galaxy phones, with a large bump on the back.

The camera bump looks like a bridge. Looks like older galaxy phones back when they were doing horizontal camera placements.

That camera bump looks nasty

If the bump is flat left-to-right (or at least across most of it), it won't suffer the table wobble that plagues virtually every other camera bump - gets a thumbs up from me. If it's not and they opted to give it a light curve, then it would actually be worse, laying on a table like a Weeble. Love the look overall. Camera bump squares are like a bald patch of hair - not particularly attractive (to most) but just the way things are. The approach suggested for the Pixel 6 is owning it by shaving the rest and saying 'hey, if I'm going to have to have this, might as well commit and make it look sexy"

Lol, I love your description of camera bump squares (and your name)!

"New designs in what has been one the most popular and best Android phones"
This statement alone made me laugh out loud! What a crock of bull! Popular...best...in what world do you live?
I have yet to even see any Pixel phone being used by anyone...and I live in a rather large metropolis!

Fair point -- I was meaning in terms of mindshare with techies, but you're right!

I've seen more Flagship LG phones than I have Pixels out in the wild. I think I have saw 1 person with a pixel. They are only "popular" to the tech reviewer crowd.

Amazingly bad. Hideous? This can't be real.

I guess i will give thumbs up to Google hardware team
To try something new with upcoming inhouse CHIP !!!

I hate the centered hole punch camera, going to be a huge distraction when playing games or watching videos. I'd rather they put the camera in the left or right corner of the screen or just use a notch like Apple does on the iPhone (looks much better than a dark circle just hanging around the middle of the screen).

On that note, I'm still so disappointed they are still going away from the face unlock feature. I really like it on my 4. Now that mask mandates are starting to go away. But I guess I'm the minority here.

Pixel's past? LOL bare in mind, these are "renders" It'll be whatever it is when it comes out. Thin phones with big humps? I like big humps....

I despise the center hole punch

It's not the best design but I think I can deal with it. The two tone design has been with Google for a minute, so it's cool to see them bringing that back. Hopefully Google sticks to the two tone design going forward because the Pixel line really needs an identity. I can't wait to see what they release next year. I believe that's when my Pixel 4XL would have stopped receiving security updates, making it time for an upgrade.

I guess I may be in the minus group, but I actually really like the refresh look. It actually makes me want to consider it but just always concerned about Google's QC.

Looks like a refresh on the Huawei pixel with the large bump at the top. Not sure why they didn't just move the camera bump up so it was at the top. Not really digging the little bit of orange they put in it.

Not impressed, the most impressive Pixel was the Pixel 2 XL, bad Poled display an all but generally Pixel phones have never really impressed on a hardware front like Samsung phones.

I think I looked it better when you was drinking Apple's Kol-Aid instead of Samsung's.

Samsung innovate and I want more from my phone and Samsung offers that. Why do you say it was better when I was drinking the Apple Kool aid?

If this design is real, then I am glad I didn't wait for it and got pixel 5.

The TCL 10 Pro design team is flattered although the potential protrusion or hump is hideous.

I do hope that it's flattened like the 10 Pro, that device looks sharp.

Hunchback. I think it will get stuck going into a pocket. Awful. It's a hard pass.