Can I use a Galaxy Watch or Watch Active even if I don't have a Galaxy phone?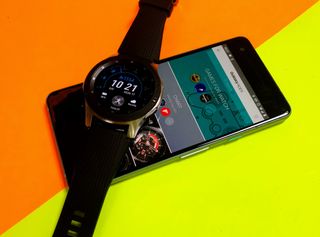 (Image credit: Android Central)
Best answer: If you have an Android phone, even one not made by Samsung, your Galaxy Watch will work great with it.
If you have a modern Android phone, you can use the Galaxy Watch or Watch Active
In the past, Samsung locked its wearables to the Samsung experience. You needed to have a fairly new Samsung phone to use its watches and fitness bands. The biggest reason for this was integration. Samsung had special software on its phones that only works when you have a Samsung account. It's a lot of work to guarantee every phone would have the ability to run the additional Samsung apps without running into other problems. Instead of supporting the entire Android ecosystem, it was easier for Samsung to support only its own products. Since Samsung is the top Android manufacturer in the world, there was a good chance most of the people buying these wearables already had a Samsung phone.
The Galaxy Watch, however, is a continuation of some forward progress in Samsung's support of more than just itself. During the watch's announcement, Samsung made it clear there was support for more than just Samsung phones. On its website, a terribly incomplete list of supported devices exists to show you it works with more than just Samsung phones but it's definitely lacking. For example, Samsung lists the Moto G4 Play and Moto G5 Plus, but none of the more capable Moto Z phones, which all work just fine with the Watch in our testing. The devices on this list are also compatible with the Galaxy Watch Active.
How can you be totally sure your phone works with the Galaxy Watch or Watch Active if it's not on this list? As a general rule, if your phone was released within the last two years you have nothing to worry about. If your phone is a little bit older, it may be worth checking our Forums to see if someone else has tried using that combination before making a purchase.
How do the Galaxy Watch and Watch Active pair with non-Samsung phones?
As mentioned earlier, Samsung uses special custom software to make some of its features work particularly well with Samsung phones. For the same experience on a non-Samsung phone, there needs to be a little bit of extra work done. On a Samsung phone, all you need to do is install the Samsung Galaxy Wearable app from the Google Play Store. This app gives you all of the basic connection assistance for pairing to the watch, as a well as a manager tool for doing things like choosing your preferred watch face and shopping for new apps to install.
On a non-Samsung phone, after you install the Galaxy Wearable app you'll be prompted to install something else. This app is called the Galaxy Watch Plugin and its job is to handle all of the data syncing from non-Samsung experiences. Things like Google Hangouts, Calendar, Location Services, and anything else your Watch may need would be accessed through this other app. This allows the Watch to behave the same way it would on a Samsung phone. The plugin also allows Bixby and Samsung Pay to function, neither of which work when paired to an iPhone because a plugin like this doesn't exist on that platform.
Keep in mind that the Galaxy Watch Plugin app won't be visible from the App Drawer like the Galaxy Wearable app once it's installed, but it's nonetheless a vital part of making your Watch work well with every Android phone.
The OG smartwatch
A watch that could almost replace your phone
The Galaxy Watch is a high-end smartwatch with a powerful connection to everything on your phone. Samsung has stuffed every possible feature into this watch, and it looks nice too.
For the active lifestyle
Samsung Galaxy Watch Active
Prepare to get your fitness on
The Galaxy Watch Active is a truly fitness-focused smartwatch. You'll be able to record all your workouts, track your route with GPS, monitor your heart rate, use Samsung Pay, and much more.
Sign up for Black Friday email alerts!
Get the hottest deals available in your inbox plus news, reviews, opinion, analysis and more from the Android Central team.
Courtney Lynch is a freelance writer at Android Central. She's obsessed with all things health, fitness, and music. At any given time, she can be found checking out the latest and greatest gadgets while simultaneously petting her dog and sipping iced coffee.