Samsung Galaxy Watch Active: Everything you need to know!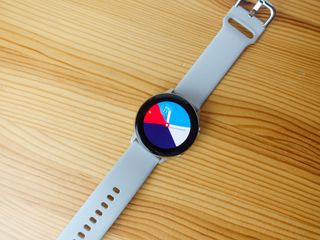 Samsung is one of the unequivocal leaders in regards to Android-compatible smartwatches, and while the Galaxy Watch Active may not be its most powerful or feature-rich option, it is one of the best values we've ever seen from the company.
The Galaxy Watch Active is essentially a smaller, more affordable version of 2018's Galaxy Watch, and if you have $200 to spend on a new wearable, it deserves to be at the very top of your shortlist.
Here's everything you need to know!
Does it all
Samsung Galaxy Watch Active
Fitness tracking and smarts for cheap.
For $200, it's tough to do much better than the Galaxy Watch Active. On one hand, it's a powerful smartwatch with growing app support and intuitive notification handling. On the other, it's a fitness tracker with advanced features such as GPS and waterproofing.
It's really lightweight and good for small wrists
A lot of Samsung's previous smartwatches have been inaccessible for many potential customers due to their large, bulky designs. With the Galaxy Watch Active, that's a non-issue.
The Galaxy Watch Active measures in at just 39.5 x 39.5 x 10.5mm with a weight of 25g. For comparison's sake, the regular Galaxy Watch (the 42mm model) is 41.9 x 45.7 x 12.7mm and weighs 49g. So yeah, quite a big difference.
Petite designs aren't something we see as often as we should in the smartwatch space, so having that aspect present on the Galaxy Watch Active is fantastic.
Samsung's fitness/health features are better than ever
Like you might guess with the name of Samsung Galaxy Watch Active, a big focus of this gadget is to help you get and stay in shape.
The Galaxy Watch Active keeps tabs of your all-day activity, such as steps, floors climbed, calories burned, and how far you've walked in a given day. It also has built-in sleep tracking that can analyze your various sleep stages throughout the night and reminders to move and meditate throughout the day.
Other fitness features we love are the included heart-rate monitor, IP68 waterproofing, and built-in GPS that enables you to map your runs without having to take your phone with you.
Here are the specs
Curious as to what makes the Galaxy Watch Active tick? Samsung outfitted it with a wide array of interesting specs, including things like 4GB for storing your apps and local songs, IP68 waterproofing to keep it safe during swim sessions, and a lot more.
The full specs list is as follows.
Swipe to scroll horizontally
Cateogry
Galaxy Watch Active
Display
1.1-inch
360x360
AMOLED
Gorilla Glass
Battery
230mAh
Storage
4GB
GPS
✔️
NFC
✔️
Heart rate
✔️
Resistance
IP68, 5ATM
MIL-STD-810G
Band size
20 mm
Case material
Aluminum
Dimensions
39.5 x 39.5 x 10.5 mm
25 g (w/o strap)
How does it compare to Samsung's other wearables?
As great as the Galaxy Watch Active is, it's far from the only smart wearable in Samsung's lineup.
The Galaxy Watch (opens in new tab) and Gear Fit2 Pro (opens in new tab) are still both really good here in 2019, making it a difficult choice to decide if you should just go ahead and get the Active or give some consideration to Samsung's other options.
Below, you'll find comparisons to both the Galaxy Watch and Gear Fit2 Pro to help make your decision a bit easier.
What about other smartwatches?
In addition to the smartwatches/bands Samsung's creating, the Galaxy Watch Active is also going up against a heap of devices from other OEMs in the tech space.
The Galaxy Watch Active is going up against some really tough competition, such as the Fitbit Versa (opens in new tab), Fossil Sport (opens in new tab), and more.
It holds its own against these competitors incredibly well, and even if you're liking what you're seeing with the Galaxy Watch Active, it's worth giving our comparisons a read just to be absolutely certain you're buying the smartwatch that best suits all of your needs.
Samsung has four great colors to choose from
Along with being sleek and lightweight, the Galaxy Watch Active is also quite stylish.
Samsung offers the Galaxy Watch Active in four colors, including Black, Silver, Rose Gold, and Green. Which one should you get? We've got a little guide below to help you out.
Which Galaxy Watch Active color should you get?
These are the best accessories you can get for it
The Galaxy Watch Active is really great on its own, but if you want to make your experience even better, we recommend buying a few accessories to go with it. Specifically, watch bands and screen protectors.
You can use any 20mm watch band with the Galaxy Watch Active, allowing you to change up its entire look in the blink of an eye. Samsung includes a standard silicone sport band that does a good job at getting you started, but we highly recommend getting a couple of other options so you can switch up your look whenever you want.
Along with that, a screen protector will help to ensure that the Watch Active's display doesn't get damaged throughout daily use. It's not as fun a new watch band, but it's crucial if you plan on wearing this thing every single day.
You can buy it right now!
Interested in picking up the Galaxy Watch Active for yourself? If so, you can go out and buy one right now.
The Galaxy Watch Active will set you back just $200 no matter which color you get, and depending on when you buy, you might be able to find a deal/promotion to help you save a few bucks.
Does it all
Samsung Galaxy Watch Active
Fitness tracking and smarts for cheap.
For $200, it's tough to do much better than the Galaxy Watch Active. On one hand, it's a powerful smartwatch with growing app support and intuitive notification handling. On the other, it's fitness tracker with advanced features such as GPS and waterproofing.
Get the Android Central Newsletter
Instant access to breaking news, the hottest reviews, great deals and helpful tips.
Joe Maring was a Senior Editor for Android Central between 2017 and 2021. You can reach him on Twitter at @JoeMaring1.
Finally some news on the new Sport... but if it doesn't have the rotating bezel, I guess I'm sticking with my gear s2. The rotating bezel is everything

For a sport watch, for me at least, the bezel is absolutely pointless on my G3.

I have to agree. For a sports watch the bezel wouldn't be all that useful. Its more of a "fancy" thing in my mind so I like it on the standard watch but not the sport.

The only way I'll ever buy an Android smartwatch is if it becomes as good as the Apple Watch. I doubt this one is.

This is Tizen. And it is as good if not better than that dorky square apple watch

Yeah, I really don't see an iPhone user going for a Samsung watch. The integration between iPhones and an Apple watch is much tighter. That being said, I enjoy my cheapo Ticwatch E, and use it far more than my son uses his $400 Apple watch. He was a little miffed that my screen is higher resolution and brighter, and that my speaker sounds better, but I wish my watch was as smooth as his and had NFC.

Good thing this ISN'T an Android Smartwatch...

Meh. It's a smartwatch. It isn't gonna birth a baby it anything. I love the bragging people do when comparing the capabilities of this, Wear OS and Watch OS. As if there are miles between them. More like inches.

So, you entered and logged into ANDROID CENTRAL, in order to let folks know that you won't be buying an "Android smartwatch".
Do you feel better about yourself, your eyePhone and your eyeWatch?
Get a life, clown.

"arguably" the best non apple watch are The Galaxy and Gear. The amount of functionality packed into something small that has amazing battery life is just something else. I've tried other Android watches and they're great, but the one I'd chose for my wrist is the Galaxy watch. And tbh my Galaxy watch does almost all the functions of the Current Gear Sport. So let's see what this one has to offer.

So is Samsung no longer going to have their MST technology for Samsung Pay on their watches going forward? That's a huge deal breaker for me :(

That is correct. The last watch to have MST is the Gear S3. That is, unless folks get Sammy to change his mind, like when he took the micro SD card out of the S6 and put it back in the S7.

No MST, no new watch for me. I use MST daily as my payment method. I'll hold out as long as I can with my S3 Frontier.

I would love to but my watch keeps resetting the mobile pay app every few weeks and resetting it up is annoying.
Samsung can't give me any reason for it.

Ahhh finally something I can look into for my workout since my Gear Fit 2 went dead. I been using my G3 for a temp solution until I saw what was going to be released this year. I'm looking forward to this.

Losing MST on galaxy watch, and now the rotating bezel on the next sport? 2 reasons I bought GearS3 classic that I use daily are gone. I don't get it.

Yeah my gear sport is still quite competent.

AC this is the second full screen audio ad on your app. I will not continue to use your service if this continues.
I am fine with adds but not when I'm sitting in bed with my infant sleeping and screeching sounds come out from your app.

Same exact thing happened to me. My week old and my sleeping wife don't need to be woken up by a pop up ad!

Just last night I deleted the Android Central app on my phone.

That ad was really annoying

Tired of the ads? Install an earlier version of the AC app. My app shows NO ads whatsoever. If you update the app, the ads will return.

Is OneUI coming to the Galaxy Watch?

Been a lot of fake news about the Active watch.... The thing to know is it's a cheaper price point than the much better Galaxy Watch..... That's why the Active will exist.

The word "Active" is the right word. It's not a sport watch. Only for casual training and fitness. Not for serious training and long activities that will run out their tiny battery, not for control your training load, intervals, triathlon, not for long trail running, not try to run an ultra marathon with that watch, etc. A casual watch.

I don't think that would be a concern for most of the readers here, including myself. I used to do marathons and can still out sprint every teenager I know, but now that my knees are used up, the fitness tracking offered by this is "adequate".

Katia Redig
Can I use the galaxy watch active in my right hand? Meaning, can the dial/buttons be switched, just like the apple watch does?