Best Bands for Samsung Galaxy Watch Active 2022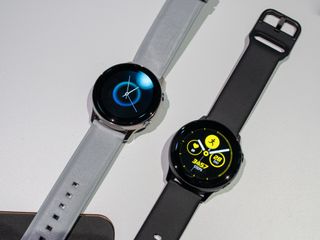 (Image credit: Android Central)
Being active doesn't mean you should skimp out on looking fashionable! The Galaxy Watch Active is one of the best wearables for fitness enthusiasts out there. It's stylish on its own, but if you're searching for the best Galaxy Watch Active replacement band, you'll want it to do two things: make you look super trendy while not leaving your wrist drenched in sweat. Fortunately, this smartwatch is compatible with 20mm quick release bands, so it's easy to find a match for your fashion and comfort needs.
Best Galaxy Watch Active replacement bands: How to choose
Why you can trust Android Central Our expert reviewers spend hours testing and comparing products and services so you can choose the best for you. Find out more about how we test.
Beyond changing the watch face or buying a certain color, one of the best ways to personalize your watch and truly make it your own is to replace that plain stock band. Samsung tends to stick with fairly standard watch band sizes for its smartwatches, and in the case of the Galaxy Watch Active, any 20mm band will do.
Aside from adding a personal flair to your watch, choosing a different watchband also allows you to change how your Galaxy Watch Active fits on your wrist and how it feels to wear all day. Leather doesn't feel the same as metal, after all, and neither breathes as well as fabric.
Narrowigng it down
This all comes down to personal taste, but there are a few factors you should consider when shopping for a watch band. One factor is comfort since, again, you'll be wearing the band all day — or at least as long as you use the Galaxy Watch Active. Softer materials like silicone, fabric, and leather are easier on your wrist than metal, for example, and they're easier to adjust as well, thanks to the holes along the strap. The Galaxy Watch Active is fashionable on its own, which is why it's one of the best Android smartwatches despite its age, but you can make it even more so with the right band.
The best Galaxy Watch Active replacement band for workout enthusiasts is the WNIPH soft nylon band. It comes in a variety of colors and boasts a breathable yet durable design. If comfort is your main focus, we really like the V-MORO leather watch band and the VIGOSS silicone band, the latter of which breathes well thanks to its porous design.
Of course, you should also think about aesthetics and design when shopping around. You'll be wearing this, on your wrist after all! For fashion, it's hard to beat Honecumi's wide variety of design options. Still, we also love the sleek look of Koreda stainless steel bands.
Be an expert in 5 minutes
Get the latest news from Android Central, your trusted companion in the world of Android