Can I use my old SD card in a new phone?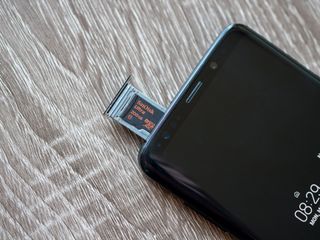 SD cards are fairly cheap. That's part of the reason they get used so much. But if you have a new-ish one, especially an expensive high-capacity card, and you switch phones, you'll probably want to reuse it. I don't blame ya one bit, and all you really need to do is clean them up a little and they will drop right in. Here's what you need to know.
More: Best microSD Card for Android in 2018
About those old files
An SD card you've used in an Android phone will have a bunch of files on it. Some of them you might have put there, like things you've downloaded; others are placed there by apps like your camera, and others just pop up and might have weird names you don't recognize. Those are all files your old phone needed, but your new phone doesn't.
Taking care of the files you saved to the card and media in folders like Pictures or Ringtones is simple. I'd suggest you copy them somewhere else like your Google Drive storage, so you can reformat the card (that's just easier), but if you want them on your new phone, you can leave them right where they are. Just remember that if you do format the card in your new phone, they are gone forever. Services with storage like Google Photos and Google Drive come free with your Google account — don't be afraid to use them!
You might have a folder called DCIM if you've told the camera in your old phone to save photos to the SD card. You can take a peek inside of it and you'll see that it's filled with your photos, but can also have what appear to be duplicates of photos with a name that's almost the same. Depending on the camera app on your old phone, those are from things like portrait mode shots, panoramas, photospheres, or any other type of photo that's not a "regular" picture.
Your new phone might not be able to understand what to do with those, especially if you're moving from one brand to another. But Google Photos does. I'd recommend you upload every photo on your phone to Google Photos, and use the Photos app to delete the ones you don't want in the cloud. But don't delete the rest just yet, because Google Photos doesn't save the full resolution and quality of your pictures unless you tell it to do so. Take the whole folder and upload it somewhere the same as you might have done with documents or other things you wanted to keep from the step above. This is actually a great place to keep the original copies if you use an app from the Play Store to create a .zip file from them all.
The important part is to make sure you've saved them somewhere so you can have your new phone format the SD card. That erases everything.
The other files — ones in the Android folder or nested inside another folder are fine to delete. Some may be encrypted and can't be read by any other phone; others might not be. But every one of them was created by an application and will be recreated and populated once an apps need to do so. If you plan to format the card in the new phone as suggested, ignore them. Otherwise, delete them.
Adoptable storage and App Lockers
None of this applies if you used your SD card as an adoptable storage device in your old phone. When you do that, the card is formatted as an encrypted drive and can't be read by any other device except the phone that encrypted it.
To reuse the card, you'll need to reformat it. If your new phone allows you to use an SD card as an adoptable storage drive, you'll still need to reformat it. You do this through the dialog when you first insert the card and the system asks you what you want to do with it.
More: Everything you need to know about your SD card and Adoptable storage
This same advice probably goes for any type of App Locker app you might have used. An App Locker takes applications and "hides" them or can hide specific content like risque photos or private documents. You need a password to see these hidden apps and media files. If you use the same App Locker app on your new phone it might be able to retrieve those files, so check before you format anything. I'd suggest you unlock any media files you want to keep and back them up somewhere, then lock them back up once you're done.
Do you really want to reuse your SD card?
SD cards aren't super expensive, but if you're like me, you want to use anything you've bought until it falls apart. That's not the best idea when it comes to SD cards.
Unless your old SD card is Class 10 or faster, you don't probably don't want to reuse it. It will make apps that use the SD card for data run slower, it will take longer to copy files that you like, and your new camera probably can't even use it for things like burst photos or 4K video. Technology moves fast and cards that were fine just two or three years ago when you bought your old phone are too slow by today's standards.
More: Everything you need to know about SD card speeds and your phone
Thankfully, SD cards aren't nearly as expensive as other types of computer storage. The very best high-capacity card is only going to set you back about $100, and you can get a high-quality, fast SD card for your phone for about $30. If your new phone has a camera that can take HD video, you'll be very glad you sprung for a new card.
More: Best microSD Card for Android in 2018
If you followed this advice, you can pop your old card in your new phone and say yes when it asks if you want to format it. Once that's finished it's ready to go with your new phone and you can start filling it up again. Remember though, SD cards don't live forever so always be sure to back up your important files regurlarly!
Android Central Newsletter
Get instant access to breaking news, the hottest reviews, great deals and helpful tips
Senior Editor — Google Ecosystem
Jerry is an amateur woodworker and struggling shade tree mechanic. There's nothing he can't take apart, but many things he can't reassemble. You'll find him writing and speaking his loud opinion on Android Central and occasionally on Twitter.
I have 2 256GB Samsung cards that I can't unfortunately I reuse in my OP6

I have a 200gb LG micro SD card that won't let me format it.. I delete everything off it. Unplug it then plug it back in and everything is back.

Have you tried formatting it in a laptop or computer?

Doing a normal "quick format" only deletes the directory entries and leaves the data files there.
If you reformat it on a PC and uncheck the Quick Format option, it will do a complete reformat and and erase the actual data files as well as the directory entries.

I'm curious if you have any idea what would happen to the content on the SD card in my Lumia Windows phone if I put it, without formatting into my Android phones? The phone is becoming less and less reliable so I'll find out eventually?

Your Android phone will not be able to read it, and will prompt you to format it like Jerry mentioned, you will not be able to use it.
As an FYI, I just purchased a new Class 10 microsd card, I had moved it first to an old Android 6.0 phone to use SD Insights which verifies if the card is legit or fake (SD Insights does not work on Android 7 or later) it was legit. My old phone immediately asked to format, I then put in in my newer Android 8.1 phone, even though my other Android phone already formatted it properly, my other newer Android phone also prompted me to format this blank card again otherwise it couldn't be used.
Back up the card first before placing it in your Android device.

Thank you. Much appreciated.

Make sure to NOT encrypt the sd card. I did this and had my phone die on me and took it in for a repair. Factory reset and the phone claims that it won't recognize the encrypted card or unencrypt it. Photos that were on the sd card were also automatically saved to Google Photos, yet Google Photos blocks those photos from being seen. One of those bad things in Android, kind of like unlocking your device with your voice. Just a big security risk, that is.

Thank you for your clear explanation. This SD card issue has been driving me crazy. I know now to buy a fast speed SD card and now I know what to look for. Thank you!
Android Central Newsletter
Get instant access to breaking news, the hottest reviews, great deals and helpful tips
Thank you for signing up to Android Central. You will receive a verification email shortly.
There was a problem. Please refresh the page and try again.