What you need to know about buying a screen protector for the Galaxy S9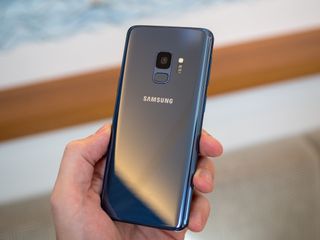 The Galaxy S9 is looking to be an incredible new phone that, while not a huge redesign over the Galaxy S8, moves in the right direction with a number of small improvements. Namely, the fingerprint sensor has been moved to a reasonable location, and the camera has seen a substantial upgrade — the S9+ even gained an additional camera. Needless to say, Samsung is off to a good start for the year.
So you've already pre-ordered a Galaxy S9, and now you're probably looking at some accessories to protect it. Maybe a case, and definitely a screen protector for that gorgeous curved glass, right? Before you place that order, there are a few things you might want to consider.
Ever since Samsung introduced curved glass displays starting with the Galaxy Note Edge, they've been one of the company's mainstays with almost every new flagship. While at first it seemed to be more of an engineering marvel than an effort towards better ergonomics, things changed once Samsung started curving both the front and back glass with the Galaxy Note 7 — curves fit better into a hand than flat edges, after all, and Galaxy phones were becoming increasingly comfortable to hold.
This new design did introduce a new problem, though … curved glass is fragile, and it's hard to protect. In the past, you could just slap a screen protector onto your new device and be done, but things aren't always that simple anymore.
If you're like me, it's glass or nothing when it comes to screen protectors. After all, the display itself is smooth glass, so why should it have to feel like anything else? The trouble with these curved displays is that they're hard for glass screen protectors to adhere to; to avoid leaving a halo effect on the display, most accessory makers only put adhesive along the outer edges of the protector, which just isn't enough to keep everything together.
Ultimately, the only glass screen protector that we've found actually works on curved glass has been Zagg's InvisibleShield Glass Curve Elite. The name is a mouthful, but Zagg took an alternative approach by using a gel-based adhesive, and as it turns out, it actually works. This protector isn't cheap at $49.99, but in the long run that's a relatively small price to pay in exchange for giving your $720+ phone the protection and tactility it deserves.
See at Zagg (opens in new tab)
Now, if you're not as particular about your screen protector and you don't mind good old-fashioned plastic, there's good news: nothing should be different for you. Plastic is obviously far more flexible than glass, and has no problems curving with your display to adhere properly, meaning your options are still wide open with the Galaxy S9.
Ultimately, a sceen protector is optional, especially with the Galaxy S9 being backed by Gorilla Glass 5. I rarely ever use screen protectors on my phones, and I can't remember the last time I've had a scratch on the display. That doesn't mean glass is impervious to scratches, of course, and that's not all screen protectors are good for. A lot of them, particularly the ones made of glass, offer a fair amount of shock absorption too, meaning they could save the life of your display in the event of a drop.
Do you use a screen protector? And are you planning on getting one for the Galaxy S9? Let us know in the comments!
Android Central Newsletter
Get instant access to breaking news, the hottest reviews, great deals and helpful tips
Hayato was a product reviewer and video editor for Android Central.
Is this a Zagg-info article? No review of other screen protectors? Why no mention of Dome Glass?

Zagg 's glass screen protector is expensive, gives the "rainbow" effect, and creates screen sensitivity issues. This is why I went with the Whitestone Dome.

That was the old version of Zagg. The elite is different.

On my s8+ and my wallet case I have no need for a screen protector. It's been 11 months & not one mark on my display. I like naked, baby!

Curved display does not play well with a screen protector. Save your money.

I order a Caseology tempered glass screen protector for my pre-ordered S9. I'm don't have much hope that it'll work well based on reviews of nearly every other cheap Galaxy screen protector. However I don't see that they offered one for previous curved screen galaxy devices so maybe they nailed their design. Either way it was only a few bucks so worth a shot. https://www.amazon.com/gp/product/B079F9YLHT/ref=oh_aui_detailpage_o02_s...

Screen protector? Hmm what's that? 🤣😂👎

I ordered the BodyGuardz Pure Arc Glass for my wife's Samsung Galaxy S9+.

Hard to believe that there is no mention of the Whitestone Dome glass.

Tried 3 or 4 different protectors (zagg was the first one that failed...) on my S8 before I realized there is no good screen protector for these phones and now I've been naked for going on 3 months with no problems. For prospective S9 buyers I'd recommend saving your money.

I hate screen protectors but I also have a cracked S8+ screen exactly on the upper right directly on the curve.its been like that since we weeks after I bought it in August. Don't know how it happened because the phone didn't fall. So because I know I will end up filing a claim when I upgrade using Jump! I have been using the phone naked.. well last week I went to pick up my jeans from the bathroom floor and I had the naked S8+ in one of the pockets. Its so damn slippery that it slipped out of the pocket when it was about 1 foot above the ceramic tile and SMACK!. Cracked back now. I have never broken sny of my phoned previously it this phone is fragile. Meh.. getting the S9+ next week. Not sure about the screen protector :P

That's really a slick device. I have never been into the TGP as it fails most of the time. And even it won't provide the great usage experience. I rather suggest to go with gadgetshieldz full body protectors paired with the case. https://www.gadgetshieldz.com/galaxy-s9-screen-protectors-covers-cases.html

If your sporting Gorilla Glass 5 do you need a screen protector? I use wallet cases so I don't see any sense to it! Plus I've never seen one that fits properly on an edge display!

Will never buy Zagg ever again. Been using Whitestone Dome and it is amazing. After it is on, you can't tell if it is original or protection. That's how good Whitestone Dome is. I recommend to all my friends and they love it.

Hi. I'm not sure about the people saying it's impossible or whatever. I've had my Skinomi TechSkin on for almost a year now, and it hasn't budged at all, still looks great (except one mark on the screen - which just means it was probably a pretty rough scrape so it would've been permanently damaged glass otherwise), and it shows no signs that its even close to starting to peel off. And I take it in and out of some tight pockets and also snap it into an iBolt Mini holder in my car, many times a day.
I admit it definitely takes extra time to apply this lil plastic protector (have to keep pushing down the edges), but u do it once and can enjoy for prob the life of the phone. Note that it only provides protection from scuffs and scrapes (not broken glass due to a bad drop), but it doesn't degrade the beautiful screen quality or touch sensitivity at all.
They're the only company I've been using on all my devices for many years now.

Since I have had three screens saved by glass screen protectors, I am a little biased. And I will not buy a phone with a curved screen. It really is not necessary, but it makes the screen weaker at the corners, where the stress concentrates.
Android Central Newsletter
Get instant access to breaking news, the hottest reviews, great deals and helpful tips
Thank you for signing up to Android Central. You will receive a verification email shortly.
There was a problem. Please refresh the page and try again.