Here are our first photos taken with the Galaxy S9+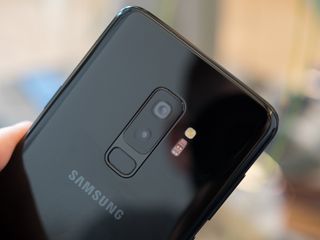 With so much shared between the Galaxy S9+ and its predecessor, much focus has been put on the all-new camera setup as a true differentiation between models. So it makes sense that of all the questions I've seen about these phones, a majority have been about its cameras. To give you a sneak peek of what to expect, as I'm getting into my full review of the Galaxy S9+ I want to offer up some quick impressions of how I'm liking using the camera.
Having only used the phone for a couple of days, I don't have full conclusions on what the cameras are capable of. But I want to share some initial thoughts and photo sample so you can see how I'm feeling and also judge the images for yourself. And though I'm using the larger Galaxy S9+ here, everything is fully applicable to the standard Galaxy S9 as well aside from the brief mentions of the secondary 2X lens.
Daylight photos
Image 1 of 10
Image 2 of 10
Image 3 of 10
Image 4 of 10
Image 5 of 10
Image 6 of 10
Image 7 of 10
Image 8 of 10
Image 9 of 10
Image 10 of 10
Daylight shots with the Galaxy S9+ are great. As you'll see even more dramatically with the low light shots below, this camera takes extremely sharp and smooth photos. Details are fantastic, colors are good and the dynamic range is plenty wide so you don't feel like you need to tap-to-meter or adjust the exposure on the fly. In all but full daylight brightness, the camera was choosing to shoot at f/1.5 — but the few shots I've had so far at f/2.4 looked great as well.
The f/1.5 lens also affords you fantastic bokeh in close-up or macro shots, leaving me to wonder why you'd want to settle for the faux Live Focus blurring in many situations. But in a couple situations that super-wide lens caused me issues with the camera "missing" focus, since the focal plane is so narrow — moving to a tap-to-focus for more artsy shots where I had a specific subject in mind fixed that right up, though.
The Galaxy S9+ doesn't feel like it has quite as much opinionated post-processing as something like the Google Pixel 2. What I mean by that is the Galaxy S9+ seems to take a sharp, well-exposed and colorful version of a scene, while the Pixel 2 goes a bit stronger in using HDR-style processing to bring out more highlights, colors and overall dynamic range. The Pixel 2's photos can be a bit more pleasing to the eye as a result, but don't let that take away the fundamental soundness and excellent quality the Galaxy S9+ is offering here.
If you'd like to view full-resolution versions of these daylight photos, you can download them right here.
Low light photos
Image 1 of 11
Image 2 of 11
Image 3 of 11
Image 4 of 11
Image 5 of 11
Image 6 of 11
Image 7 of 11
Image 8 of 11
Image 9 of 11
Image 10 of 11
Image 11 of 11
Samsung's new "Super Speed Dual Pixel" sensor may have a funny name, but the goal of providing greatly improved low light photography is no joke. Its advanced multi-frame processing is clearly doing some amazing things with very little light, aided of course by the f/1.5 lens. Low light shots are incredibly sharp, which is noticeable immediately before you even zoom in to details. Flat surfaces exhibit very little noise, even when shooting scenes that have minimally usable light. Things don't look unnaturally smooth or fake, either, which is a tough line to walk.
The most impressive part so far, from a photography nerd perspective, is the parameters the Galaxy S9+'s camera shoots with. Even in a super-dark scene, like the shots from the lounge above, we're looking at between ISO 100 and 300. Even still, they're shot at a shutter speed of 1/40 second or faster. With those kinds of dark scenes you typically expect something to give out in either blur or softness or grain, and the Galaxy S9+ just doesn't have any of those things. Low light shots are almost as sharp as the daytime ones, which is amazing.
One thing worth mentioning when it comes to low light photos is what happens when you switch to the "2X" zoom mode. Just like other phones with dual cameras, the Galaxy S9+ will often choose to use the main camera with a digital crop rather than switching to the secondary camera. With the primary camera's great sensor and f/1.5 lens, it can better handle low light shots, even at 2X digital zoom, than the dedicated telephoto lens can in many cases. That kind of adds to my initial theory that standard Galaxy S9 buyers aren't missing out on much by "only" having the main camera.
If you'd like to view full-resolution versions of these low light photos, you can download them right here.
More to come
This is just the beginning of my time with the Galaxy S9+, and of course with its cameras. You'll see more about its photographic capabilities in our full review, and as I put this phone through its paces you'll see more photo samples showing up on my Instagram.
Andrew was an Executive Editor, U.S. at Android Central between 2012 and 2020.
But how does it compare to the Pixel 2? That is the question.

It probably beats it. If not in auto, for sure in manual (which the iPixel lacks... Something Google should address on the software, really).

The Pixel is basically an Android version of iPhone. Some basic things are missing and sometimes too much simplicity.

Is that possible to have though?

I mean, you can get a number of camera apps on the Play Store that will give you manual controls. "It probably beats it" - not if you believe the DXO score. Aside from zoom and bokeh the only thing the S9 should do better with is noise. Everything else is better on the Pixel 2.

All those "everything else" score differences are 2-7 point differences. Even where Samsung beats Pixel 2 in bokeh, it's only 4 points, if I recall correctly. None of those differences amount to much. The zoom and noise differences are 20-33 point differences, though. In other words, Samsung totally mops the floor with the Pixel 2 when it comes to those two categories.

if you're gonna dismiss 2-7 points in multiple categories then I'm going to dismiss the 1 point in the aggregate total. :) I think we can both agree that the DXO scores need to be viewed as more than total aggregate scores though. Zoom only affects specific pictures. Noise affects every single picture, just like the other categories that the Pixel 2 wins in. I'd like to see the regular S9 scored so we can know just how much weight they put on the second lens and what it does for overall performance. It made a two point difference with the iPhone 8/8+ scores. I'm also sort of still amazed at just how well Google does with a single lens. It seems Samsung is catching up to them on the software/processing side of things, which is good for everyone really.

I still view the Pixel 2 as the overall best camera on the market. I think Samsung just nailed the software features this time out.

Everyone compares Apple's & oranges. The pixals great pictures. That Apple's great pictures. The Samsung's great pictures. Who the best? To me all take great photo's so it really doesn't make a difference for myself. All three are terrific in their own way! Dx0 97,98, 99!

Wow those low light shots are crazy sharp

I'd like to see some 100% crops from using telephoto lens versus digital zoom on the main lens. If you don't benefit from the telephoto lens on detail shots, they're doing it wrong.

In low light it makes sense.

Pixel 2 owners hardest hit.

How so? Samsung should release a new phone with a top camera and do will Google in the fall with pixel 3

Oh please.... You didn't like the Pixel camera before this. It could be perfect and you would still knock it.

We need to see side by side comparisons first.

How are the owners hit? It did not change the Pixel camera at all. It is still the same camera as yesterday. Getting enjoyment out of trolling is so childish. I am happy when a manufacturer improves tech. Over time, everyone benefits. Fanboyism is sad.

Exactly ...do not understand the hate for other brands

Great looking camera so far! Thanks for this. There are so many fake videos on line where you can tell they are really using an S8 lol

Samsung has my attention here. This also further reinforces that I don't need the plus for the 2nd lens, because I don't want the size anyway.

I disagree.. The stripping of textures to rid of the noise most definitely makes the night shots look unnatural. Not saying that they look bad, I just prefer a more realistic result, even if that means a bit more noise. With all of that, what Samsung did here looks promising. Too bad they didn't close the gap much between it and the Pixel 2 with daylight shots.

I don't see any night shots, even clicked the link to drop box.

There are a few shots in there, and the results look very promising thus far

For some reason few photos showed up the first time I viewed the link, they were there later when I checked again.

Great clarity but it was hard for me to get past the overblown highlights in day and night shots.

I want to throw my Pixel 2 out the window ! If only Project Fi bastards supported

Those low light shots are amazing! That variable f stop makes a real difference. Using cell phones in low light was always generally a way to get a not as good picture. Not that it can do the same thing as a full blown big camera, but the S9 series has gotten to the point where most people will be very happy with it. A new bar has been set for other cell phone cameras!

First off, it's a selectable aperture, not a variable. You have one choice or another and cannot make it anything in-between.
It's a great feature, just the terminology is a bit misleading. That being said, I'm very pleased with the results so far, except for the bar shot where you can barely make out the faces. And I'll take real Bokeh (like below) over fake portrait modes any day!
https://photos.app.goo.gl/WBj6Lo1kmLQsOMaN2 https://photos.app.goo.gl/bBaB8kJWegcXmIrp2 The nighttime shots will need side by side comparisons for pixel peeping ;)
Some cameras make dark shots look natural but undesirably dark, while others over process and try to make it look like daylight. I prefer a balanced HDR approach, and you can get some interesting shots that way (see below). We will have to see how the comparisons turn out, but it's looking pretty good so far. https://photos.app.goo.gl/xej6f3uKHcfhGYBC2

Excellent Better than my Note 8

Excellent pictures. And I'm with you on fake Bokeh. It's awful, IMO, on the Note 8. And the night shot is killer.

I should probably clarify that the photos linked to above are not from the S9, they are from the HTC U11. I was using them as examples, but I expect the S9 shots to be at least as good. I did download the full size S9 shots, and the detail is pretty amazing.

The daytime shot on the S9 looks impressive, I'd like to see a side by side comparison between the Pixel 2 and the S9, but no matter how good the camera is on the S9, I'll always choose the Pixel 2 over it as I like its no frills approach and and to the person who says the Pixel 2 is an Android version of an iPhone, that's not really true, the Pixel software is Android as it is meant to be, clean, smooth and bloated free which won't cause the phone to stutter over time and more importantly, it'll get updates directly from Google on day one while Samsung and the rest has to wait until next year and you get 3 years of updates and security patches as of the Pixel 2 and 2 XL, I don't need all the the fancy manual modes on the camera app as the Google camera app is better and there is nothing that cones close to Google lens and don't mention Bixby, that poor excuse for an AI digital assistant, and say it has a similar feature. Even if it does, it's not as good as Google's

The pictures looks really great. I'm not surprised about day light pictures. They better look good. But the low light looks impressive.

I prefer manual mode over auto in 90 percent of situations therefore I'll always side with a phone that has a great native manual mode. Most, if not any, third party apps cannot simply match the native camera functions or do so with a UI as good as what the manufacturer offers. Especially all that LG offers but Samsung is right up there with them IMO.

Somebody call the waaambulance for the Pixel 2 fanboys. Take them to the emergency room to treat their acute case of butthurt.

Many phones have cameras that produce pictures that are good enough for my needs.
Very few are fast enough to focus and actually take the picture especially in poor light.

Who is kidding who here? These pictures look like they could have been taken on any phone built in the last two or three years! Unless you are trying to view them on a large screen TV they all look the same! It is NOT the camera so much as it's the medium you use to view the pictures. This camera debate has gone way beyond stupidity into absolute moronic ridiculousness.

Are you using a cheap knock-off chinese phone with a crappy camera (Xiaomi, Motorola, maybe Oneplus) so that you can't notice these highly noticeable differences?

No, they don't look like they were taken on any phone. The cactus photo is an excellent example of what you can get without having to do fake bokeh in software. My Note 8's fake bokeh is really crappy compared to that shot. And the low light shots are excellent.

Agreed phone cameras are getting really good and samples from the S9 are as good as any I've seen.
Some people will always want/need maximum picture quality and use large format cameras. Some will compromise and use medium format and so on.
But for the vast majority of snappers the latest phones are good enough.

I agree with that last part, and any modern phone's camera is plenty good enough snapper for me. I used to do photography, so I know if I want the best photos, I'd get a good camera. I wouldn't rely on a phone. But I take issue with his statement that the samples look like what you'd get with any phone. There are significant improvements in the S9+ camera. It just doesn't matter enough to me to get an S9+.

Not sure they look better than the best from other phones.
Look at Flickr on any of the phone groups and you can see some amazing pictures.
For me on a camera phone it's all about speed and getting the best results without messing about too much.
Samsung, Apple and Google seem to do this better than the others and there are pros and cons with each.

Think a lot of people do share look at their pictures on their 42"+ TV's
It's the only way I watch videos taken on my phone.
It's kind of the point of 4k recording.

Stanley, if viewed on a tiny screen, you will have trouble telling the difference. On a big monitor, or a big screen TV, the differences become more apparent. Zoom in, and there's a world of difference. I did a low light comparison this past Saturday in a jungle-themed restaurant, and there was a giant dragonfly mounted on the wall by our tables in an area so dark you could barely see it. I've mentioned it in other posts here, but the phones were an iPhone 8 Plus, and an HTC U11. On the iPhone, it struggled to capture colors and detail, and when you zoom in, you can barely tell the dragonfly wing from the background because of the graininess and compression artifacts. The HTC got the color and detail good, and the wings were well defined considering how dim the room was. Impressive considering the HTC is $400 less expensive. A reduced size copy is below, with the iPhone first and the HTC second. iPhone 8 Plus: https://photos.app.goo.gl/ANOmhL8jjsquSrzg2 HTC U11: https://photos.app.goo.gl/JWEHmqdcR6BrUVZg2

PS: I can zoom in and post the results here later tonight to highlight the difference in detail. You can lighten or darken a photograph, but there is no fix for lost detail.

My only question is what kind of Belgian Blonde's were you drinking? Hoegaarden? Leffe? That's the real question.

I thought my Galaxy S7 took awesome low light pics but I'm impressed!

Yep, still a great camera, but they are getting better every year
Android Central Newsletter
Get the best of Android Central in in your inbox, every day!
Thank you for signing up to Android Central. You will receive a verification email shortly.
There was a problem. Please refresh the page and try again.