Here are our first photos taken with the Galaxy S9+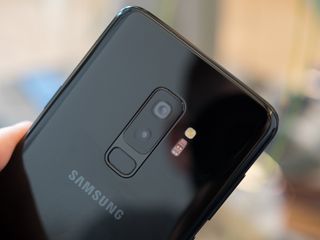 With so much shared between the Galaxy S9+ and its predecessor, much focus has been put on the all-new camera setup as a true differentiation between models. So it makes sense that of all the questions I've seen about these phones, a majority have been about its cameras. To give you a sneak peek of what to expect, as I'm getting into my full review of the Galaxy S9+ I want to offer up some quick impressions of how I'm liking using the camera.
Having only used the phone for a couple of days, I don't have full conclusions on what the cameras are capable of. But I want to share some initial thoughts and photo sample so you can see how I'm feeling and also judge the images for yourself. And though I'm using the larger Galaxy S9+ here, everything is fully applicable to the standard Galaxy S9 as well aside from the brief mentions of the secondary 2X lens.
Daylight photos
Image 1 of 10
Daylight shots with the Galaxy S9+ are great. As you'll see even more dramatically with the low light shots below, this camera takes extremely sharp and smooth photos. Details are fantastic, colors are good and the dynamic range is plenty wide so you don't feel like you need to tap-to-meter or adjust the exposure on the fly. In all but full daylight brightness, the camera was choosing to shoot at f/1.5 — but the few shots I've had so far at f/2.4 looked great as well.
The f/1.5 lens also affords you fantastic bokeh in close-up or macro shots, leaving me to wonder why you'd want to settle for the faux Live Focus blurring in many situations. But in a couple situations that super-wide lens caused me issues with the camera "missing" focus, since the focal plane is so narrow — moving to a tap-to-focus for more artsy shots where I had a specific subject in mind fixed that right up, though.
The Galaxy S9+ doesn't feel like it has quite as much opinionated post-processing as something like the Google Pixel 2. What I mean by that is the Galaxy S9+ seems to take a sharp, well-exposed and colorful version of a scene, while the Pixel 2 goes a bit stronger in using HDR-style processing to bring out more highlights, colors and overall dynamic range. The Pixel 2's photos can be a bit more pleasing to the eye as a result, but don't let that take away the fundamental soundness and excellent quality the Galaxy S9+ is offering here.
If you'd like to view full-resolution versions of these daylight photos, you can download them right here.
Low light photos
Image 1 of 11
Samsung's new "Super Speed Dual Pixel" sensor may have a funny name, but the goal of providing greatly improved low light photography is no joke. Its advanced multi-frame processing is clearly doing some amazing things with very little light, aided of course by the f/1.5 lens. Low light shots are incredibly sharp, which is noticeable immediately before you even zoom in to details. Flat surfaces exhibit very little noise, even when shooting scenes that have minimally usable light. Things don't look unnaturally smooth or fake, either, which is a tough line to walk.
The most impressive part so far, from a photography nerd perspective, is the parameters the Galaxy S9+'s camera shoots with. Even in a super-dark scene, like the shots from the lounge above, we're looking at between ISO 100 and 300. Even still, they're shot at a shutter speed of 1/40 second or faster. With those kinds of dark scenes you typically expect something to give out in either blur or softness or grain, and the Galaxy S9+ just doesn't have any of those things. Low light shots are almost as sharp as the daytime ones, which is amazing.
One thing worth mentioning when it comes to low light photos is what happens when you switch to the "2X" zoom mode. Just like other phones with dual cameras, the Galaxy S9+ will often choose to use the main camera with a digital crop rather than switching to the secondary camera. With the primary camera's great sensor and f/1.5 lens, it can better handle low light shots, even at 2X digital zoom, than the dedicated telephoto lens can in many cases. That kind of adds to my initial theory that standard Galaxy S9 buyers aren't missing out on much by "only" having the main camera.
If you'd like to view full-resolution versions of these low light photos, you can download them right here.
More to come
This is just the beginning of my time with the Galaxy S9+, and of course with its cameras. You'll see more about its photographic capabilities in our full review, and as I put this phone through its paces you'll see more photo samples showing up on my Instagram.
Get the Android Central Newsletter
Instant access to breaking news, the hottest reviews, great deals and helpful tips.
Andrew was an Executive Editor, U.S. at Android Central between 2012 and 2020.