Samsung Galaxy S9 and S9+ hands-on preview: The biggest gets better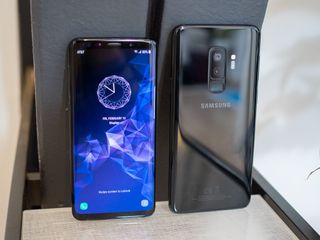 (Image credit: Android Central)
People who are "in the know" with technology often refer to companies as having a "tick-tock" release cycle — in which a product receives a very large improvement one year, followed by a subtle refresh the next. I can never remember which one is the "tick" and which is a "tock," and I don't think many other people keep it straight, either. Not to mention all of the normal people who don't care either way. Regardless, looking back at Samsung's recent Galaxy S releases, it follows this pattern pretty well.
The Galaxy S6 marked a massive change from the Galaxy S5. Its successor, the Galaxy S7, didn't really change the design much — but made many subtle improvements to the likes of battery life, expandable storage and the cameras. The Galaxy S8, on the other hand, was a big departure with a new form factor, commitment to curved displays and a change in overall philosophy — dropping the physical home button, moving to a new 18.5:9 aspect ratio and trying some bold moves with biometrics. So now, the Galaxy S9 is once again one of those light-touch iterations like the GS7: focused on ironing out the small issues and improving on what was Samsung's best-selling phone yet.
That's not to say that the Galaxy S8 and S8+ were perfect and just needed a coat of paint — there were some legitimate complaints with 2017's flagships. The Galaxy S8 wasn't known for great battery life. The larger Galaxy S8+ had a very tough-to-use fingerprint sensor. After a few years of leading the smartphone camera world, Samsung started to fall behind in imaging prowess. Both phones under-delivered with iris scanning. Bixby hasn't taken the world by storm. Yup, there's room for improvement here — this is how Samsung made it happen for 2018.
Moving picture version
Samsung Galaxy S9 Hands-on video
For the quick take on the Galaxy S9 and S9+, be sure to watch our hands-on preview video above. To get deeper into the specifics and see my full impressions, read on!
Don't hate, iterate
Samsung Galaxy S9 Hardware and specs
The Galaxy S9 and S9+, at a glance, look identical to the Galaxy S8 and S8+. The average person wouldn't know which of the two generations was newer even when picking up and twirling them around for a minute. This definitely isn't an iPhone 6 to iPhone 6s situation where the hardware was entirely unchanged, but it leans that way. The design principles haven't shifted, but the process and details have. For the astute observers, there are things to take note of — and every single one is an improvement over the Galaxy S8.
If there was one complaint to be had with the Galaxy S8's design, it was its fragility — or, at the very least, perceived fragility. In pursuit of those sleek lines and glossy simplicity, the Galaxy S8 in particular felt a little too light — and in my time using it over the last year, the back glass was well-worn. Even though the dimensions and design of the Galaxy S9 haven't really changed, the materials certainly have. The entire metal frame is thicker and immediately feels more robust. The rear glass, too, is thicker — not something that will necessarily stop scratches, but could in theory reduce cracking. The metal now has a textured feel to it, more along the lines of the Galaxy S7 (or perhaps a bit more textured), which I far prefer to the Galaxy S8's glossy coating. In short, the metal feels more like metal. And that's a great thing.
Image 1 of 5
The material changes lead to phones that feel dramatically more solid. Denser. Less flimsy. And that makes sense when you look at the numbers: weights are up just slightly — 8 grams for the GS9, 12 for the GS9+ — and both phones are slightly shorter — 1.2 and 1.4 mm, respectively — than their predecessors. More weight in less space gives you a more solid-feeling phone, without making either one unwieldy — though the GS9+ is pushing the envelope at 189 grams, nearing the Galaxy Note 8's 195.
The Galaxy S9 and S9+ keep the same screen sizes, 5.8- and 6.2-inches, as well as striking screen curves and 2960x1440 resolutions. The only improvement here is a big, useful one: a 15% bump in brightness, up to 700 nits — and that's before the Adaptive Display cranks things up in direct sunlight. We're looking at a display with roughly the same capabilities as the Galaxy Note 8, which is often lauded as having an industry-leading panel by both subjective opinions and objective measurements. The Galaxy S9 and S9+ sure looked fantastic to my eyes, and I wouldn't expect anything less from Samsung.
With slightly shorter overall heights that means that the top and bottom bezels have shrunk ever-so-slightly — an imperceptible amount, really. Samsung managed this subtle shrinkage without removing anything from the phones — they have the same battery capacities and hardware features as before, including wireless charging, a microSD card slot, IP68 water resistance, a 3.5 mm headphone jack and all of the latest radios.
Complete Samsung Galaxy S9 and S9+ specs
Then it made some improvements. The down-firing loudspeaker is now accompanied by a top-of-screen earpiece that acts as a second speaker for stereo separation. The combination is 1.4 times louder than before and will sound even better in certain circumstances with Dolby Atmos support. And in a segment where so many companies cheap out, AKG earbuds still come in the box. Elsewhere the Galaxy S9+ bumped up to 6GB of RAM to match last year's Note 8, though the standard GS9 oddly still has 4GB. Nerds will also appreciate gigabit LTE inside, though it's more futureproofing than anything at this point.
You may have noticed I also glossed over the battery size situation here when mentioning specs. Yes, Samsung stuck to the same 3000 and 3500mAh capacities this year. Unless Samsung engineered in some big-time battery efficiency with its software, I don't think adding the more frugal Snapdragon 845 (or Exynos 9) processor is going to bring enough power savings to make the Galaxy S9 last much longer than the outgoing Galaxy S8 — and that's potentially an issue. Samsung's messaging here is "all-day battery," but at the same time it's always happy to remind you it's super easy to charge up with its Fast Wireless Chargers — a final judgement will have to wait for the review.
And I somehow managed to bury the lead: Samsung moved the fingerprint sensor to a ... sensible position. In "response to customer feedback," Samsung managed to move the fingerprint sensor below the camera(s) on the back of the phones — something that has been a thorn in the side of every Galaxy S8, S8+ and Note 8 owner. It's still a little high on the back of the phone as it still shares the glass cutout with the camera assembly, so time will tell just how easy it is to reach — as a point of comparison, it's placed a few millimeters higher on the back than on a Google Pixel 2. It's also still oval-shaped rather than circular like so many others. You'll have to forgive me for being skeptical, but those worries aside my initial response to feeling it was, "THEY DID IT!"
Oreo we know
Samsung Galaxy S9 Software and features
Samsung once again revealed its hand by releasing its Android 8.0 Oreo update to the Galaxy S8 and S8+ earlier this year, bringing both Google's improvements and interface changes as part of Samsung Experience 9.0. Though that update has been put on hold for many regions, it's been out long enough to compare it to what I saw on the Galaxy S9 — and well, it's nearly identical.
Naturally you get the core Oreo features like better notification management, in-app auto-fill for passwords, picture-in-picture mode for some apps, background limits and other battery improvements, and smarter text management. Welcome additions, all — but you won't be ecstatic about any one of those changes, but the group is a nice improvement over Android 7.0. And because Samsung has improved the overall speed and fluidity of the Galaxy S8 with its Oreo update, we can only hope that the S9 series escapes any of that long-term slowdown notorious to Galaxy devices.
Regarding the interface and core features, you'll find everything where you left it on Nougat, with a few tweaks to the launcher, settings and some of the bundled apps. Some of the "new" features were those introduced on the Note 8, like App Pair on the edge screen, while others, like proper long-press shortcuts in the launcher, are altogether new — in both cases, useful but not groundbreaking.
One entirely new feature is Samsung's attempt to fix its other biometric blunder, the iris scanner — but it isn't in the way you'd think. Samsung isn't claiming any improved iris scanner performance, which is interesting, but it's making a substantial change to your interactions with it with a new feature called "Intelligent Scan." Now rather than choosing iris scanning or face unlock, you can use both simultaneously to unlock your phone. Enroll your irises and your face, and the phone will unlock with whatever one it can identify first as the screen comes on. In practice, as we've seen with the Google Pixel 2 and OnePlus 5T, face unlocking is extremely quick — and for this reason, I'd expect the Galaxy S9 and S9+ will be unlocking with that method a majority of the time. But this way you'll have your irises enrolled as well, so when an app requires that higher level of security it can choose to only use an iris scan.
This doesn't entirely fix Samsung's muddy authentication options or take on Apple's Face ID in terms of security, but in practice, it'll work dramatically better than the old system. And with the fingerprint sensor that is now moved back to a reasonable location, you can easily reach, the entire fingerprint/iris/face combination is a formidable one that can make me forget about the Galaxy S8's stumbles.
Bixby is still alive and well on the Galaxy S9 and S9+, complete with Bixby Home enabled by default and the Bixby button sitting below the volume rocker on the left side ready to take you there or enable voice actions with a long press. Bixby Home continues to evolve, and if you've had it turned off for the past six months you probably owe it to yourself to turn it on and see how it's improved since your first interaction with it. The same goes for Bixby Voice, which has its own narrow set of useful features if you're into voice-as-an-interface to start with. Samsung says over half of its customers who have Bixby use it — though I assume that's through a loose definition of "use."
The big changes with Bixby on the Galaxy S9 are all related to Bixby Vision, the portion of the AI assistant that's baked right into your camera interface. Tap the Bixby Vision button in the viewfinder and you'll see new options for live translation of text (powered by Google Translate), improved image recognition and support for identification of calories in food. These are the sorts of things we've seen attempted plenty of times, including with Google Lens, and even in ideal conditions, they are hit-or-miss on the Galaxy S9. While I completely agree that the main camera interface is the right place for these functions, I just don't see the utility in them until the recognition is amazingly accurate and fast — and right now it just isn't.
Early teasers of the Galaxy S9 hinted at an Apple Animoji competitor, and now we know what it's all about. It's called AR Emoji, and it isn't really similar to Animoji at all. To kick it off, you scan your face — not unlike the process of setting up face unlock — and create a cartoon version of yourself. Best way I can describe the cartoon selfie of yourself is a cross between a Bitmoji and a Nintendo Mii character — humans, but not realistic. I thought they looked pretty accurate, but as is always the case with these things, unique features of your face and hair are kind of marginalized.
Once saved, you can select that character while in selfie mode in the camera and apply dozens of masks and funny filters all in real-time responding to what you're doing using the front-facing camera. Most feel like they're just lifted from Snapchat and Instagram, but nobody cares — they're fun to mess around with, and help lower the barrier for some people to take and share selfies. The tracking and animations aren't fantastic, but they're pretty good — and there's a good variety of filters that respond well to changes in your expressions.
Because this is all happening in the main camera app, you can take photos and video of yourself in this character version or with all of these wacky filters and share them anywhere you'd share a regular selfie photo or video. Given that AR Emoji is wide-open and not limited in any way, from my point of view Samsung absolutely beat Apple at its own game here — even if the face tracking and character rendering aren't quite as good as Apple. Being able to save and send these things anywhere trumps the rendering every day of the week.
But I'd also argue this isn't a game that matters and will be a feature so many people ignore after the first week with their new Galaxy S9 or S9+. And no matter how many commercials Apple may run to promote Animoji, nobody's really using it over there, either.
A fresh approach
Samsung Galaxy S9 Cameras
Samsung was leading the smartphone industry with the camera experience on the Galaxy S7. It has since been passed by Google's Pixel lineup and challenged further by the likes of HTC and Huawei. I feared it was destined to sit on the same basic camera setup for yet another generation and was pleasantly surprised — this is a new take on the camera.
The only thing that stays the same year-over-year is the resolution: 12MP. The rest has been improved, and though I haven't used the phones long enough (or in real-world conditions) to know how much has been improved, it all looks fantastic on paper. It all starts with a new sensor, which Samsung is branding "Super Speed Dual Pixel" but (understandably) isn't disclosing which company makes it. That branding coincides with an important improvement: DRAM embedded in the sensor, which is used to dramatically enhance the capture and processing capabilities of the camera.
With this new sensor, the Galaxy S9 and S9+ do what's called batch photo capture, in which each photo actually captures 12 frames — those 12 are bunched into groups of 4, and those 3 resulting images are then processed into 1 final image. It's the sort of computational photography that's all the rage right now, and something Google has done with fantastic results in HDR+ on the Pixel and Pixel 2.
Functionally, Samsung is claiming this processing offers a reduction in noise — that grainy and blotchy stuff you see in photos — of up to 30% compared to even the Galaxy S8. That means flat surfaces in photos will look flat and not rough, and edges will be sharper and more defined. Now processing to remove grain is a fine line that can easily be crossed to the point of over-sharpening, which looks bad in an entirely different way, but on the surface this is a fantastic change. Some of the sample images Samsung offered showed a dramatic improvement in fine detail.
On-sensor DRAM also enabled Samsung to step up its slow-motion video capture game, pushing to 960 fps — the camera can capture 0.2-second bursts at this super-high frame rate, which when played back normally come out to 6-second clips. The way Samsung does this in the interface is quite useful, though, because it can trigger that slowmotion capture automatically when it detects motion in a certain area defined in the viewfinder. It'll then bookend that slow motion clip with a bit of recording at 30 fps on either end, and package it all up for you. The camera will even automatically generate looping and boomerang-style .gifs so you can share them anywhere or set them as your lock screen image.
Going a step further, that new sensor sits behind quite a technical marvel: a lens with a physically adjusting aperture. Yes, in a smartphone. Unlike nearly every other smartphone that has a fixed aperture or some sort of software-simulated changing aperture, this one actually physically changes in size from f/1.5 to f/2.4. Now it doesn't offer you a full range of apertures between, just those two, but it's still impressive regardless.
Shooting by default at f/2.4 gives the Galaxy S9 and S9+ less opportunity for distortion and a more fundamentally sound setup — at least when shooting in good lighting. When things get a bit dimmer (under 100 lux, like a dim room), the camera automatically changes to f/1.5 (brighter than the GS8's f/1.7) to let in nearly 30% more light with just the lens alone, saving the camera from having to crank up the ISO or slow the shutter speed. If you hop over to the "Pro" mode you can choose your aperture manually, along with every other adjustment imaginable, to get exactly the shot you want with the depth of field you desire. Add this new wider aperture to the new sensor's ability to combine multiple images for reduced noise, and we could be looking at another great low-light camera from Samsung.
As every leak for the past two months indicated, the Galaxy S9+ also packs a secondary camera just like the Galaxy Note 8. There are no claims about the secondary sensor being the Super Speed type, and it has a fixed f/2.4 aperture — so from that standpoint, it isn't a massive addition. The second camera is used for "lossless" zooming on account of its ~2x focal length, and also enables Samsung's Live Focus portrait mode.
Considering the real star of the show here is the new main camera, I don't feel potential Galaxy S9 buyers are missing much by not getting the secondary camera.
Ready to win
Samsung Galaxy S9 Hands-on preview
You'd be forgiven for thinking that the Galaxy S9 and S9+ are ... not that exciting. They aren't substantially different from their predecessors, they don't add any massive new feature or make any sweeping design leaps that push the industry forward. But once again Samsung knows its market. It knows it has a massive loyal customer base upgrading from the Galaxy S6 and S7, and those people will be thrilled with the Galaxy S9 or S9+, even if someone harshly dubs it a "refreshed Galaxy S8." Anyone with either of those older phones will be ecstatic to get a Galaxy S8 that has nearly all of its flaws fixed. A Galaxy S8 with a fingerprint sensor they can reach, and a metal body that feels better and is more robust. A Galaxy S8 with improved performance, new software and a camera that makes a big leap over the last generation.
Samsung didn't attempt to blow up all of the advancements it made in the Galaxy S8 and S8+ just because the phone had some issues. It would be silly to throw everything out just because the Galaxy S8 wasn't a "perfect" phone. Samsung instead took the parts that clearly worked, leading to record sales in 2017, and improved on that base by fixing the core flaws and adding in some new features and specs in the process.
We've all come to expect that Samsung will lead by example and push the industry in every way, but with its current market position it doesn't need to — it is rightly far more calculated about its approach. The fact that these new phones are very similar to the last generation doesn't matter at all to most people, so long as the Galaxy S9 and S9+ themselves are great phones on their own — and every indication from my early look at them is that they are indeed great.
Get the Android Central Newsletter
Instant access to breaking news, the hottest reviews, great deals and helpful tips.
Andrew was an Executive Editor, U.S. at Android Central between 2012 and 2020.