Both variants of the Samsung Gear S3 are now available at Verizon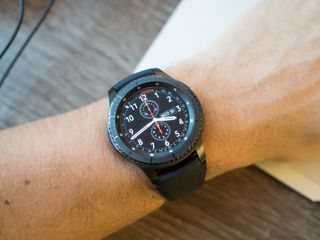 Six months and one delayed release later and the Gear S3 is finally on sale at Verizon. The carrier announced the arrival of the long-awaited Samsung wearable with an official press release, which also mentions the watch's compatibility with Verizon NumberShare. The program lets current subscribers use their number for both a smartphone and a smartwatch at the same time. Verizon explicitly advertises the fact that you can leave your smartphone at home and still take calls from the watch out on the road:
Verizon users have been long waiting for the Gear S3 smartwatch to make its way to the carrier. Both the Gear S3 Frontier and Gear S3 Classic are available at Verizon stores and online for $400. Previously, it was thought that only the Gear S3 frontier would come to Verizon, but it's possible that the reason it was delayed in the first place was wait to launch alongside the Gear S3 classic, which only recently received 4G LTE capabilities. Now they're both options for Verizon users, and they work with the iPhone, too.
LG Watch Sport vs. Gear S3: Which should you buy?
Verizon is also offering the option to buy either smartwatch for $350 with a new two-year activation plan, or you add it to an existing plan for $5 a month. There is also a $100 discount if you purchase it along with a new Galaxy S8 or Galaxy S7. Note that Verizon's offering is still $100 more than the watch sells for at Best Buy.
Get the Android Central Newsletter
Instant access to breaking news, the hottest reviews, great deals and helpful tips.
Florence Ion was formerly an editor and columnist at Android Central. She writes about Android-powered devices of all types and explores their usefulness in her everyday life. You can follow her on Twitter or watch her Tuesday nights on All About Android.