Both variants of the Samsung Gear S3 are now available at Verizon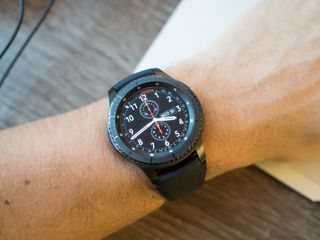 Six months and one delayed release later and the Gear S3 is finally on sale at Verizon. The carrier announced the arrival of the long-awaited Samsung wearable with an official press release (opens in new tab), which also mentions the watch's compatibility with Verizon NumberShare. The program lets current subscribers use their number for both a smartphone and a smartwatch at the same time. Verizon explicitly advertises the fact that you can leave your smartphone at home and still take calls from the watch out on the road:
Verizon users have been long waiting for the Gear S3 smartwatch to make its way to the carrier. Both the Gear S3 Frontier and Gear S3 Classic are available at Verizon stores and online for $400. Previously, it was thought that only the Gear S3 frontier would come to Verizon, but it's possible that the reason it was delayed in the first place was wait to launch alongside the Gear S3 classic, which only recently received 4G LTE capabilities. Now they're both options for Verizon users, and they work with the iPhone, too.
LG Watch Sport vs. Gear S3: Which should you buy?
Verizon is also offering the option to buy either smartwatch for $350 with a new two-year activation plan, or you add it to an existing plan for $5 a month. There is also a $100 discount if you purchase it along with a new Galaxy S8 or Galaxy S7. Note that Verizon's offering is still $100 more than the watch sells for at Best Buy (opens in new tab).
See at Verizon (opens in new tab)
Get the Android Central Newsletter
Instant access to breaking news, the hottest reviews, great deals and helpful tips.
Florence Ion was formerly an editor and columnist at Android Central. She writes about Android-powered devices of all types and explores their usefulness in her everyday life. You can follow her on Twitter or watch her Tuesday nights on All About Android.
I don't regret my purchase of the bluetooth version of the Gear S3. I am ok with carrying my phone for the watch and I still get to use Samsung Pay. I also paid $299 at Best Buy.

Easily the best smart watch on the market today.

Two year contract on a watch seems kind of crazy..

Are you kidding me?? I'm with Verizon but I had to go to Tmobile for my watch 6 months ago. I guarantee you samsung is getting ready to release the s4 very soon.

And we'll be lucky to get that in a timely manner. I've got the t-mobile version as well. Will consider selling it and getting this version.

Why would you do that?? How are you benefiting by doing that?

Just wondering, in case I'm missing something. I never had a issue using my watch as a standalone device even that it's from Tmobile.

The numbershare. I would prefer not to use call forwarding or giving everyone a second number. Actually, my hypothesis is that this took forever to come out because this service wasn't available yet. This is the first device to support it.

Yeah because the smart watch market is so hot now.

Very interested and will probably pick one up. Frontier style most likely, have to see how they look in person. Wonder if it could work as a Hotspot.

FYI it doesn't have a hotspot feature

Frontier heavier than the classic.

$350 on a 2 year contract? They gotta be kidding! $399 out of the door. Who would bind himself to the contract for a saving of 50 bucks? Besides, on ebay I get that thing for $270!

Yes, you can, but Ebay version just Bluetooth.

And if anyone is interested in knowing.... The watch is awesome. You will love it. I never had one regret after buying it.

From one of your customers who cancelled their Gear S2 Classic 3G line last month, F'ck off, Verizon, it's almost time for the freaking S4.

And T-Mobile, and att being the cheapest

I bought the classic from Best buy for $299

Tried the classic and while the watch is nice hardware, the Tizen OS is garbage.

I have had the att frontier version since day 1...no regrets and being able to use Samsung Pay everywhere...awesome!

Won't buy another smartwatch. Got the Att version of the S2 and i use Sprint.
Since this version doesn't have a removable SIM, I have to get a $40 post paid plan from Att for cellular connectivity.
So its basically a Bluetooth watch right now.
Good thing I only paid $99 for it.

I'm waiting for the Galaxy Note 8 to drop. The Gear S4 will most likely drop around the same time & I want to see if the bundle the Gear S3 w/the phone at some point. I have the Gear S2 & don't mind waiting a bit. Only feature I really want is the magnet reader on the watch. They do need to get more apps. Their current offerings are garbage truck juice.

"Picture this: You're out running an errand and reach for your phone, only to realize (dramatic music plays) you forgot it at home or in the car." I would not, because my Pebble tells me when I get to far from the phone. Do other smartwatches not do that?

I was looking at the S3 for a while and the $100 off coupon I received via email pushed me over the edge. $249 on the 2YR after coupon. Saving $50 but having the 2 yr commit is a toss up. It is only $5/month, so at most, you pay $120 if you never use it.

Does Verizon numbershare support phone and text with the same number? I can't seem to text messages to show my main number but calls work. Anyone else have this issue?

I can tell your it does not support receiving calls or texts if your phone is off. this might have been obvious, but I was originally told that it did.