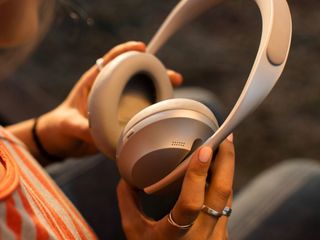 (Image credit: Bose)
Sony WH-1000XM3
The WH1000XM3 have been named the king of ANC for a reason. They offer long battery life, great comfort, and an ultra-portable design.
Sony WH-1000XM3
Current ANC king
Reasons to buy
+
Foldable design
+
Great active noise-canceling
+
Long battery life
Reasons to avoid
-
Bass-heavy sound signature
-
Mostly plastic design
-
Can't charge and listen at the same time
Bose Noise Canceling Headphones 700
The Bose Noise Canceling Headphones 700 are lightweight, comfortable, and boast Bose's signature top-tier noise cancellation, along with a more neutral sound signature compared to the Sonys.
Bose Noise Canceling Headphones 700
Close second
Reasons to buy
+
11-step ANC
+
Listen and charge at the same time
+
Premium design and build
+
Great sound
Reasons to avoid
-
Non-foldable design
-
Slightly heavier than the competition
-
More expensive
If you absolutely want the best noise-canceling headphones in the business and are OK with slightly worse sound, the Sony WH-1000XM3 are the right choice. However, if you're alright with slightly worse active noise-canceling (ANC) performance but superior sound quality, the Bose Noise Canceling 700 are right up your alley. Just know you'll be paying a premium for that better sound.
Battle of the noise-canceling headphones
Image 1 of 2
The Sony WH-1000XM3 took what we knew as "great ANC performance" and cranked it up to 11. They were a massive improvement over the outgoing WH-1000XM2. A similar thing could be said when comparing the Bose NCH 700 and the outgoing QC35 II. The QC35 II were considered class-leading when it came to comfort and featured decently-balanced sound. They were the default set of ANC cans to recommend before the WH-1000XM3. Unfortunately, neither the QC35 II or the NCH 700 from Bose beat out the WH-1000XM3 in regards to ANC performance.
Swipe to scroll horizontally
| Header Cell - Column 0 | Bose Noise Canceling 700 | Sony WH-1000XM3 |
| --- | --- | --- |
| Weight | 8.89 oz | 8.99 oz |
| Battery Life | 20 hours | 30 hours |
| ANC levels | 11 | 20 (through the app) |
| App | Yes | Yes |
| Simultaneous charging and listening | Yes | No |
| Fast charging | Yes | Yes |
The NCH 700 are able to block out bass/low-end noise and mid-range noises exceptionally well, especially at the highest ANC setting you can set them on. However, they struggle with higher pitched noises such as the whine from electric cars or peeople talking, especially when those people are within a few feet of you.
Meanwhile, the Sony WH-1000XM3 take it to a whole new level. In addition to blocking out the lower end of the noise spectrum, they're able to block out a ton of midrange noises and a decent amount of treble. It's not complete silence, but it's real close. If you start playing any sort of audio, that'll drown out the rest. The WH-1000XM3 also offer up to 20 levels of ANC through the companion smartphone app. However, with how good the ANC performance is with them, you won't need to toggle between the different modes. The option is there, but the hardware ANC button only toggles between three options: your ANC option set in the app, off, and transparency mode.
When it comes to actual audio quality with ANC enabled, it depends on the type of person you are. The WH-1000XM3 pack a heavy low-end sound with an overall bass heavy sound. This translates to strong bass that can sometimes feel overbearing. Bose is sticking to the rather balanced sound signature from the Bose QC35 II with a small boost in the bass this time around and toned down treble to give the Noise Canceling 700 a more refined and less fatiguing sound.
You'll get up to 11 different ANC steps with the Noise Canceling 700. This allows for finer control over how much noise cancelation you want. However, unlike the WH-1000XM3, the NCH 700 can actually cycle through all 11 ANC modes with the hardware ANC button allowing you to conveniently switch between all the ANC modes without having to pull out your phone.
What about everything else?
Bose is clearly aiming for a different audience with the Noise Canceling 700 versus the Sony WH-1000XM3. For example, the WH1000XM3 get 10 more hours of average battery life than what Bose reports for its Noise Canceling 700.
The Noise Canceling 700 lack in battery life compared to the WH-1000XM3, but it makes up for it by allowing you to charge and listen to them at the same time. The WH-1000XM3 are completely disabled when you're charging. You can't even listen via the 3.5mm audio jack while they are actively being charged. With the Noise Canceling 700, you get the option between 3.5mm wired or Bluetooth wireless while charging your cans.
In our testing, the WH-1000XM3 got notably louder than most other Bluetooth ANC headphones, including the Bose Noise Canceling 700, so keep that in mind. If you like to listen to your headphones at a relatively loud volume, the WH-1000XM3 won't disappoint. However, you may have some trouble reaching that same volume on the Noise Canceling 700, depending on how loud you're planning on listening to your audio.
While the WH-1000XM3 are relatively light and portable, they're also made out of plastic for the most part. This allows you to fold them up for when you need to pack them away in their compact traveling case. Unfortunately, the Bose Noise Canceling 700 doesn't have that luxury and come in a rather large carrying case. This is because the headband is made from higher-end materials and cannot be folded.
Overall, the WH-1000XM3 will be the better choice for most people. They offer better ANC performance, longer battery life, a compact design, and a customizable sound. It's hard to recommend the NCH 700 unless you absolutely need to charge and listen to your headphones at the same time or are committed to the Bose brand.
Class-leading ANC
Fan-favorite ANC cans
The Sony WH1000XM3 present an overall great package that is lightweight, portable, and provides a sound you can customize.
Modern, premium tunes
Close second
The Bose Noise Canceling Headphones 700 provide a relatively balanced sound, great ANC, excellent comfort, and good battery life.
Be an expert in 5 minutes
Get the latest news from Android Central, your trusted companion in the world of Android