Boost Mobile invites MetroPCS and Cricket customers to cut their payments in half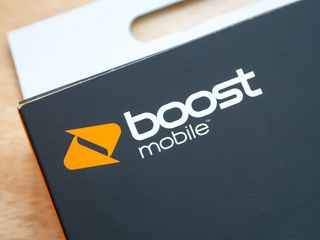 (Image credit: Android Central)
Boost Mobile is looking for MetroPCS and Cricket customers to bring their number to its network, offering the same or more data for half the price. Sprint has been marketing the promotion for some time now, and it is now extending the offer for its prepaid network. Under this promotion, customers who bring their line from MetroPCS or Cricket between now and July 20 will be able to save $20-$30 a month for a full year.
The current promotions, which will be valid for one year from the date of switch, are:
$20 for 2.5GB of data
$25 for 5GB of data
$30 for 10GB of data
After the introductory offer ends, customers will be placed on a current Boost Mobile plan that offers a comparable amount of monthly data.
Source: Sprint
Jared started off writing about mobile phones back when BlackBerry ruled the market, and Windows Mobile was kinda cool. Now, with a family, mortgage and other responsibilities he has no choice but to look for the best deals, and he's here to share them with you.
DSL operators have been offering this for years. "Hey Comcast customer, drop your 50/10 connection for $59.99 and come to us, and we'll give you a 1.5m/512k DSL connection for only $29.95!" At least, that's how I view these promos, in light of Sprint's consistently horrid data connection speeds. Heck, people are questioning why Sprint stopped throttling customers this past week. Sprint claimed it was to prevent possible net neutrality concerns. The real reason? When you throttle to 256kb, but the average customer can only pull 192kb...what's the point? Yes, I'm a Sprint hater. Sorry.

Yea pretty much, they can give away all the data they want, because it's too frustrating slow to use lol.

I'd use Sprint but I don't like the smoke signal network they use.

Cut your rate, coverage, and speed in half.

Lolno. Cricket (ATT) coverage serves me very well, at a normal $35 rate, not intro pricing bs. Posted via the Android Central App on N7 '13

It sucks you can't just try it out on your current phone. It's too much of a hassle to find out the network still sucks. Nexus 5 (AT&T)

All of the comments that were posted prior to mine made me laugh, esp. The one Ben1481 made. However, you guys forgot to mention the one and only thing I do know about Boost, the prices of their phones are higher, and last I knew you cannot flash a Cricket phone to work with their network so since I'm still paying on my galaxy 5 and now have read read some old customers complaints, I'm NOT switching. I'm not happy about the fact that Cricket had to merge with ATT but at least I didn't have to pay more money for a phone! !

sounds like comcast to me... Posted via the Android Central App

After that one year....."WATCH OUT" Posted via Android Central App

Watch out for what? Have you ever seen boost price plans? Lol Next-us

I switched from Sprint to Cricket a few months ago. With an unlimited plan on Sprint I never had used much over a gig of data in a month. Not that I wasn't trying but... Basically they suck so bad it was not possible where I live/travel/work.
On Cricket, I've used over three gigs this month.
I cannot even explain how much better any smartphone is on a good network. Basically, with Sprint, it does not matter how great your phone is because it won't work very well. I can't imagine anyone taking this "Deal" will be happy with their choice. At least Boost does not have a contract so they can leave quickly.

Same here but I went to AT&T (company discount). My wife and I used to use 1-2GB on Sprint, now we use 6-10GB. We could actually use our phones again! (that was almost 2 years ago we switched). Nexus 5 (AT&T)

Tin cans connected to string have better network coverage than Sprint. Posted via the Samsung Galaxy Note 4 running Lollipop 5.0.1 on the T-Mobile Network.

Same data speeds maybe lol.. Coverage wasn't the issue for us. It was data speeds and missed text messages. Voice was fine, crystal clear. Nexus 5 (AT&T)

Basically they only give you enough data speeds to get notifications. For get about trying watch a you Tube video or music streaming. Posted via the Android Central App. On my Nexus device or my LG G2 unlocked version

If boost would allow you to use sprint phones this would be good Posted via the Android Central App

It's insane that they don't.. When I had Sprint I emailed & called to complain about this, no one cares there. Best option for Sprint users looking to ditch Sprint but don't want to buy new phone or put out a dime, is Ting. Nexus 5 (AT&T)

And for very low usage or just a back-up phone RingPlus now has a free service plan option for some BYOD Sprint phones.

You can, the have a waiting period of about a year. Sprint G3 can be used on Boost next month. Posted via Android Central App

Sprint G2 can be used now along with note 3 and some other decent albeit older sprint phones. Next-us

With half the service coverage too. Posted via the Samsung Galaxy Note 4 running Lollipop 5.0.1 on the T-Mobile Network.

Last month on Metro PCS I used 60GB and paid $63 after taxes and all. So 10GB for $30 doesn't help. Plus I'm happy with my coverage and speed. Already tried boost 2 years ago Posted via...The One

I like the prices and Sprint has worked for me but the majority of your Boost phones are too low on the RAM and Storage. From my Note 3 to thee

You can use a sprint note 3 on boost. Yes they absolutely have shitty phone selection. Next-us

And coverage too... Cut your coverage... Posted via the Android Central App

I've actually had this deal with Sprint postpaid for awhile. They actually have decent service where I live, but once you leave the city, coverage drops off substantially. I actually got excited because I thought I was reading that Cricket was going to cut your Sprint bill in half. I'm already paying Sprint $30 per month, but it would be nice to have AT&Ts coverage.

Cricket Nation!! (Aka, AT&t) Whoo-Hoo!
Android Central Newsletter
Thank you for signing up to Android Central. You will receive a verification email shortly.
There was a problem. Please refresh the page and try again.