Best Tempered Glass Screen Protectors for Samsung Galaxy Tab S3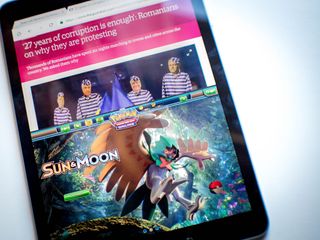 If you're going to bother getting a screen protector for your Galaxy Tab S3, then you'll want to go with tempered glass. If it cracks or chips, it won't turn into sharp, scratchy shards of death; it'll become blunt bits, so your screen will stay pristine. That being said, tempered glass is very strong, so you'd be hard-pressed to mess it up without much force.
Here are the best tempered glass screen protectors for your Galaxy Tab S3.
Pleson
Why you can trust Android Central Our expert reviewers spend hours testing and comparing products and services so you can choose the best for you. Find out more about how we test.
Pleson's $30 tempered glass screen protector for the Tab S3 is made to fit perfectly. Its precise laser cut means that your whole screen is protected — no more, no less. Pleson glass features an oleophobic (oil-resistant) and hydrophobic (water-resistant) coating, as well as a surface that repels dirt and dust, so you shouldn't see fingerprints and if water hits your screen, it'll just bead and roll off.
Pleson offers a lifetime warranty, so if anything goes wrong (within reason), you'll receive a replacement.
Supershieldz
Supershieldz is an old standby for tempered glass screen protectors. It makes quality protectors that are perfectly clear and maintain all the touch sensitivity you'd want and expect from a quality tempered glass screen protector. Like all great protectors, Supershieldz features and anti-scratch and anti-fingerprint coating, so you won't have to constantly wipe your screen with your shirt.
Supershieldz Amazon ad says the protector fits the Tab S2, but it will also definitely fit your Galaxy Tab S3. For $8, I won't complain.
Yoozon
Yoozon's tempered glass screen protector is Amazon's current number one new release for the Galaxy Tab S3. It's 0.33mm thick, which makes for optimal clarity and full touch sensitivity, and like any great tempered glass screen protector, it's laser cut, so it fits your Tab S3 precisely.
Yoozon offers a two-pack for $12, and you get a lifetime replacement or refund warranty.
Spigen
Spigen makes great phone cases and that has translated well to tempered glass screen protectors. This two-pack is only about $15 and it features a dust-resistant and oleophobic coating to prevent fingerprints and keep your Tab S3's screen nice, clean, and pristine. This protector features rounded edges, which is perfect if you like to keep your Galaxy Tab S3 in a case.
IQ Shield
IQ Shield is known for making excellent screen protectors, and this tempered glass protector for your Galaxy Tab S3 keep with tradition in reliable fashion. IQ Shield promises almost 100% clarity and perfect touch sensitivity, so once you install it, you shouldn't even notice it's there. IQ Shields are made from ballistic tempered glass, which is very resistant to impact, so it's difficult to shatter, meaning your screen stays protected and in one piece. Check it out for about $9.
Sparin
Sparin's screen protector is only about $10 on Amazon and has a 4.3-star rating on 1,699 reviews. That ain't too shabby. Sparin promises its protector won't interfere with your S Pen, while offering excellent scratch protection and clarity.
In the package you'll get three guide stickers, two cleaning wipes, a microfiber cloth, and a "dust absorber".
Do you use a screen protector?
Do you use a screen protector on your tablets? Which one are you using on your Tab S3? Let us know in the comments below.
Updated March 2018: Updated pricing and added Sparin's well-reviewed protector.
Get the Android Central Newsletter
Instant access to breaking news, the hottest reviews, great deals and helpful tips.
Mick is a writer and duty editor for Android Central. When he's not on the job, he can usually be found vacuuming up pet hair or trying to convince his wife that he needs more guitars.