These apps will help you make the most of St. Patrick's Day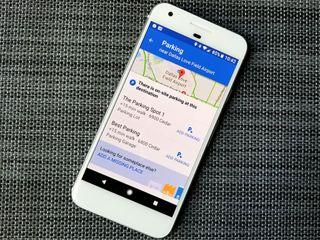 Whether you like bar hopping, wearing green or just driving snakes out of places snakes shouldn't be in, St. Patrick's Day has something for everyone. If you are planning a night on the town, there are a few applications for your Android phone to help you!
Google Maps
Why you can trust Android Central Our expert reviewers spend hours testing and comparing products and services so you can choose the best for you. Find out more about how we test.
The easiest way to find bars nearby is by firing up Google Maps and exploring spots nearby. You'll be able to read reviews, see hours of business, and of course navigate to the business. Picking up some friends along the way? You can add multiple stops to your trip to make sure you get everyone. Taking public transit? You can browse transit schedules and find out which station to be at. Get separated from your group? Simply share your location.
More: Google Maps: Everything you need to know!
Uber and Lyft
Drinking and driving is a terrible idea. If your group isn't going to have a designated driver, be ready to use a ride-sharing service. Depending on your market, this could either be Uber or Lyft . Better still, you can get a ride from inside Google Maps. If neither of these is in your market, your local taxi company may have an app, or may be available from taxi aggregator Curb. Failing that, call a good friend if you have one too many. Just don't get behind the wheel.
Download: Curb - The Taxi App (Free)
PubRally
If Google Maps doesn't produce the best recommendations for your taste, or if you just want to be sure you follow the crowd, check out PubRally. You can find nearby pub crawls, chat with other participants, and even compete in challenges. Because the only thing better than getting belligerently drunk is getting belligerently drunk for points.
Allrecipes
You may need something filling the next morning to cure your hangover, or you could be like me and just want to make a dynamite corned beef and cabbage. Either way, there are plenty of applications to help you follow along with a recipe, and my favorite is Allrecipes. You can sort by your tastes, the type of meal you want to cook, and create a central shopping list from your recipes. There are even drink recipes for those that want to party from the safety of their own home.
Download: Allrecipes (Free with ads)
Instagram
According to the Internet, all of the cool kids have moved from Snapchat to Instagram. If you want to share your St. Paddy's Day journey from that cool green tie you wore at work to all those shots you did at the bar to your stack of pancakes the next day, you'll obviously want to world to see each and every step along the way. Be one of the cool kids and do it on Instagram.
What are your picks?
Which apps do you use to help celebrate St. Patrick's Day? Let us know down below!
Get the Android Central Newsletter
Instant access to breaking news, the hottest reviews, great deals and helpful tips.