Best Screen Protectors for Moto X4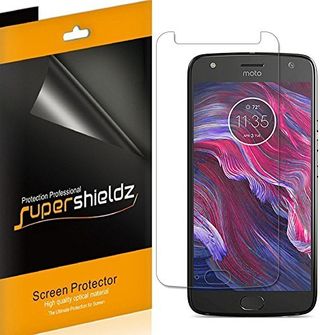 The Moto X4 is a quality mid-range phone from Motorola that falls under the Android One program, which means you'll get Motorola's excellent software experience along with guaranteed software updates from Google.
On the hardware side, the Moto X4 delivers great build quality with a high-quality display for a $400 phone. Be sure to keep that display looking pristine with a screen protector!
Mr Shield Tempered Glass Screen Protectors
Mr Shield is one of the more popular screen protector brands, and they offer a couple different value packs of tempered glass screen protectors.
Featuring a black border around the screen with cutouts around the earpiece, front-facing camera, and the home button. Since these are tempered glass screen protectors, you'll get the best protection available for your Moto X4, and since this is a two-pack, you'll get a backup screen protector thrown in with everything covered by Mr Shield's "No-Hassle Lifetime Replacement Warranty".
If you think you'll need a back up for your back up, Mr Shield offers a 3-pack for $8 (opens in new tab). Otherwise, the two pack for $6 linked below should do the trick.
See at Amazon (opens in new tab)
Supershieldz Tempered Glass Screen Protectors
Supershieldz offers a comparable tempered glass screen protector for the Moto X4, with a couple notable differences from the Mr Shield option.
You still get that tempered glass hardness and a black border around the screen, but Supershieldz just cuts right around the home button at the bottom. If you've dealt with tempered glass screen protectors before, you'll know those thin strips that go around the earpiece or home buttons are most susceptible to damage, and you may also prefer the hand feel of not having the home button entirely enclosed by tempered glass.
Get this two-pack of screen protectors for just $8 on Amazon.
See at Amazon (opens in new tab)
Supershieldz PET Film Screen Protectors
Tempered glass is great, but it can be expensive and maybe you don't like adding an (albeit thin) layer of glass to your phone. In that case, a film screen protector is what you want — something to protect the display from scratches and other damage.
Supershieldz has you covered again with a six-pack of PET film screen protectors for just $6. There's a notch-like cutout at the top that goes around the cameras and earpiece, with a cutout around the home button at the bottom to help you line things up properly for installation. These are designed for a bubble-free installation and since it's a six-pack, if you mess up the first time you've got 5 extra tries.
See at Amazon (opens in new tab)
IQShield Matte Finish Anti-Glare Film Screen Protector
Looking for a screen protector that will cut down on that dreaded phone glare? IQShield has got what you need!
This film screen protector features offers full coverage for your Moto 4X display with a matte finish that cuts down on screen glare — and if you've never used a screen protector with a matte finish before you don't know what your missing out on.
This is a wet installation which is typical for film screen protectors and if you do it right you'll get a bubble-free installation every time. You can snag this screen protector for $8.
See at Amazon (opens in new tab)
Spigen NeoFlex Case Friendly Screen Protector
Want a screen protector that's case friendly? Trust Spigen, who's NeoFlex screen protector is specifically designed to work with cases.
This $8 two-pack of film screen protectors includes everything you'll need for a wet installation and is a good option if you use a case with your phone — so much so that Spigen recommends installing the screen protector with a case on. While any case would probably do just fine, just to be safe we'll recommend the reliably awesome Spigen Rugged Armor (opens in new tab) for a slim and rugged case that you'll love.
See at Amazon (opens in new tab)
Tempered glass or film?
Why you can trust Android Central Our expert reviewers spend hours testing and comparing products and services so you can choose the best for you. Find out more about how we test.
Which style do you prefer for a screen protector? Let us know what you use in the comments!
Marc Lagace was an Apps and Games Editor at Android Central between 2016 and 2020. You can reach out to him on Twitter [@spacelagace.
I prefer the tempered glass protectors. They feel more like the original screen feels and they don't scratch and scuff as easily as the softer film protectors. Yes glass protectors shatter when you try to peel them off.
Most protectors are cheap enough that replacing a glass one when it gets damaged or needs removal that cost isn't an issue.
If a glass protector cracks in a fall you know you have tried to do damage to the phone. A film protector won't crack and you can console yourself that the drop wasn't as bad as it could be.

I was a fan of TG all these years but with the advent of curved screens I think they are more of a miss than a hit. The edges starts chipping in a few weeks, loss of touch sensitivity are the major sore points. Wet application protectors from the likes of GadgetShieldz and Zagg protect the full screen right till the edges besides self-healing the scratches for that clean look. And those are pretty invisible. So when used in conjunction with a case, they are the best bet for the curved screens. My 0.02$.
Android Central Newsletter
Thank you for signing up to Android Central. You will receive a verification email shortly.
There was a problem. Please refresh the page and try again.