Best NFL apps for Android in 2022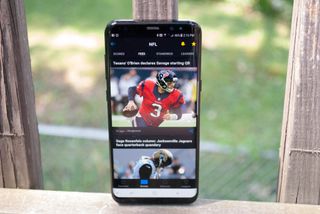 The 2018 NFL season is nearly upon us. If you don't already have a healthy rotation of apps and sources to keep up with your favorite teams and players, let us help you. We've gone and rounded up the best apps to help you keep up on game day. Whether it's keeping tabs on the score, watching the action unfold yourself, or fueling your love for the sport with a mobile game to keep you busy, these apps will get you what you need.
Never miss a moment when you use the best apps for NFL on Android!
NFL Mobile
Why you can trust Android Central Our expert reviewers spend hours testing and comparing products and services so you can choose the best for you. Find out more about how we test.
NFL Mobile is the official NFL app which includes news, video clips, and live streaming for NFL Network subscribers. Set your favorite team for quick access to the latest news and analysis from the Stories and NFL Now sections. Tablet users can access NFL Network 24/7/365 and NFL RedZone if they're eligible subscribers of AT&T U-verse, Charter, Cox, DirecTV, Optimum, Verizon FiOS, DISH, and many more providers. If you're not a subscriber of any of those service providers, you can check into the NFL Now tab for breaking news and analysis.
Download: NFL Mobile (free) (opens in new tab)
theScore
If you're looking to catch up on the news after the game, theScore is widely regarded as the best app out there. You can follow specific teams, get home screen widgets for the latest information at a glance, and notifications when things get crazy with your favorite teams. The best part is, you can keep tabs on any other sports you might happen to be into, including college sports and all the other "football" leagues that the rest of the world follows.
If keeping up to date on football news is your top priority, get theScore.
Download: theScore (free) (opens in new tab)
Madden NFL Mobile
Fans of EA's Madden series on PlayStation or Xbox might be wary of diving into the mobile version of the celebrated NFL video game, but there's a lot to love here. It uses the same card upgrading system that's become so popular in both mobile games and EA's Ultimate Team systems alike — not ideal in my mind — but it offers many ways to play and earn coins and XP. There are daily and weekly live challenges (think the mini-games from Madden 2004), a single-player season mode, and time-delayed head-to-head matchups in which you and your opponent take turns on offense. If that sounds a little too casual, you're right, but it allows you to keep multiple games going at one time without dedicating a huge chunk of time to play a game to completion. And, of course, there's the constant temptation of microtransactions to upgrade your team in a hurry.
Other than those downsides, the gameplay and graphics are on point and the control scheme is pretty smart as well. Football fans would be remiss if they didn't at least give Madden Mobile a shot.
Download: Madden NFL Mobile (free) (opens in new tab)
ESPN
When it comes to sports — especially Football — ESPN is the go-to for ensuring you see the pre-game predictions and analysis, the real action of the game itself, and dissect every moment in the post-game. That attention to detail and love of the game is baked right into their app as well. From up to the minute game scores, news coverage, podcasts, and live play-by-plays of every pass, there is a ton here for you to really dive into.
ESPN's mobile app gives you access to as much action as it possibly can. You can watch live video — provided you pay for a compatible cable provider — see highlight reels, check the stats after the game, and so much more. Delving into everything they offer will take some time, but for the discerning fan, it is worth it.
Download: ESPN (free) (opens in new tab)
Are you ready for some football?
Those are our picks, but there are plenty of ways to get in on the action. Do you like to use just one specific app, or do you pick and choose from multiple apps to get everything you want during the season? Let us know about it in the comments below!
Updated August 2018: The NFL season is in full swing. Try these apps to make sure you're fully equipped for the season at hand.
Android Central Newsletter
Get instant access to breaking news, the hottest reviews, great deals and helpful tips
Nice post. NFL season is almost over but there are still the playoffs. Does anyone know if you can use the NFL Mobile app on Verizon to Chromecast to HDTV.

That's a negative. I've tried it. Miracast maybe.

Don't download NFL Kicker unless you're willing to give up a LOT of your time to it. One of the more addicting games I've played.

Negative on Chromecasting NFL Mobile. It won't even let me send it through my phone's HDMI out port to my monitor. There's still some blood left in those turnips, and between Verizon and the NFL, they're out to get every last drop.

Yeah Fantasy Football is over so you can kick the Yahoo app to the curb.

The Score is one of the best apps for all sports in my opinion.

Some games.... why are these considered apps??? Fantasy Football, and score apps... and not one of either of them say ESPN... WHY??? ESPN has what I'd consider the best sports score app, and they also have a different one for Fantasy Football. You need to review ESPN versions!!!
Android Central Newsletter
Get instant access to breaking news, the hottest reviews, great deals and helpful tips
Thank you for signing up to Android Central. You will receive a verification email shortly.
There was a problem. Please refresh the page and try again.