Best leather cases for Note 7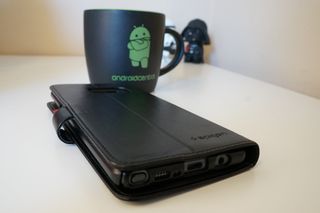 The Galaxy Note 7 is sophisticated, so its case should be nothing less. Leather whispers sophistication in a dulcet tone that compliments your Note 7 elegantly. Here are the best leather cases you can find for the Galaxy Note 7.
Spigen Wallet S
Why you can trust Android Central Our expert reviewers spend hours testing and comparing products and services so you can choose the best for you. Find out more about how we test.
Spigen makes some the best phone cases around and its Wallet S faux-leather case is perfect for anyone who wants a leather case for their Note 7, and especially perfect for the animal lover in all of us.
The shiny black finish is sophisticated and rather business-like but has this sexy quality that lets you know it's all pleasure.
In typical wallet case fashion, there're three slots for cards and a cash pocket inside, and the reversible magnetic latch is handy for keeping your case both closed and open. The cover folds back into a stand for hands-free usage, and the PU leather is flexible and easy to work with.
It may seem odd to start a leather case roundup with one that's made of pleather, but it feels the same (if not better) and happens to be the best of the best.
See at Amazon (opens in new tab)
Tauri wallet flip cover
Tauri's wallet case for the Note 7 is the classic wallet case you'd expect: it has room for three cards, a bit of cash, and the front cover closes to enrobe your phone in luscious, genuine leather, secured by a magnetic clasp.
Its best feature, of course, is its ability to fold back into a stand so that you can watch YouTube and Netflix and play games hands-free. The leather is soft to the touch and feels great in your hand - it's not slippery.
Your Note 7 sits in a silicone shell inside, with a cutout at the back so you can take photos and video, and the charging port is left open so that you never have to take the case off.
See at Amazon (opens in new tab)
IstanbulLeatherShop
Etsy is an awesome place to find quality leather cases for just about any phone and the IstanbulLeatherShop always delivers. This handmade, genuine leather wallet case is gorgeous and understated, with a wan finish that gives it a modern look.
It has an inner shell that grips your Note 7, while keeping ports and buttons open, and the front cover secures tightly with a magnetic closure. Or, you can opt for "Book Style" and go without the closure.
The cover folds back into a handy stand for hands-free viewing, and the suede microfiber lining won't scratch up your screen.
Handmade means that every wallet case is unique, so if you want a case just for you, Etsy and the IstanbulLeatherShop is just the place.
See at Etsy (opens in new tab)
Ringke Flex S
If you want a leather case but still worry about leather's durability, then why not go for a case that blends leather in with the protective qualities you already look for?
The Flex S series by Ringke is a really cool blend of flexible TPU and a faux-leather on the back that stylish, sophisticated, and very effective in the event of a drop or bump.
The softer TPU bumper is perfect for shock absorption and protecting your Note 7 from scratches and the pleather back gives it a cool, almost rugged look, like if Indiana Jones had a modern phone case, it'd be this one.
Ringke makes great-fitting cases all around, and starting at $13, you really can't go wrong.
You have your choice of Deep Blue, Sleek Gray, or Vintage Brown.
See at Amazon (opens in new tab)
Caseology Envoy
I've only recently come to realize that Caseology makes some of the coolest cases around. Every time I research a roundup like this, its products just get better and better, and the Envoy is no different.
The Envoy is a dual-layer affair, with a flexible TPU shell that has a pleather back and a polycarbonate frame that sits around the whole thing to secure it all in place.
That's awesome on three fronts: 1. Your Note 7 is protected from drops and scratches, thanks to the rubbery TPU. 2. That protection is enhanced by the hard polycarbonate frame that helps disperse impact around the TPU. 3. The faux-leather back looks really cool and if you pick the right color, it'll have "you" written all over it!
You have your choice of beige, Cherry Oak, green, and navy blue leather, all with gold polycarbonate frames.
See at Amazon (opens in new tab)
Benittorre leather phone cover
Benittorre's option isn't so much a case as it is a pouch, but it's a freakin' sweet pouch, made of genuine leather. Some folks might be worried about a pouch and easy access to their Note 7, but this one features a pull ribbon that makes extraction a breeze.
The hand-stitching is expertly done and every cover is unique, meaning you'll have a one-of-a-kind case to show off that'll have everyone asking about it.
One of the most consumer-friendly options Benittorre offers is the choice to have its logo on your cover or not. If that doesn't say confidence in branding, then I don't know what does. They know you'll tell your friends about it.
There's also a slot on the front of the pouch where you can comfortably store a couple cards or your ID.
If you don't like this version, Benittorre has a few to choose from, including a camel-colored option and one without the front pocket.
See at Etsy (opens in new tab)
Samsung leather cover
What would a roundup be without the phone manufacturer's version of the case in question? Samsung's leather cover is a gorgeous black case that fits onto the back of your Note 7, leaving the buttons, ports, and S Pen all open to easy access,
The matte-finished, black leather is understated elegance in its truest form and it'll had a bit of mystery and intrigue to the already enticing Note 7.
It doesn't seem to be available yet (except for a rather suspect Amazon listing), so keep your eyes peeled!
See at Samsung (opens in new tab)
Leather, anyone?
Are you using a sexy leather case with your Note 7 that you think deserves a mention? Sound off in the comments below!
Android Central Newsletter
Get instant access to breaking news, the hottest reviews, great deals and helpful tips
Mick is a writer and duty editor for Android Central. When he's not on the job, he can usually be found vacuuming up pet hair or trying to convince his wife that he needs more guitars.
Really? In one breath Jerry tells us we'd be fools if we didn't return our Note 7, in another they try to get us to wrap them in dead cows.

Not everybody returned theirs on command and not everybody is looking for a different phone when they swap. One way or the other I will be toting a note 7 for at least a year.

You return the original then buy accessories for the replacement.

You make no sense. Most people are just going to exchange it for a new Note 7.

I'm told that my replacement Note 7 will be in this Thursday, so it seems like good timing to me.

Whichever one is fire-proof?

Drat. Was about to write in before "is it fire proof"

I don't see how this is even humorous.
This is a serious hazard to snap-chatters.
They never had to worry about 3rd degree genitalia burns with Blackberry.

Nothing as unfunny as the person who repeats the same joke that we've heard two dozen times in the past week.

I love Samsung central. Few weeks ago it was Pokemon go central. Can't wait to see what's next.

And in a few weeks, it'll be Nexus Central when those phones and accessories are released.

Not Nexus Central, Pixel Central.

This phone should be renamed to Nope 7.

I think I'll probably get this case. It's a little more money ($25) but it's actual real leather.
Galaxy Note 7 Samsung 2016 Genuine Cow Leather (N930, 5.7") Pierre Cardin Mobile New Cover Premium Protective Case Slim Design Hard Back Snap On Bumper Fit Samsung Galaxy Note 7 Brown https://www.amazon.com/dp/B01JWISS6I/ref=cm_sw_r_cp_apa_-MAZxb1C2RACH?ta...

I have this case and I had the Note 5 version as well. Very good quality and great fit. This year's model actually has higher edges on the corners of the phone so it gives a little bit more protection than last year's for face down placement on tables and such. Posted from my unlocked S7 Active on T-Mobile / Hot Note 7 / or my peerless Note 4

I bet you can tell when someone has one of these since when you're not anywhere near a Micky D's but you can smell burned hamburgers...or not!

No Magnets! they mess with the S pen.

Your right, every review of a magnetic case I've seen says it runs the S Pen functionality on the part of the screen near the magnet.

The best case is a fireproof one... Couldn't help myself

I miss my Note7. I hope this whole recall process hurry TF up. I'm definitely getting another one after this whole situation is over. But in the meantime my S7 edge is still running like a champ.

AT&T basically told me to keep my note 7 and exchange it when new ones come in. There exchange policy was horrible. They didn't even want to take the phone back. The worst customer service I've ever dealt with in my life.

I think they may know something we don't.

I ordered a custom leather case from StoryLeather - I won't have it for a while, but it looks like it will be very nice.

Not related to the cases but where can I get that Android Coffee Mug in the pic?????

I'd like to see what the Caseology Envoy looks like on a black phone. It looks great on gold.
Android Central Newsletter
Get instant access to breaking news, the hottest reviews, great deals and helpful tips
Thank you for signing up to Android Central. You will receive a verification email shortly.
There was a problem. Please refresh the page and try again.