Best Garmin Instinct bands 2022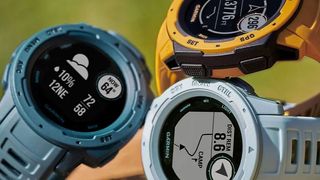 (Image credit: Garmin)
There are many Garmin Instinct models to choose from, but all of them are compatible with 22mm QuickFit bands. So whether you're looking for a band that's suitable for daily wear or you're searching for something that can withstand high-intensity workouts, we've got you covered. Check out the best Garmin Instinct bands we've rounded up for you!
Best Garmin Instinct bands: Which is right for you?
If you're the proud owner of a Garmin Instinct watch, you know it's one of the best Android smartwatches for serious athletes and passionate adventurers. While some people are content with the band that comes with the watch, you may eventually want to switch things up.
When it comes to spending time outdoors and enjoying numerous activities, you'll want a tough band that can keep up. We recommend the NotoCity Silicone Garmin Instinct Band. Not only is the band made of environmental silicone that is safe and durable, but it also has a sturdy clasp to keep your watch secure.
Another great band for your Garmin smartwatch is the YOOSIDE Nylon Garmin Instinct Band. The best thing about these bands is that you'll always be comfortable. The smooth mesh material is lightweight with dense loops that ensure maximum airflow. The hook-and-loop design is easy to use and keeps your band snug on your wrist.
All of these Garmin Instinct bands are wonderful options. Whether you're headed out to do several miles of hiking, or you're going for a run on the treadmill, you'll find tons of sport-friendly options here. Many bands cater to more formal occasions, so it's easy to find a match for your needs.
Android Central Newsletter
Get the best of Android Central in in your inbox, every day!
Thank you for signing up to Android Central. You will receive a verification email shortly.
There was a problem. Please refresh the page and try again.