Best Package Tracking & Delivery Apps for Android 2022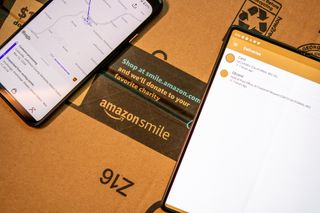 (Image credit: Andrew Myrick / Android Central)
It's that time of the year where you'll want the best package tracking and delivery apps for your Android device. As the holidays quickly approach, you'll want to ensure that all of your packages make it to their destination in a timely manner. There are quite a few package tracking apps on the Play Store, but these are some of the best Android apps that aren't too intrusive and just get the job done.
Don't lose track of those packages
Why you can trust Android Central Our expert reviewers spend hours testing and comparing products and services so you can choose the best for you. Find out more about how we test.
If you're shopping online from a bunch of different sites, it can be difficult to keep track of every purchase. Deliveries Package Tracker continues to be a fan-favorite and takes the crown as the best package tracking and delivery app on Android. With the ability to track packages from more than 100 couriers across more than 20 countries, there's no need to worry about not tracking that present.
AfterShip prides itself on being able to view and track your packages from an array of couriers while sporting a modern and non-intrusive design. Sync up your Gmail account and have packages automatically added to the app as they hit your inbox. You also don't need to worry about ads clogging up the interface while getting the notifications that you care about.
Another one of the best package tracking apps is Shop. This is the all-in-one solution for not only your package tracking needs but also your shopping needs. Creating an account allows you to search through various retailers, find what you want to pick up, and then track everything right from a single app.
1. Deliveries Package Tracker
Deliveries is likely one of the first names you'll hear when you want to find a great package tracking app. It supports over 100 shippers and couriers, as well as postal services in more than 20 countries.
You can sync your packages across your devices, and track packages using Google Maps in most cases so you can see exactly where your stuff is at all times. You can even get notifications when shipping statuses are updated. There is a Pro version that removes ads and can import orders from the likes of Amazon and eBay instead of having to manually enter those yourself.
Simply the best
Deliveries Package Tracker
Reliability is the name of the game
Deliveries is a tried-and-true way to track your incoming or outgoing packages. View where your package is on a map, sync across multiple devices, or use the widget to get updates at a glance.
2. AfterShip Package Tracker
AfterShip is a completely free service that helps you track your shipments with over 700 couriers ad-free. You can set up notifications as your packages pass through various checkpoints as it gets closer and closer to the correct doorstep.
When you copy and paste in tracking numbers, AfterShip automatically detects the courier to save you the hassle. There's even easy integration with your favorite shopping apps so you can immediately get your tracking number into AfterShip, without having to try and enter the numbers manually.
Avoid the ads
AfterShip Package Tracker
Forget worrying about any ads here
It can be annoying to be inundated with ads while trying to view your package's tracking info. AfterShip avoids ads altogether and makes it easy to import your orders from various online vendors.
3. Shop: package & order tracker
If you do the majority of your shopping online, you may have already heard of Shopify, but have not discovered Shop just yet. The app makes it easy to do your online shopping from an array of different vendors, and the tracking information will automatically be added when the vendor provides the tracking number.
What makes Shop unique is that you can link your Gmail account, and then anytime a tracking notification gets sent, it will automatically be added for tracking. Then, you can follow your packages in real-time on a map, seeing exactly where the package is until it ends up in your hands. This is a great all-in-one shopping app for all of your needs if you would rather shop online than in the store.
All-in-one
Shop: package & order tracker
Do everything online with a single app
From finding something new to buy and placing the order to tracking the package, Shop provides an all-in-one shopping app that is pretty incredible.
Some more great package tracking apps
The Play Store is filled with a lot of great apps to keep track of where your packages are coming from. This is extremely handy nowadays, as Black Friday is quickly approaching, which means it's time to pick up some gifts for the holidays. We have found some more apps that will help you track those packages so they arrive safely on your doorstep.
OneTracker - Package Tracker
OneTracker may not be as robust in the number of carriers that can be integrated (there is support for less than 100), but all of the major carriers such as UPS, USPS, DHL, and Amazon Logistics are supported. You can add your tracking information in a variety of ways, including manually, through automatic clipboard detection, or by scanning a barcode.
After creating a free OneTracker account, you'll be able to sync your tracking information across all of your devices, which comes in handy if you use devices on different platforms. There's even automatic tracking integration, but instead of scanning your inbox, just forward the shipping confirmation to a dedicated email address and it will appear in the app instantly.
Privacy focused
OneTracker - Package Tracker
Don't let an app scan your emails
Some apps feature simple integration with your emails, but OneTracker makes it easy to track incoming packages if you don't want to use your email.
17TRACK
17TRACK is a great app to use if you often order from China or countries where shipping to North America is sometimes dicey. It supports over 500 postal carriers, as well as many, many of the world's largest couriers like DHL, UPS, FedEx, and a ton more.
You get a custom widget for your home screen, alerts for status changes, syncing across devices, and you can add multiple tracking numbers at once while the app auto-detects carriers and tracks your packages accordingly.
Live-updating widgets
Better worldwide package tracking
While there's UPS and FedEx support, 17TRACK excels with its ability to track packages from an array of carriers from across the globe.
Slice: Package Tracker
Slice is great as long as you're OK with an app having access to read your email. That's the whole point of this app: it reads your email, determines whether or not that particular email is for an online order, and automatically pulls your order details, organizing them for you and giving you updates on delivery status.
Slice pulls data from all the major U.S. carriers, like USPS, UPS, FedEx, DHL, and others, and it even goes so far as to notify you if the price of something you bought has dropped since you bought it. If the retailer is supported by Slice, like Best Buy, Nordstrom, Walmart, and others, you can actually claim the price adjustment right from the app.
The main thing you have to be cool with here is Slice having direct access to your email. If you're not cool with that access, then settle for manually adding information to other apps. But if you want to go down the automatic route, this is the app for you.
Automatic detection
Forget entering those numbers manually
Those who want to have an app that manually detects shipments and display tracking info will like Slice.
Route - Package Tracker for Your Online Orders
There are few things as great as having an aesthetically-pleasing app that you use on a regular basis. Route not only features a fantastic interface, but also makes it easy to track exactly where your package is.
View your package on a map, get real-time delivery updates, and manage your past order history with ease. If something happens to a package, you can even use Route to resolve those delivery issues, ensuring that you get the package you ordered in a timely fashion.
Step by step
Route - Package Tracker for Your Online Orders
Watch each and every move
Route makes it simply to track every stop that your package arrives at throughout its journey, as you can watch it move live on a map.
USPS
The USPS application may not be the first place to go for your package tracking, but it's surprisingly more robust than you think. If you sign up for Informed Delivery, you receive daily emails and notifications about what's actually coming in the mail, regardless of whether it's your bills or a package.
Of course, you can use the USPS app to do so much more than track your packages. You can order stamps, check prices to ship a package, or schedule pickup. In addition to tracking your packages from within the app, you can also set up text and email updates for specific packages, and fix any issues that may arise throughout the process.
The Post Office
Track your packages and more from USPS
The official USPS app is perfect for those who want to manage more than just package deliveries.
Android Central Newsletter
Get instant access to breaking news, the hottest reviews, great deals and helpful tips
Senior Editor - Chromebooks, tablets, and wearables
Andrew Myrick is a Senior Editor at Android Central. He enjoys everything to do with technology, including tablets, smartphones, and everything in between. Perhaps his favorite past-time is collecting different headphones, even if they all end up in the same drawer.
I use Package Buddy... Great app!

Vote for Deliveries, great app! One feature you failed to mention and make all the difference is that it syncs with your Amazon and eBay accounts so you buy something and the packages get entered and tracked automatically for you with notifications and everything... really cool and useful...

I don't really see the need to give parcel delivery information to a third party site. Each carrier I use (USPS, UPS, FedEX) have their own tracking apps, and auto-add packages that are destined for my home address. They all send push / SMS / email, so notifications are automatic as well. Back when the carriers themselves didn't have this functionality, the 3rd party trackers might have made sense. But today, not so much.

You mean, why have one parcel tracking app even you can have a dozen?

Three is slightly less than a dozen. Unless you want push notifications, you don't need any apps at all. The carrier services send SMS and/or email notifications. Once you register at each carrier (free), they auto-add packages so it's much easier than entering tracking codes into an app.

Three is also slightly more than one, and do you really only receive packages from three carriers? And yeah, I'm not registering with all the different courier companies... I'm not registering with any of them.

Yes; all the places I purchase from only use those three carriers. Actually, 99% of deliveries are from just two: USPS and UPS. Why not register with the carrier? They already know your name and address, because they are delivering to it. The only additional information needed is an email or phone number if you want notifications sent. In exchange, as soon as they accept a parcel for your address you get notified and it's tracked; no action needed on your part.

Well, things work differently here apparently. I've had packages from more than three carriers this week alone. And because I don't want to. I don't register with anything I don't need to. I don't want the spam. And yes, they already have my name and address... That's more than enough free data... They don't get my email and phone number too. Quite besides that and the sheer number of companies I'd have to register with, not all of them even offer those services.

I've never gotten spam from a parcel carrier. How do I know? I use the '+' sub-id on each carrier's email. For example: me+usps@domain.com
me+ups@domain.com Both will be sent to 'me@domain.com' but if the email account is sold, you know who did it. Many retailers even put your email and/or phone number on the shipping label, so that's not exactly private. But if you'd rather send your information to a 3rd party, no one is stopping you.

Technically a courier IS a third party... But i understand your meaning... Except, what information? All they get is the parcel ID, that doesn't even give access to my name. Besides, like I said, there are more than two delivery companies over here... Add international deliveries and that is a lot of accounts that I don't want to have... And again, a lot of them don't even offer those services.

I never knew that was possible. Great info. Thanks for the tip! I agree with all of your points. Every package I get is sent either USPS or UPS. Once in a while I'll get a FedEx. I cannot remember the last time I've gotten a delivery via any other carrier but it's been years.

I just use Google now, Gmail adds tracking info that's emailed to me via Amazon , eBay, best buy, Newegg etc. I don't have to install any random app or really do anything .

Same here. Personally, I don't feel there is a need for a 3rd party app these days

I'd love to use Google Now for tracking, but because I have a custom domain email on an old Google Apps Free account, package tracking isn't supported. Really annoying :( I wish Google offered a service for custom domains besides Google Apps. All I want is my custom domain on a standard Google account, but I'm forced to use Google Apps, which limits my account in weird, arbitrary ways.

Go to the mall. Buy stuff to bring home. Support independent shops, if you can find any.
As you try to cross the road mind that 2 stroke scooter with a box on the back overtaking the Motorcycle courier slowing down to let a van owner driver on his 112th delivery cross to park against traffic to deliver a pencil, or a new boiler to a flat 6 storeys up.
Eat out, cook in and keep our roads safe and exploitation down. That's what it's like in London now.
If I lived in a ranch in the States it wouldn't bother me so much. Yeh everyone needs something delivered, but not everything every day. And... breeeeeaaathe !

I use Slice - it checks my email for tracking info an automatically adds those packages

Same here. Surprised it didn't make this list.

I thought slice was the default app for this...

Don't see it mentioned but I've been using Shiprack for at least a couple of years and it works great. Good job finding ways to track "non-standard" shipping action.

I use aftership. I love that there's a website you can go to and a chrome extension to easily add packages from my browser on my PC

I use Bing. It has a built package tracker: https://www.bing.com/search?q=track+package&FORM=EMMXAB&PC=GOOGLE-PLAY&r... Much like it's built in calculator: https://www.bing.com/search?q=calculator&qs=AS&pq=calculat&sc=5-8&cvid=0...

AfterShip is not available for download in the US.

Been using only package buddy for years. WTG leaving that off the list!
Android Central Newsletter
Get instant access to breaking news, the hottest reviews, great deals and helpful tips
Thank you for signing up to Android Central. You will receive a verification email shortly.
There was a problem. Please refresh the page and try again.