Best Charging Stands for Google Pixel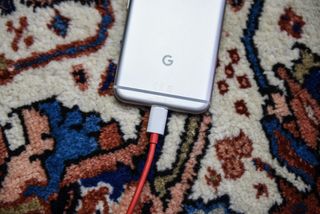 Finding a charging stand for your Google Pixel is, as we learned, a matter of making compromises. One of the best features of the Google Pixel is its fast charging ability, but you'll get the best results using the charging cable and wall outlet that came with your phone.
There are a number of charging stands that support a USB-C connection, but the power being supplied to the stand typically use older USB cables which are usually not enough to support USB-PD. Alternatively, there are universal stands that will accommodate the proper cords and wall chargers for rapid charging.
Ultimately, which style you go with will depend on how you plan on using the charging stand — if you intend to plug your phone in bedside while you sleep, or on your desk while you work (or vice versa), slower charging speeds might be a non-factor. But if you must have quick charging, you're best off using your own trusted cables with a universal stand.
Encased Google Pixel Charging Stand
Why you can trust Android Central Our expert reviewers spend hours testing and comparing products and services so you can choose the best for you. Find out more about how we test.
This charging stand from Encased was specifically designed for the Pixel — but does not support rapid charging. Despite that, it's got a great look to it and will accommodate a slim case on your Pixel. The fit is snug, so much so that you'll probably need two hands to remove your phone from the dock — better than having a flimsy connection, right? Even better, each charging stand comes with a lifetime guarantee from Encased, and is available for Amazon Prime shipping.
See at Amazon (opens in new tab)
FanTEK Desktop Charger Dock Station
Looking for an all-in-one desktop charging dock on the cheap? This FanTEK dock features a built-in USB-C connector but doesn't come with the wall adapter so you'll want to use the one that came with your Pixel for optimal performance. You may also have to take your phone out of a case to get a right fit, but it should work with slimmer cases. Best of all it is the price — at under $10 it's the cheapest option on the list. Considering this is a mostly stationary accessory that'll stay sitting on your desk, it's worth checking out!
See at Amazon (opens in new tab)
Accesorz USB-C Charging Stand
Coming in at $12, this USB-C charging stand works well for the price, and states that it supports fast charging for the Pixel, but you'll have to ensure that you've plugged the included micro USB cable in with a wall adapter that supports USB-PD. The USB-C connector is adjustable up to 15-degrees, and is deep enough to accommodate a case on your Pixel. There's reusable sticky pads on the bottom, which help to secure it on your nightstand or desk.
If you don't use a case on your phone and you find the connection is not as flush as you would like, you'll want to reach out to the seller customer service. They should be able to help you out.
See at Amazon (opens in new tab)
SUPVIN USB-C Charging Dock
This dock has a classic look and will work great with your Pixel or Pixel XL. The USB-C connector is adjustable so you'll be able to rest the body of your phone on the backrest, which also helps with the viewing angle of your device when you're working at your desk. Again, this charger says it supports fast charging but it uses USB 2.0 cable to plug into a computer or wall charger, so don't go in with high expectations. Other than that, this is a great option that won't take up much real estate on your desk or nightstand.
See at Amazon (opens in new tab)
Esonstyle Desktop Cell Phone Stand
If rapid charging is a must-have for your Pixel charging stand, you'll need to look at a universal stand, like this one from Esonstyle, that lets you use the USB-C charging cable and wall adapter that came with your Pixel. This stand is made from aluminum offers a nice viewing angle for using your device when you're sitting at your desk. And, given that it's universal, you have the versatility to use this stand with all your devices. With the price under $10, you really can't go wrong here, can you?
See at Amazon (opens in new tab)
Lamicall Desktop Cell Phone Stand
This universal charging stand is another great option for using with your Pixel, or really any phone or tablet at your disposal. There's ample space for the USB-C cable to plug into your pixel, and you'll enjoy the design with the stylish and minimalist design. The rubber feet on the bottom help to keep it secure on your desk, while the rubber on the cradle helping to keep your Pixel secure while also keeping the edges of your device secure and protected from scuffs. It's also available in silver, red or black.
See at Amazon (opens in new tab)
Update July 5, 2017: Added the FanTEK charging dock to our listl.
What are your thoughts?
Did we miss your preferred Pixel charging stand? Let us know in the comments!
Marc Lagace was an Apps and Games Editor at Android Central between 2016 and 2020. You can reach out to him on Twitter [@spacelagace.
My thoughts are "This is where I miss wireless charging on the Pixel".

I really miss wireless charging terribly. With my Nexus 5 and 6 I never had to go through the conscious action of 'charging' my phone as I always kept it on my wireless charging stand at home and at work, so I was never consciously aware that I was charging my phone. Now that I have the Pixel I have to remember to go through the conscious action of charging my phone, which takes a bit of re-training.

I have two of these docks (the Lamicall and the Supvin), and can confidently say they're all terrible options. They look and feel cheap. Just look at that first one! It's plastic and coated plastic that looks like metal. Why won't a company like Everdock make a USB-C compatible dock? We're spending upwards of $1000 on phones nowadays, why aren't there premium docks to complement them?

So Everdock has tried making some USB-C adapters but they didn't work out for me, even when using the exact USB-C cable they recommended on Amazon. What they really need to do is make a USB-C cable like they did later in the Everdock product cycle that was the adapter for the dock and cable all in one, that will solve the problem. I think there just needs to be enough demand for the USB-C cable for it to happen.

I miss wireless charging. That's my first thought. I did the same research on Amazon. I think you highlighted my first 3 options as you first three. I choose accessory and it does not charge fast. It charges normal. But none of them guaranteed fast charging. And the cord that comes with it is short. Also it doesn't come with a wall adapter.

I miss the days when Google had the pogo pins on the phones and released (although usually way later) docks to go with the phones that were pretty damn sleek. Those days are long gone and it seems like Google has become more of a company with ADD rather than being focused.

The encased one is trash. It charges slowly. No matter what brick you plug into it. I had my pixel die 3 times on it. Honestly, all the stands with included cables have bad USB c cables. The encased one is actually the best of the lot and it isn't very good. Until manufactures get behind USB c cable requirements, you should get a stand that you provide the cable.

I'll agree with the commentary - it takes two hands to pull the dang phone (Nexus 6P in my case) off of the dock. After about 4 months of use the whole charging port pulled right out of the dock. Poor design; stay away from this one.

USB 3.0 isn't a prerequisite for fast charging via USB-PD, not sure if the author realizes that, but Type C IS... You're never gonna find a USB-PD compliant charger that lets you plug in a Type A or micro Type B cable. The stock Type C cable that comes with the Pixel is USB 2.0 btw, as are the longer ones out there (6ft) - which you'd likely need at a desk. The wired stands are a bad idea, and I too miss wireless charging.

The type C cable that comes in the box with the Pixel is actually USB 3.1 gen 1.

If this is the best the category is severely lacking. I have 3 of these now having gotten different ones over time for different phones. The Encased is probably the best for the Pixel or the XL. It only supports portrait mode but it does adjust for cases. It comes with a dual adhesive pad if you want to glue it down. It also adjusts enough for most thin cases. Most rubber or thin plastic cases will fit fine. Thicker cases probably won't fit though. The adjustment can be a bit finicky but doesn't seem to shift once you find the sweet spot with your particular case. The Accesssorz are very flimsy and bounce around a lot. Dont bother unless you plan to buy 3rd party adhesive to glue it down. Using with a case is very iffy as well. The groove adjustments are often annoying as hell. The Esonstyle is metal and a sure bet to scratch your phone without a case. For the XL, forget portrait mode while charging. The slot for the cable makes plugging it in very awkward. Landscape would be fine but for sure it needs a case or prepare for scratches on your phone.

How would you like a free universal charging stand? Just take an egg carton, cut it in half, (so it could hold 6 eggs) remove the lid and front flap. Not elegant, but holds a phone at a good angle for reading. For the deluxe version cut a small slit in the front for the charge cord. The phone rests high enough to not cramp the connection. Want the super deluxe custom version, get your kids to decorate it.

Just drop it on a wireless charging pad. Oh, wait, you can't. Only Google could give us a fragile glass back but not use it to support wireless charging. Not smart, Google.

All of these docs are awful. They only charge at half amp regardless of transformer you plug into. Total waste of money

Leave the charging to an actual charger. The best stand I have found is: https://www.amazon.com/gp/product/B00MK7EY62/ref=oh_aui_search_detailpag... Soft and quiet to use, does not scratch, I love this thing

I purchased a Nillkin Type C wireless charging adapter (short version) off Amazon for my Pixel and I use it in combination with a Tylt Vu charging stand. Works perfectly and an added bonus is that it works for rapid charging. Phone barely gets warm while charging. Actually gets warmer when plugged into the OEM charger. I have the receiver tucked into an OtterBox Commuter, OtterBox Defender, or a Supcase Unicorn Beetle Pro and it charges perfectly through any of the 3. I have my wireless charging back! Love it!

+1 for the lamicall. I just started using it and don't think I'll ever stop. Great stand for any phone.
Android Central Newsletter
Thank you for signing up to Android Central. You will receive a verification email shortly.
There was a problem. Please refresh the page and try again.