Best Cases for Moto G4 and Moto G4 Plus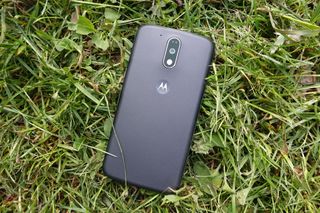 The Moto G4 and G4 Plus are two phones that have taken the entry market by storm. With resilient bodies, attractive designs, great performance, and awesome cameras, they're worth the money — big time. But they are also phones, and can break if dropped or mishandled. That's why you need an equally good case!
Orzly FlexiCase
The FlexiCase from Orzly is made of flexible silicone gel, so it's easy to install and won't move around on you. The slim fit won't add bulk to your Moto G4 or G4 Plus, but the non-slip gloss finish makes the phone much easier to grip.
All of your ports, buttons, and screen features remain available while the case is on. The case is available in a clear finish, or you can choose colors like black, blue, red, or purple. Orzly is well-reviewed and popular with Motorola users, and the FlexiCase is a great example of why.
If you're looking for a stylish case that you can keep a grip on without adding bulky bumpers onto your phone, the Orzly FlexiCase is for you.
See at Amazon (opens in new tab)
Cimo Premium Slim Protective case
There are six color variations of the case from Cimo, including solid colors or clear and color hybrids. Want to look a little more polished with a matte finish? Go for the solid. Want to have a little fun? Grab the clear back and colorful bumper combination.
The anti-slip TPU provides better grip in your hands and extra protection against the everyday bumps and jostles you can't avoid. The case provides slightly raised bezels to help keep your screen safe from hard surfaces if you tend to place your Moto G4 or Moto G4 Plus face down.
The Cimo cases don't block any buttons or functions, and at its reasonable price point, you might want to snag more than one.
See at Amazon (opens in new tab)
KuGi Moto G 4th generation case
If colorful cases aren't your thing, KuGi has a clear case designed with you in mind. Show off the original look of your Moto G4 or Moto G4 Plus with a slim, clear, protective case that you can amp up just a tiny bit with hints of color, like the Rose Gold tint pictured here.
KuGi's case features a hard plastic backing with a soft bumper frame, perfect for keeping a good grip on your phone. The coating is scratch-resistant so it won't start to look muddied or discolored after some wear and tear.
For simplicity, protection, and quality, KuGi's case is an easy choice.
See at Amazon (opens in new tab)
CoverON Chrome Series case
There's something about chrome that looks so good on the Moto G4 and Moto G4 Plus. The Chrome Series case from CoverON is a unique case that gives your phone that little extra something.
The faux metal look is brushed, industrial, and classic. The two-piece backing is made of rubber and hard plastic, but it's not going to add weight to your phone; it's only going to look heavy. The material combination protects against the little bumps and shocks that happen from time to time, and the case fits nicely over a screen protector.
If you want that heavy look with a light feel, the CoverOn Chrome Series will do the trick.
See at Amazon (opens in new tab)
Abacus24-7 wallet with flip cover
Your Moto G4 or Moto G4 Plus usually travels with your cards and your cash, right? The wallet with flip cover by Abacus24-7 has a stylish look and keeps all your necessities in one handy case.
It comes in four colors and is made of vegan synthetic leather that's durable and feels like the real deal. There are pockets for three credit cards, including one with a clear window that's perfect for your ID, and there's a separate spot for your cash. Your Moto G4 or Moto G4 Plus will stay secure and the screen will be protected.
For the classic look of a wallet with all the little extras that you need when you're on the go, the wallet case from Abacus24-7 is an excellent option.
See at Amazon (opens in new tab)
Begoos sleeve case
How about a totally different approach to a case for the Moto G4 and Moto G4 Plus? Check out this creative offering from Begoos, a unique, handmade case that can be custom made to fit your phone, even if you're thinking of using an additional slim case for everyday use.
The sleeve is made of dark denim on the outside, which is durable, and soft cotton on the inside with a padded layer of fleece to protect your phone. It features an additional external pocket that's ideal for cards, cash, or even your earbuds. A handy magnetic closure keeps everything nicely in place.
If you want something entirely different with a handmade touch, check out the sleeves from Begoos.
See at Etsy (opens in new tab)
State your case
Are you using one of our recommended cases for your Moto G4 or Moto G4 Plus? Tell us how you like it, or if you've found another that's list-worthy, shout it out in the comments below.
Florence Ion was formerly an editor and columnist at Android Central. She writes about Android-powered devices of all types and explores their usefulness in her everyday life. You can follow her on Twitter or watch her Tuesday nights on All About Android.
Which of these cases are available in India...!? can u suggest some good cases and tempered glass for Moto g4 plus available in India..!? Posted via the Android Central App

Does any one know where I can get the cover on chrome series case in silver for the honor 5x Posted via the beautiful honor 5x with Android m ui theme

Um...might want to use a correct OS picture for Orzly FlexiCase. That's pre-Lollipop

That's also the Moto G 2nd Gen xD

I'm a little surprised there's no Otterbox case.

The poetic revolution is an awesome case for those looking for a heavy duty case for this phone. And it's a great price! I'm happy to see begoos getting promoted here. Her sleeves are awesome. I own two of them for tablets. Great quality and a personal touch.
Android Central Newsletter
Get the best of Android Central in in your inbox, every day!
Thank you for signing up to Android Central. You will receive a verification email shortly.
There was a problem. Please refresh the page and try again.