Best car mounts for Nexus 6P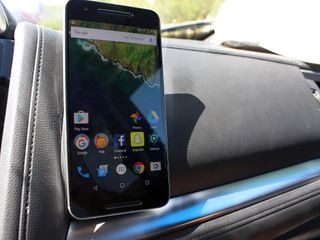 The Best: ProClip for Nexus 6P
Finding a car mount for a big phone like the Nexus 6P is a challenge, but ProClipUSA has the answer with its ProClip car mount. It is specifically designed to fit its proportions, whether you use a case or not, and with many customization options for fit and charging, you're sure to find one that you'll love and join the thousands of satisfied ProClip owners worldwide.
Bottom line: If you want something that's sure to fit the oversized Nexus 6P, and if quality workmanship and customization options are important to you, then you can't go wrong with the ProClip car mount.
A closer look at ProClip
A Nexus 6P car mount customized for your vehicle and the way you drive
ProClipUSA's parent company and the manufacturer of ProClip mounts, Brodit AB has been helping people comfortably use their phones and other communication equipment in their cars for more than 30 years.
ProClip mounts are manufactured at the Brodit AB factory in Karlsborg, Sweden, where each mount is crafted from acrylonitrile butadiene styrene (ABS) plastic, rather than mass produced via injection molding.
They are available in several different options, depending on whether you want to mount your Nexus 6P with a case or without, and whether or not you want to be able to charge it while it is mounted. For charging, you have the option of using the 12V socket in your car or hardwiring it into the car's electrical system.
The only possible downside to the ProClip is that it does require some hardware installation with screws and a screwdriver. If you choose the option for hardwired charging, then you'll also have to get into your car's electrical system.
Regardless of the configuration, once installed in your car, you can easily slide your Nexus 6P in and out of the ProClip mount's cradle and position it at a 20-degree angle in any direction, and in either the portrait or landscape orientations.
Also great: Ram Mount Twist Lock Suction Cup Mount with Universal X-Grip
See at Amazon (opens in new tab)
The Ram Mount Twist Lock Suction Cup Mount attaches to either your windshield or dashboard with a suction cup and mounts and dismounts securely with a twist of the wrist. Its cradle is adjustable to fit large phones like the Nexus 6P, and its ball and joint socket system lets you position it in almost any direction.
Bottom line: Choose the Ram Mount Twist Lock Suction Cup Mount if you don't want to add anything permanent to your car's interior or bother with screws, and/or you want the option of mounting your phone to either your dashboard or your windshield.
Also great: Kenu Airframe+
See at Amazon (opens in new tab)
The Kenu Airframe+ fits securely in your car's air vents, so there are no screws and no adhesives to worry about. It's small enough to fit in your pocket, and when you're not using it in your car it becomes a stand for your Nexus 6P for reading or playing games, wherever you are.
Bottom line: If you don't want to bother with either screws or suction cups, try the Kenu Airframe+.
On a budget: TechMatte CD Magnet car mount
See at Amazon (opens in new tab)
Another option if you don't want to screw anything into your car's interior or mount anything to the windshield or the dashboard is the TechMatte CD Magnet car mount. It slips into your car's CD player and holds your phone via magnets. Priced at $10.99, it fits into any budget with ease.
Bottom line: The TechMatte CD Magnet mount is a good option if you don't want to bother with suction cups or screws, and you don't want to attach anything to your car's air vents. At $10.99, it's also priced affordably.
The ProClip Mount is the best!
Made specifically for the Nexus 6P, the ProClip mount is further customizable to suit your needs, whether you want a mount that you can use with or without a case, or whether you want to charge your phone while you're driving.
Bottom line: If you want a mount that you can be certain fits your Nexus 6P, and if you want a vehicle mounting solution that will last a long time, then there is no better car mount than ProClip.
The universal pro clip is better than the model specific ones. What if you ever want to use a case? Or get a new phone? Posted via the Android Central App

Then don't buy that case. Simple.

"This post may contain affiliate links. See our disclosure policy for more details." Hopefully this should make things clearer

I have a magnetic one I bought at CVS for $15 and it's the best car mount I've ever owned. Got my wife one too. I also ordered some extra metal plates to stick inside my case to double the magnetic pull. Thing won't budge when driving. Liked it so much I got my wife one for her 6p. No messing with squeezing it in a mount.. just pop it on and go. Posted via the Android Central App

Just a dumb question.. Doesn't the magnet screw with the phone somewhat?? Like maybe the compass doesn't work properly or something?? Thought I remembered reading something like that one time

Yes, it absolutely does. I used to have a magnetic mount for my Nexus 5 and the compass will always point south when you have it on the magnet. It will also require you to re-calibrate your compass whenever you want to use it. I've avoided magnetic mounts with my 6P and the compass is much more reliable.

I've never relied on the compass on any phone I've ever owned as it always seems to drift anyway... But in everyday use such as using Google maps navigation Ive never had any issues with the magnetic docks on both the Nexus 5 and 6p and I've used them to navigate while on the magnetic dock and drove countless miles without the magnet ever causing any problems. Posted via the Android Central App

I like the Arkon Mega Grip air vent mount Posted from my XT1575

I had the tech matte CD mount. I liked it but the mount wouldn't keep my phone in place. The phone kept moving to the side instead of having the screen where i originally positioned it. I ended up sending it back to Amazon. Posted via the Android Central App

I go industrial strength. I have a Novoflex section cup with ball head tripod mount and a RetiCAM phone clamp to mount to the tripod. About $70 all told. But it never falls from any glass surface. Plus the Novoflex suction cup doubles as a glass mount for action cameras and can mount outside a vehicle.

The ProClip one would be great if they had an option to mount it using a car seat anchor bolt, and a swing arm that comes up from their. Mounting on a dashboard outside of police or taxi use is hurting the resale value of your car. Posted via the Android Central App

I can't remember the exact one that I got, but I have a ProClip that I bought over 2 years ago that clips onto my 2006 Mazda 6 dash near the clock. I can then attach any of the ProClip mounts to it. I may have the universal one since I've used it with my Galaxy S5 and Nexus 6pm. I love it and I'll be able to take it off without any damage to my car for resale.

Is it just me or with the addition of Android Auto and Apple Carplay manufacturers need to add a small little place to out your phone with a plug so you can plug it in and not have to worry about it going any place... They have all these little pookas around in cars now surely they can find place for you phone. Posted via the Android Central App

How can you leave out the iBolt ? I love the Kenu as a travel option (and I use it as portable mount in my wifes car), but the iBolt has a single handed mount into a charger...this is an option I require in my car for a mount. The iBolt includes this with a C to C mounting cable that quick charges the 6P when mated to a good car charger. None of the recommended mounts shown above seem to offer that...you have to leave a cord dangling and it requires two hands to connect every time you get in the car. http://forums.androidcentral.com/nexus-6p-accessories/640473-car-dock-in... for a discussion in Forums here.

I use this $10 mount. But it's not single handed use though. You definitely need 2 hands to separate the sides. https://www.amazon.com/gp/aw/d/B008ALV0V4/ref=mp_s_a_1_19?ie=UTF8&qid=14... It works perfectly on windshields. But nothing ever worked on my dash. I tried all kinds of stands. Nothing worked until I got this superb mounting disk https://www.amazon.com/gp/product/B001DAT0XE/ref=oh_aui_search_detailpag...

And if you have a case on your phone.... or your air vents are blocked by your steering wheel... Or you don't want a magnet in your case: https://www.amazon.com/gp/product/B01BZC262Q/ref=oh_aui_search_detailpag... This mount is amazing.

My wife and I started using popsockets for easy one handed use. I saw that they sell a mount for it that's super tiny and holds well with 3M sticky backing. My favorite mount so far. No bulk, and works well!

I use the iOttie Easy One Touch 3 (V2.0) Car Mount Universal Phone Holder. Mounted on the dash of my SUV. With the extender arm, it works just great with my N6P and Drivemode app. Posted via the Android Central App

I got a cellnet that has an expanding base for cup holders. 3 diff phones been in it so far. Posted via the Android Central App
Android Central Newsletter
Get the best of Android Central in in your inbox, every day!
Thank you for signing up to Android Central. You will receive a verification email shortly.
There was a problem. Please refresh the page and try again.