Best Buy opens pre-orders for HP's 2-in-1 Chromebook [Update]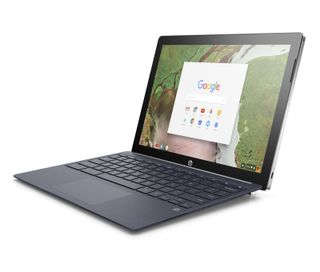 Updated June 1, 2018: Although shipments for the Chromebook X2 weren't supposed to go out until June 7 with a proper launch date of June 10, Best Buy appears to be jumping the gun. Some folks on Reddit first caught wind of Best Buy orders already shipping and the company offering in-store pickup, with one customer even sharing a video of their early purchase. Best Buy's site still shows June 7 as the ship date for me in Michigan, but it'd be worth checking the site to see if it's available early in your area.
Just a little over a month ago, HP announced the Chromebook x2 — a 2-in-1 Chromebook that can function as a traditional laptop or work as a 12.3-inch tablet thanks to a detachable keyboard.
The Chromebook x2 is looking like one of 2018's best Chrome OS gadgets so far, and you can now pre-order it for yourself at Best Buy.
The x2 will set you back $599, and you're getting a lot of computer for the price. That 12.3-inch display is an IPS panel and has a crisp resolution of 2400 x 1600. Intel's Core m3 and 4GB RAM are used to power everything and are accompanied by 32GB of eMMC flash storage and Intel HD Graphics 615.
In addition to the detachable keyboard, the x2 also comes with an included stylus that can easily be housed on the side of the keyboard when you're not using it. Even better, HP says its ultra-strong hinge makes typing on the x2 feel like a traditional laptop despite its convertible nature.
Best Buy's website indicates that the Chromebook x2 will be available in-stores on June 7, but this could vary depending on which part of the country you live in.
See at Best Buy (opens in new tab)
Joe Maring was a Senior Editor for Android Central between 2017 and 2021. You can reach him on Twitter at @JoeMaring1.
What a joke of storage memory with no expandable memory for that price. Everything else looks good.

I agree that 32GB is skimpy, but you are incorrect about expansion. per the linked article: "32GB of storage is present out of the box, but this can easily be expanded via a microSD card."

Correction. I didnt see it in this article but you are correct. I'm still reluctant cause I wonder how much space the OS consumes.

Checking my Samsung CB Pro which has a similar spec, I find that I have 21.5 Gb free storage but the local browser cache hasn't been flushed in quite some time. YMMV

Then you have to account for future updates

Agreed! Total joke of memory storage! Nothing should be sold today with less than 128GB if it costs $499+ in Chromebooks and 64GB otherwise.

Not gonna be the CB to replace my tablet because 32gb for that price is a joke.

I would rather have my Samsung Chromebook Pro from last year with 64GB for the same price. I even got it on sale for less than 4 hundos.

No pre-order here, but I do look forward to checking this out in-store when they become available. After checking it out on BB's website........ No backlit keyboard? WTH is wrong with these people?

The keyboard is backlit according to HP. Best Buy's site is incorrect.

Thanks for the information.

rather buy a windows laptop for that price

Hey! It's a Surface Pro!..... just worse!!!!

Or better depending on how you look at it...

Or worse, no matter how you look at it.

Have you seen the reliability of the surface? It is not good.

I have a surface pro 3 going strong. Any device is going to have anecdotal evidence of poor reliability when you search online.

That storage is pathetic at that price. I'm not always around an internet connection during traveling and I like to carry my files. If they are going to charge these prices then they need to up the storage. When I can get a phone with more storage than my computer then we have a problem.

How is the weight distribution? If all the battery-mass is behind the screen, it seems as though there'd be a strong tendency for it to tip over in laptop mode.

I love coming to Android Central and watch the people complain about price! It's this very reason that Android has the ugly stigma of being the OS for poor people. Some of you want every device to launch at rock bottom price along with having every feature possible. Many companies don't want to operate like OnePlus, selling devices at a constant loss, but having a larger company backing them. In regards to this device, some of you are complaining about lack of storage, but don't seem to remember that is has an SD slot. And who of us doesn't have a few SD cards lying around at this point? Also, whose to say 64GB is enough? Why not 128 or 256 AT THIS PRICE?! I guess you all forget that both Apple and Microsoft sell their tablet devices at equal or higher prices withOUT including either the stylus or keyboard. While it's fine to justify your purchase, stop littering every comment section with endless moaning about pricing. If you either can't afford it or simply don't see the value in the product, move along.

No one complaining about the price. Learn to read. People are complaining about the size of storage memory for that price. No one gives a Sh* about Apple or Microsoft, HOWEVER, I can get dozens of fully functional W10 Laptops with triple the amount of memory and would spend my money there compared to this. And hell, I would NEVER buy another 32GB W10 Device no matter HOW cheap it is because it kills off almost 10gb of space. And unless ChromeOS supports Apps to SD, which I'm sure it doesn't, you're already limited. But please continue with your I can't stand ranting comments but I'll comment and post an article about it.

Android Apps can access the SD card on v.67 (Beta)

Yeah I saw the article. That just made this so much more appealing now. I'm may be looking into buying this on release.

You seem to lack the most basic of reading comprehension. People are indeed complaining about the price. They may have reasons for doing so, but the price is the problem. You're the first comment and it's about pricing. Guess you're in your feelings. Go somewhere and chill out. Thanks.

Whatever makes you sleep at night. Lol

I don't know about everyone else but my biggest issue is 32gb of storage at a $600 price tag. If companies like Blu can sell devices with 64gb as standard at $200 and windows laptops at a similar price range offer 128gb of storage, if not more, then why do I have to be ok with HP selling me such low storage options. EDIT: If the X2 was $400 or lower I wouldn't mind as much but when devices like the Acer Swift 3 exist, I can't help but feel like HP is overcharging.

While its good that Android apps can be stored on an SD card slot, and the option is add an SD card slot is present. 32 gigs for that price point is still an absolute disappointment. At the latest it should've at least been a minimum of 64 gigs, to even 128 gigs.

$600. Keep your pen and put 128GB on the sys board, HP. Seriously — don't buy any expensive laptop, no matter what OS is on it, with less than 128GB of storage.

If it's windows I would change that to 256GB.

I cannot agree with you more. When windows laptops like the Acer Swift 3 are a better value than a chromebook, and budget phones are releasing with 64gb standard its hard to take these premium chromebooks seriously. I just posted a reddit thread on this issue and was met with tons of "why would you need more storage on an internet device?" so if the reddit community has any sway on this issue I wouldn't get my hopes up.

Rocking with my Acer Chromebook 15 model c910 54m1!!! Wouldn't give it up for anything but Google pixel 2!
Android Central Newsletter
Thank you for signing up to Android Central. You will receive a verification email shortly.
There was a problem. Please refresh the page and try again.