Leaked memo says Best Buy to fill EVO 4G LTE orders as soon as May 24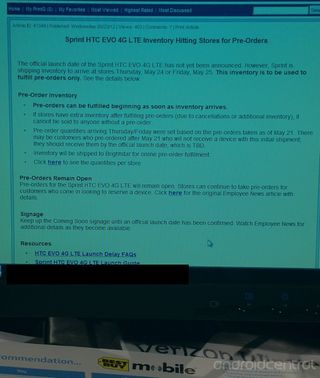 We just got a tip from one of those ninja types, and we now know that the rumors of truckloads of EVO 4G LTE's en-route to Best Buy are true, and they will be used to fill all the pre-orders. According to the leaked memo above, folks who pre-ordered can start getting their phones as soon as they arrive at stores, which may be as early as tomorrow (May 24). What's interesting is that this inventory is set aside only to fulfill pre-orders, and any phones left over can't be sold until an official launch day announcement. Then there's the notice that pre-orders are still open, so those that didn't get in on the initial pre-order, but want to buy one of the EVO 4G LTE's that may be sitting on the shelf, can pre-order one, then get it that same day. I think. Maybe. And only off by one day.
Welcome to BizarroWorld.
Anyhoo, we're excited that this messy launch is almost behind us, and phones will soon be in Android-loving hands where they belong.
Thanks, Anon!
Jerry is an amateur woodworker and struggling shade tree mechanic. There's nothing he can't take apart, but many things he can't reassemble. You'll find him writing and speaking his loud opinion on Android Central and occasionally on Twitter.
Awesome! Hope my BB in Atlanta gets their shipment tomorrow.

Mutha Effin' Woot! ...wait. what's that mean for those of us that preordered via Bestbuy.com? When should we expect home delivery? Thanks for all the intel! :-) Edit: Just read the screen. Whoops. What's this Brightstar?

"BestBuy.com began charging cards and shipping around noon today for online orders"
from:
http://insidesprintnow.wordpress.com/2012/05/23/430pm-evogate-update/ I'm in the same boat as you but no love in my Inbox (wait, that doesn't sound right...) yet.

http://www.brightstarcorp.com/services/value-added-distribution/ - looks like a distribution facilitator for wireless devices (probably need special shipping/receiving policies for certain types of technology).

AC with the 2nd biggest scoop of this whole debacle

I'm guessing since I live in Utah mine won't get here until Friday.

Man this is absolutely awesome. I pre ordered my phone through Best Buy last week. I hope that they got my order in time and I can pick up one of these puppies tomorrow, if my Best Buy has them. UPS's main office is in KY, and they have an amazing Contract with Sprint. I am in Pennsylvania, so hopefully I'll be lucky enough to pick one up tomorrow!

This is solid news. I called cs earlier and gave them my order # they had the nerve to tell me the computer was 6-29. Pointless phone call because with recent new there is no way I could see that being possible. Well see what happens in good old west des moines, Ia come 10 tomorrow now wont we.....

Sprint already announced an official release. It was the 18th and then was delayed. It was still announced though.

Have you been camping for the last week?

This is great news! Thanks AC/Jerry for posting this! The question is- why do I still have no EMail from Best Buy telling me this? They were pretty quick to update previously. I will be waiting impatiently for that call or text from my local store tomorrow or Friday.....

Haha, nice! I pre-ordered my Evo a couple hours before Best Buy closed today. Here is to hoping I get a call or an email tomorrow letting me know I can pick up my phone.

So I guess you read right over the part that people who pre-ordered after May 21st won't get phones on this initial batch....

I just ordered one on BB.com and have a shipping date of 5-25 to 5-28, I'll take it!

Jeez! I pre ordered on 5-07 on bb.com and still have bubkis.

I hear that. I preorderd from Amazon to take advantage of the $149 price. The estimated shipping date according to my order status? July 5th! Good LAWD!! I hope that's some sort of computer gernerated boilerplate and not an accurate estimate. Eesh... The cover I ordered for the phone will be in my hands tomorrow. I guess I could pretend I have my new phone and hold the case up to my ear...

I called BB today to check the status on the delivery and they said my phone was back ordered and they refunded my expedited shipping, that's disappointing.

I pre ordered my Evo on Monday so hopefully it will be available sometime tomorrow for pickup. I'm tired of using this old palm pre. I've gone from an OG Evo, to a Samsung Galaxy Nexus back to my old palm pre in a matter of a couple of weeks.

I pre order mine through sprint and mine is on its way!!!! I live in Austin and departure from San Antonio at 11:53 p.m.! I'll get it by 3:00 p.m which is the time the UPS car pass by my neighborhood. I have a meeting from 11 to 5 I am not gonna be paying attention because I'll be thinking about my phone!

I pre-ordered mine directly at the Sprint store, so it is being delivered there, not my home. What are my odds of getting mine today?

My local BB still says "we're waiting to hear the release date from Sprint and we haven't heard of this memo" grumble grumble.

I called Best Buy, and they said that a good number of them were likely going to be on doorsteps tomorrow... Hopefully that wasn't just smoke...

Just got off the phone with my local best buy in Port Charlotte FL. they received the pre ordered phones(only 4 were pre ordered) and I can pick it up now!!!! On my way there!!!

Just picked up my EVO 4G LTE from Best Buy in Brighton Michigan. I love it! It is huge!!! *cough* That's what she said!

JEALOUSY, i called my bb store in Milwaukee and they acted like they had no idea what I was talking about and see the phones haven't arrived and they don't know when they will. I hope they are just getting them a little later, Michigan isnt that far from Wisconsin

Were you able to use that $50 gift card at activation to pay for the phone?

Yes...$50 gift card for preordering and then a $50 gift card for trading in my old EVO. They let you use them right then.

I was just looking up the number to call my local Best Buy, and they just happened to call me right now to tell me my phone was in!!! Can't wait to get off work!!

Just got a call from Best Buy saying mine is ready for pick up! Accessories are limited (no Otterbox Defenders in stock), but that's alright... Really excited right now!

On my way to pick up mine right now! I'll probably grab a platinum case like I have on my 3d

My local Best Buy has the pre-orders in, but my Sprint store doesn't? WTH? Unfortunately for me, I have to wait until the ones show up at the Sprint store.

I just spoke to the manager at the local Best Buy in Worcester, MA. He stated they didn't get their shipment yet, but they were told that as soon as they arrived they were to contact pre-order customers to come pick up their devices and that anyone without a pre-order wouldn't be able to get one until all pre-orders will filled.

I got mine and it does not disappoint!!!

I just pre ordered an EVO LTE, with the $50 pre order gift card and the $50 phone freedom gift card promo they did last year where you had to sign up via text message. Not bad for $100.
Android Central Newsletter
Get the best of Android Central in in your inbox, every day!
Thank you for signing up to Android Central. You will receive a verification email shortly.
There was a problem. Please refresh the page and try again.