Best Armband Cases for Galaxy S7 and S7 edge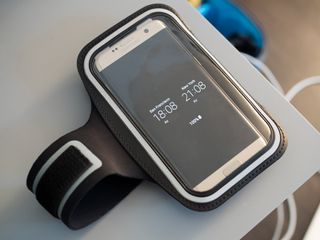 If you're a fitness freak who loves to have their music with them as they work out, or simply looking to take up jogging as the summer warms up, an armband case is a smart way to keep your phone comfortably secure as you move.
There's a number of options out there that purport to support a number of different phone styles. We'll touch on some of the best of that bunch, but first we'll focus on the ones specifically designed for use with the Galaxy S7 or Galaxy S7 edge.
SUPCASE Easy Fitting Sport Armband
Why you can trust Android Central Our expert reviewers spend hours testing and comparing products and services so you can choose the best for you. Find out more about how we test.
There's something to like about an armband case that seems to really provide actual protection. This option from Supcase does just that, giving you a silicon case specifically designed for the Samsung Galaxy S7 (as well as an option for the S7 edge), so you'll have easy access to the buttons and headphone jack The case is flexible and easy to put on and take off, but will keep its shape. It also allows you to use the fingerprint scanner, which most armbands render unusable with their screen protector.
The armband itself uses Velcro to be adjustable and able to accommodate biceps from 9 to 21 inches. The material is lightweight and breathable which is good for comfort, and also can be separated from the case portion for easy handwashing. It also features reflective markings so you'll stay safe when running at night.
For Samsung Galaxy S7
See at Amazon (opens in new tab)
For Samsung Galaxy S7 edge
See at Amazon (opens in new tab)
J&D Sport Armband
This all-in-one armband case will keep your phone snug to your arm, while also adding convenient storage for other items you'll probably want to have on you just in case. This includes a slot for a key on the outside, and another hidden pocket on the inside that's wide enough to hold a credit card or some cash for emergency situations. The case protects your phone's display with a touchable screen that allows you to still use your phone while it's on your arm. It's also available in four colors: black, blue, red, and white.
The band uses Velcro and is 18.5 inches from end to end, so it should fit comfortably for biceps 15 inches or smaller. It also includes a wire holder for wrapping your headphones when you're done, because tangled earbuds are basically the worst thing ever. Speaking of headphones, the hole for the headphone jack is kind of awkwardly placed on the back, due to the stitching, so it's not as convenient as it could have been. But for under $10, it's a great deal for all the features included.
For Samsung Galaxy S7
See at Amazon (opens in new tab)
For Samsung Galaxy S7 edge
See at Amazon (opens in new tab)
MoKo Sports Armband
This is the first of several arm bands that will work with a whole bunch of different phones. It's Amazon page includes sizing options for both the Galaxy S7 and Galaxy S7 edge. This one is available in a bunch of bright colors, on top of the standard black, and features a reflective strip around the edge of the phone display.
It's made with a sweat-resistant material for a comfortable feel that also keeps the moisture away from the open ports, and also features a handy pocket on the inside for storing your ID, credit card or cash. It also comes with a lifetime warranty.
See at Amazon (opens in new tab)
Danforce Sports Armband
This one is worth the mention due to its stylish appearance. As has been a recurring theme when looking at these armband cases, this one features a slim design with a secret pocket on the inside for storing your house key, ID, and credit card. It's made from a polyvinyl chloride material and features a Lycra Velcro strip that they're really proud of.
This one is also advertised to come with two e-books — one for nutrition tips and another with training programs for beginners. Might not be worth your time at all, but hey, it's free.
Do note that while it works with the Samsung S7 as well as the S6, S6 edge and even that old Galaxy S5 you still may have kicking around, it won't fit the Galaxy S7 edge. Bummer.
See at Amazon (opens in new tab)
Belkin Sport-Fit Plus
Belkin is one of the most trusted brands for tech accessories, so you know that they have their own sports armband for the Galaxy S7. Theirs lacks the secret pocket for storing and ID or credit card, but has a good build otherwise and is quite comfortable and lightweight.
They also have a couple other options on their website — the Sport-Fit and Slim-Fit models — but they're not currently available for whatever reason. You can still check them out on their website if you think they might be a better fit for you. The prices are also way higher than the Amazon route, but as they say, you do typically get what you pay for.
See at Belkin (opens in new tab)
How 'bout you?
Any of these armband cases catch your eye? If you also need an everyday case for your phone, check out our guide to the best cases for the Samsung Galaxy S7 and S7 edge. Did your favorite armband case not make it on our list? Drop us a line below in the comments!
Marc Lagace was an Apps and Games Editor at Android Central between 2016 and 2020. You can reach out to him on Twitter [@spacelagace.
The Belkin band is awesome !

The Supacase looks cool because it's not in a pouch... Water resistant phone! No need to cover it. Posted via the Android Central App

I'm torn between thinking an armband for something the size of the S7 edge is crazy, and wanting to wear one like a PIP-boy. It's best to assume I'm being sarcastic. if I'm ever serious I'll type "/s" to make it clear.

Unfortunately there is no Olive Drab color option for any of these armbands. Posted via the Android Central App

Seidio 's holster has served me well for a couple years (& 1500 miles running) and continues to do so with the GS7Edge. Posted via the Android Central App

Never been a fan of these bands holders but I do like belt holsters for both my note 5 and gs7 edge Posted via the Android Central App

Can't remember which one it is, but I use my old S5 case still. I just cut a hole in the bottom of the armband for the headphone jack and use that.

I just wanted to note that I have the Belk in Sport-fit Plus for my GS7E and it does in fact have a pocket for an ID/Credit Card/key/etc. It's listed right behind the slot for the phone and it's a great band.
Android Central Newsletter
Thank you for signing up to Android Central. You will receive a verification email shortly.
There was a problem. Please refresh the page and try again.