The best ARCore apps you can use right now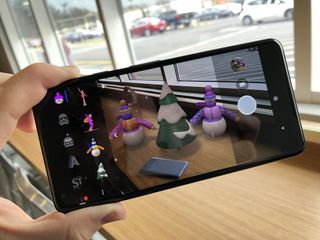 Since the release of ARCore we have been seeing a big upturn in the amount of AR apps available in the Play Store. Some of these apps seem helpful, some fun, but most are unrealized tests of what is possible with the new ARCore software that Google has provided.
We are going to run down a list for you of potentially decent apps and hopefully, over the coming months, we can add some new apps to this list.
More: Every Android phone with ARCore right now
AR Stickers (Google Pixels)
Why you can trust Android Central Our expert reviewers spend hours testing and comparing products and services so you can choose the best for you. Find out more about how we test.
AR Stickers from Google are currently the benchmark for making good use of the ARCore framework. Hiding away in your camera app on your Pixel phone, AR stickers are a fun addition to any photo you want to take with your rear-facing camera. Currently, there are six different sticker sets to collect including simple things like text and birthday cakes all the way up to Eleven fighting the Demogorgon in Stranger Things and there are supposed to be more on the way.
To use an AR Sticker simply swipe from the left of your screen and choose AR Stickers from the menu, from there you can pull any sticker you want into your photo and even tap to interact with some of them. You can choose to take pictures or video with them in your shot and they will interact accordingly. ARCore is used simply and with great effect here as each object feels like it occupies the space, in reality, the shadows on the ground and the position on the floor all seem to line up correctly. Of course, it stands to reason AR Stickers would so well after all the Pixel is the reference phone for the ARCore framework if it doesn't work how can anything else?
AR Emoji (Samsung Galaxy S9)
Baked into every Galaxy S9 and Galaxy S9+ camera is the ability to turn your face into custom emoji. You can record gifs, photos, and video with this animated version of either your face or a pre-loaded set of cartoon faces. Samsung made this easy to share with everyone by recording straight from the camera app, so you can do something silly and instantly share.
It's a fun thing to play with, but currently limited to these two phones. Hopefully Samsung at least opens it up to other Galaxy and Note phones later this year.
More: Everything you need to know about the S9
Amazon AR View
With the release of ARCore, 1.0 Amazon updated the Amazon Shopping app to include their AR view. Previously only available for the iPhone this clever little extension allows you to put the products you are searching for into space they would occupy in real-time. It's an extremely helpful way to visualize how your home will look with the product you want. I've already used it to buy the armchair you can see in the photo so it's done its job, at least for me.
To access the AR View simply install the Amazon Shopping app, log in and press the camera icon you see in the top left. From there all you to do is swipe up and select AR View, where you can select the product, place it in the camera view, turn it around and move it to your heart's content. If you choose to buy it you simply press the 3 dots menu and it will take you to the product listing. Simple.
MoleCatchAR
MoleCatchAR is exactly what it sounds like, a Whack-a-mole game for ARCore. With the easiest and most frustrating of all game mechanics, hit the moles as they appear, it is really good fun as well as a nice stress relief to bash the little blighters on the head. There really is nothing else to this game except it keeps score so you can try to beat your personal best, but that doesn't stop it from being a solid fun way to spend 10 minutes while waiting for something else to happen.
The ARCore framework works almost flawlessly here, it even seems to take higher surfaces into account, something ARCore does allow for. On a completely flat surface, the holes look like holes and the moles look like moles. Hey, that rhymed.
Stack Tower AR
Another simple game based on an old classic, Tower AR is a block stacking game that uses ARCore to place the blocks in your environment. It's a really easy way to use AR to, you guessed it, augment a normal app to make it a little more entertaining. The premise is simple of course, tap the screen when the block exactly matches the block below it. Miss and the block split off a portion until they become so small you can't stack them anymore.
Like the Mole AR game above this is a little game that can while away some time while sitting in a doctors office or sitting anywhere really. it isn't amazingly detailed but is well worth having as a stop gap.
Paint AR
Paint AR is a drawing app using the ARCore framework to allow for 3d drawing. I will say right from the outset I am the worst person to review a drawing app so take my words with a grain of salt. The app seems fine with a small color palette and the ability to change the thickness of the brush stroke. Paint AR is not an artists app like Google's tilt brush by any stretch, but as a fun little foray into 3d art, it isn't bad.
The use of AR core in this app is actually quite advanced. You aren't fixed in one location like some of the games I have played, you are free to roam around and draw in all the available space. I do like that the objects you draw casts shadows on the floor, adding to the feeling you are working on a real object in real space.
Your Turn
This list is certainly not exhaustive. There were a lot of games I was interested in playing that just wouldn't run on my available devices. Hopefully, as time goes on I can try some more apps and let you know what I think. Until then let me know in the comments section if you find any great ARCore apps out there.
Sign up for Black Friday email alerts!
Get the hottest deals available in your inbox plus news, reviews, opinion, analysis and more from the Android Central team.
Since the days of the HTC Hero James has had two or three Android phones stuffed into pockets. James is always on hand to offer advice on phones, apps and most recently, PlayStation, especially VR, It's now something of an obsession. Find him @keridel wherever Media Socials itself.