Best Android apps and games of the week: The Banner Saga and more!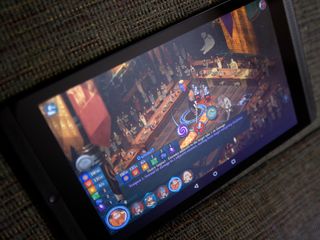 It's been another week, and another batch of awesome Android apps and games are ready for the downloading. There's a big dose of communication apps this week, and a healthy mix of action, strategy, and physics games to dig into.
Grab your closest Android device and dive into our top ten new apps in the Google Play Store. As always, sound off in the comments with your favorite recent Android apps and games.
Tilt 2 Live: Gauntlet's Revenge
Why you can trust Android Central Our expert reviewers spend hours testing and comparing products and services so you can choose the best for you. Find out more about how we test.
Tilt 2 Live: Gauntlet's Revenge, is the latest iteration in an excellent action game series. Instead of being stuck in a static arena and having to tilt your device around incoming enemies and towards power-ups, you have to work through a continually scrolling stage, similar to an endless runner. Gather blue cubes as best you can without getting hit. Take too many hits, and it's game over. The finely tuned gyro controls make for a really tense and fast-paced game.
Darkness Reborn
Darkness Reborn is a beautifully-rendered twin-stick action-RPG. Deploy a range of deadly techniques to take on the forces of darkness, upgrade your equipment, and once you're satisfied with the single-player campaign, take the fight online in player-versus-play matches. You can also get together with buddies to take on some truly savage bosses, if you think you've got the grit for it. The graphics are particularly fantastic, and the over-the-top action has its own particular charm.
Kingdom Rush: Origins
The classic tower defense game is back, and is elfier than ever. Kingdom Rush: Origins goes back in the fantasy story's timeline to when everything started, but to be honest, players are really into this for the finely tuned strategy gameplay, and goofy cartoon graphics style. Defend against waves of monsters, gather up their gold, and level up your defensive structures to take on bigger threats. Let too many through the gauntlet, and it's game over.
Most of the towers will be familiar, though the old artillery tower has been replaced with a druid. There are new heroes to control, including an assortment of premium ones, though heroes now have their own signature spells to unleash. The gem system is still in place for consumable power-ups, and heroic and iron challenge versions of every level give you some real tricky stages to chew on. Strategy fans will get sucked right back into Kingdom Rush: Origins. Be sure to check out the predecessor, Frontiers, if you haven't already.
Turbo Dismount
The creators of classic flash games Stair Dismount and Truck Dismount have continued their legacy with a new title called Turbo Dismount. As before, you attach a hapless crash test dummy to various vehicle types and launch them off ramps, over cliffs, and into explosives to cause as much bodily harm and destruction as possible. Every run meticulously scores the damage done and quickly resets so you can reposition obstacles, and alter steering and speed. New levels, vehicles, and obstacles can be nabbed through in-app purchases.
The Banner Saga
The Banner Saga is a highly polished tale chock-full of Norse mythology. Help two caravans survive in a world without a sun while also negotiating tenuous relations between humans, giants, and numerous factions between them. Jump between meaningful dialog sessions and turn-based combat with 25 different characters spanning five classes. Failure in combat leaves lasting results through the rest of the game. The art style alone in The Banner Saga is enough to pick it up, but it also strikes an excellent balance between strong, character-driven story and classic RPG-style action. It's a premium game with no in-app purchases, but on the downside, there's no immersive mode.
Super!
Super is a fun, lighthearted image-sharing network with editing tools that let you slap captions and stickers onto your photos. You can reply to and like photos on your timeline, but the catch is that all replies are also photos. Captions all start with one of a handful of preset lines, not unlike fridge poetry, and are polished off with a custom signature. Set a background with any of the included designs, shoot your own with your camera, or search for something specific from within the app. Though not complicated, Super has a distinctive style, and a format with lots of creative potential.
Milk Video
Samsung announced a new curated video service for a selection of their handsets. Pulling on source like Vice and Funny or Die, and others, Milk will offer suggestions based on your viewing habits, as well as access to direct feeds from brands and friends. Although the vast majority of your mobile video entertainment is going to come from YouTube, Milk promises at least some exclusive content, and if you have a supporting device, there's no reason to not give Milk Video a try.
Nook Audiobooks
Barnes & Noble have released a dedicated audiobooks app that taps into their 50,000-deep selection of digital novels. Grab two free audiobooks when you sign up and try out a wide range of samples before taking the plunge on a purchase. Purchases stay in the cloud for access whenever or whereever you want them, and can be saved locally when you're ready to go. Bookworms on a tight schedule will definitely find some use out of the new Nook app.
Facebook Groups
Facebook has released another new messaging app this week so you can stay in touch with friends, family, and other groups you may be a part of. Photos and links can be shared along with usual text updates to the group, and groups can be dropped onto your home screen for easy access. You can still talk to groups through Facebook Messenger, but the dedicated groups app can help you communicate without getting sucked into your usual timeline content. Here's hoping some better group administration options get added soon.
BBM Meetings
BBM Meetings is a new messaging app by BlackBerry geared towards conference calls. With the app, users across the web, Android, iOS, and BlackBerry can quickly and easily get together for group calls, view presentations, and add annotations. Meetings can be scheduled and new participants can be added on the fly. Communicate over voice, video, and text chat, and if you're calling in over PC, you can save the meeting's audio for review later. BBM Meetings is a promising alternative for folks who spend a lot of time with WebEx or GoToMeeting.
Get the Android Central Newsletter
Instant access to breaking news, the hottest reviews, great deals and helpful tips.
Simon has been covering mobile since before the first iPhone came out. After producing news articles, podcasts, review videos, and everything in between, he's now helping industry partners get the word about their latest products. Get in touch with him at simon@futurenet.com.