Best Android apps and games of the week: Civilization Revolution 2 and more!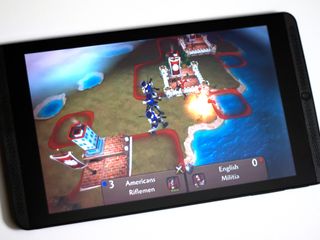 We're going to try something a little different for our best apps and games of the week round-up this go-around. Instead of providing brief overviews of the top apps and games released in the Google Play Store over the course of the week, we're going to dive deep into the top three, and filling out the end with a short list of additional download links of you're hungry for more.
We figure if all you need is a description of what's available, the Google Play Store descriptions and trailers can handle that. Instead, we're going to focus on delivering expert opinions. After all, that's what you're here for, right?
Faraway Kingdom
Why you can trust Android Central Our expert reviewers spend hours testing and comparing products and services so you can choose the best for you. Find out more about how we test.
Faraway Kingdom is a casual city-building RPG with blocky retro graphics. Normally I'm not big on casual games, but old-school sprites reminiscent of what you'd see in Tiny Tower and a good old-fashioned hack-and-slash vibe have proven to be an irresistible double whammy. Dungeon raids are mostly spectatorial affairs, and require you to do little more than jump in to collect coins and activate abilities. After the loot has been all gathered up, you haul it back to your own town, hire new adventures, give them the biggest, baddest battleaxes you can find, then dive back down for more. You can also send down adventurers to slay on their own and come back up later. If they go on specific dungeon delves related to their destiny, it'll keep your heroes nice and happy. Building houses and collecting taxes are uncommon elements for RPGs, but a welcome counterpoint to the more reflex-driven raids.
Famiar freemium tropes are here, such as timers, energy meters, and premium currency. Again, these aren't normally the kind of games that I put a lot of time into, but the devs have done a good job at nailing the well-known dorky desire to kill all the monsters, get all the loot, and rock the swankiest looking full-plate armor gold pieces can buy. Maybe the barrage of in-app purchase prompts will slow me down eventually, but for now, I find myself checking in on my rapidly growing medieval village just about every twenty minutes.
Monzo
Monzo was very much a surprise project from the guys that created over-the-top shooters like Dead Trigger 2 and Shadowgun: DeadZone. Monzo is, very simply, a virtual model builder. You take various kits, assemble intricately detailed parts, paint them how you like, slap on stickers of different colors and shapes, and take photos of the final result (even with a live background generated from your device's camera, if you like. Though the app is free, new models, bundles of models, paints, and stickers can be nabbed through in-app purchases. Some of the models are even perfect recreations of real-world Revell kits.
You get the impression that someone at Madfinger Games is just absolutely nuts about model cars, and convinced the team to go all-in on this regardless of the potential widespread appeal. Don't get me wrong, I get the attraction; I was into Warhammer figures within recent memory. Assembling something from scratch and applying your own personal flair to it can be very relaxing. The clincher is the physicality of the whole thing, and Madfinger is ambitious to think they can translate it to virtual models while still maintaining the appeal. Virtual creation can be so much more free-form without being that much more complicated, after all. Plus, the sense of accomplishment of the finished product comes from having a real space to show it off, not to mention the dexterity and patience required to fiddle with tiny physical bits.
Monzo is an adventurous app appealing to a largely neglected (and likely older), but still dedicated audience.
Civilization Revolution 2
Civilization Revolution 2 revamps the graphics of the classic simulation game while maintaining the core turn-based gameplay of diplomacy, commerce, and war. The series has an intensely loyal fanbase, and the latest PC game, Beyond Earth, has earned solid reviews. In that light, the whooping $14.99 pricetag may seem appropriate, especially if you're of the mind that mobile games deserve the same level of compensation as big boy platforms.
Square Enix is just about the only other game developer on mobile that has been able to consistently push a pricetag over $10 on Android, and again, that's entirely because they're in charge of well-loved franchises. For those that don't have any nostalgic leanings for these games, the price can seem beyond reason. After all, the gameplay (and in many cases the graphics) barely change from the originals. That said, even if the Google Play prices are high relative to other mobile titles, these are steals compared to what you would have paid when these games first came out.
Mobile reimaginings like Civilization Revolution 2 and outright ports like those from Square Enix should be supported if you want to avoid classic franchises from falling prey to the much more popular free-to-play business model. Just look no further than Dungeon Keeper to see how that pans out.
And more!
Those are the biggies worth talking about from this week, but there are plenty of others worth a gander. Check them out below, and be sure to leave a comment with anything new you've downloaded recently.
Get the Android Central Newsletter
Instant access to breaking news, the hottest reviews, great deals and helpful tips.
Simon has been covering mobile since before the first iPhone came out. After producing news articles, podcasts, review videos, and everything in between, he's now helping industry partners get the word about their latest products. Get in touch with him at simon@futurenet.com.