The Best Android apps and games of the week: Angry Birds Stella, Reddit AMA, and more!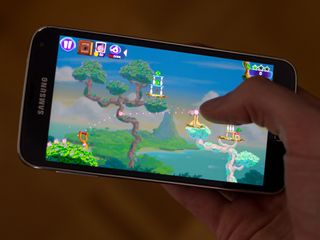 We've got some great new Android games and Android apps to kick off September. There's a stealth game from Sony to check out, a smattering of productivity apps, and plenty more in between.
If you're ready to go, take a gander at our top ten Android apps released this week.
Bio Inc.
Why you can trust Android Central Our expert reviewers spend hours testing and comparing products and services so you can choose the best for you. Find out more about how we test.
Bio Inc. is an insidious medical game where players are trying to infect a person's various bodily systems with a deadly disease. Players can target the circulatory, respiratory, digestive, nervous, muscular, renal, skeletal, and immune systems in different ways, all based on real medical conditions. There are 12 different types of people to infect, each with their own different physical characteristics that make ruining their immune system progressively more difficult. Three different difficulty levels are available for each one. New risk factors can be introduced as the player collects bio points, and recovery can be slowed by investing in other factors. Though Bio Inc. is decidedly inspired by the pandemic-scale Plague Inc. (opens in new tab), it does offer a new scope and an interesting twist on the established formula.
Bio Inc. is a dark and detailed sim game that's a perfect follow-up for those that have had their fill of Plague Inc.
Back to Bed
Back to Bed is a surreal puzzle game akin to Monument Valley (opens in new tab). Players have to guide Bob, the hapless sleepwalker, from the beginning of a stage to bed through M.C. Escher-style impossible architecture. There's some truly bizarre imagery to soak in among the fairly standard puzzle gameplay, least of all being your primary character, Subob, who is a turqoise human-faced dog representing Bob's subconscious and moves a giant apple around to alter his sleepwalking course.
Back to Bed is a great imagining of the weird things that go on in our heads.
CounterSpy
CounterSpy is a fantastic side-scrolling stealth game about disarming Russian nukes in the Cold War. Levels are randomly generated, and rely on sneaking around oblivious guards and surgically shooting out cameras to reach your objective. Over time, you steal enough top secret research to upgrade your weapons and unlock new equipment. Intuitive and simple controls have been adapted elegantly from the console version of the game for mobile. Finally, CounterSpy's exaggerated, cel-shaded art style is absolutely great and befitting the retro feel.
Rote
Rote is a simple, elegant puzzle game where players move a shape (an icosahedron, if we're getting specific) through a maze of boxes. You'll have to shove those boxes in the right order to clear a path to the next stage. Full rows of color-matching boxes move at the same time, which makes things tricky. There are 30 stages all told, many with helpful (or at least interesting) blurbs of text in the margins. Though that might not sound like much to chew on, Rote can get very challenging. There are zero in-app purchases, which means no extra levels or hints to rely on.
Angry Birds Stella
Angry Birds Stella is the latest physics puzzle game from Rovio. This time we've got a whole new swathe of birds and characters to play with, all framed in an extremely kid-friendly storyline. The piggies are back at the behest of a spiteful bird princess, though you've got a bunch of new birds with their own unique mechanics. Telepod toy scanning is supported, so you can warp in all sorts of other birds from the Angry Birds franchise.
There are over 120 levels, and in-app purchases employed for coins.
Acompli
Acompli is a calendar and e-mail with a eye to efficiency. Smart filters let you find e-mails extremely quickly, an attachment manager helps you send and view files sent via e-mail, Dropbox, Google Drive and Microsoft OneDrive, plus you can easily share your calendar availability and current location to meeting attendees. Acompli is a very promising alternative to the native Gmail app for those that are using their Android device daily for work.
Ask Me Anything
Reddit unveiled an official app for their high-profile AMA stories this week. Now when celebrities do Ask Me Anything sessions on the social link-sharing site, anyone with the app can keep tabs on the latest questions, upvote and downvote community submissions, and drop a few questions of their own. You can browse through the archive of previous AMAs based on categories or search for specific individuals to flip through their crowdsourced interviews.
Anyone who spends any time on Reddit should grab the new Ask Me Anything app.
HomeTube
HomeTube is a secure, curated YouTube viewer for kids. This ensures they don't get into the weirder stuff online, and thanks to a home screen replacement option, you can make sure they aren't rooting around your other stuff on your Android device.
Parents looking to keep their kids safely entertained with a phone or tablet will find some definite use from HomeTube.
CellarTracker
CellarTracker is a cleanly laid-out app for keeping tabs on your wine collection. Scan in barcodes for new additions with your Android device's camera, check reviews online, and research your next additions. Database information includes year, price, region, and similar wines. You can also track vintages you've enjoyed while visiting friends for future reference.
Familiar
Familiar is a simple, clean app for building productive habits. List habits you want to get into, mark how often you want to do them on a weekly basis, and keep tabs on your current progress in maintaining these habits. Best of all, Familiar is absolutely free with no in-app purchases, ads, or permissions required .
Your favorite new Android apps and games from this week?
So, so many new Android apps are released every week, and we can only spot so many. Hit us up in the comments with your favorite new Android apps.
Get the Android Central Newsletter
Instant access to breaking news, the hottest reviews, great deals and helpful tips.
Simon has been covering mobile since before the first iPhone came out. After producing news articles, podcasts, review videos, and everything in between, he's now helping industry partners get the word about their latest products. Get in touch with him at simon@futurenet.com.
Paperama ~ Relaxing game HTC Desire S»HTC Desire HD»HTC One S»HTC M8 (Naked)

+1. Yes, it's a great game.

Oh great another angry birds Posted via Android Central App

Getting old. They're too intricate for me now. Posted via Android Central App

Seriously... Talk about MILKING a title to death. I liked the first few versions, but have LONG since stopped paying attention. I suppose it's their cash cow, but still.

The witcher beta! Posted via the Android Central App

Hey guys my favorite app for this week is challenging and fun game although it looks simple. Take a look at "Egg Drops" - https://www.androidcentral.com/e?link=https2F2F... Posted via the Android Central App

Check out faceback! AC app via the Note 3

Thought I would check out Stella. It looks kind of cute. So. I navigate to Google Play. It doesn't show up. Huh. I had first seen it while playing Juice Cubes, so I waited until it popped up there. Clicked through, and it's not compatible with my Nexus 7. Nor will it play on my Galaxy S3. Oh well. Didn't want it anyway I guess.

I really wanna know how much Acompli are paying the android websites both on AC and TA...their email client doesn't have support for IMAP and POP and doesn't even have a refresh button with a rating of 3.6 on google play...how can that possibly be among the "best" apps of the week?

I hope they're getting paid in vacation days to get away from the likes of us shitty commenters. Posted via Android Central App

Loving Accompli, but it's so hard to give up the automatic labels Gmail uses. Wish they would allow other devs to support that. Posted via Android Central App

redDit sucks... ... ( 0ppo F5) ...

There's this new game that I've been playing that's actually quite fun and addicting. It's quite similar to that old Ski game back on Windows PC, but brought with a much cuter look. The play is very fun, and the animations are quite smooth. The game is called Downhill Penguin (https://play.google.com/store/apps/details?id=com.axs.downhillpenguin). Try it out and hopefully you'll enjoy the game as much as I do