Best Amazon Fire HD 8 & 8 Plus cases 2023
Keep your Fire HD 8 or 8 Plus safe with these awesome cases.
Amazon's long-running line of Fire tablets has gained quite a reputation for offering devices that are quite well-made and more importantly, offer exceptional value for money. This is true for the Fire HD 8 and 8 Plus as well, which still remain two of the most popular models in the line-up. But just because they are affordable, does not mean they don't need proper protection, which is why we've rounded up some of the best Fire HD 8 and 8 Plus cases available in the market. Whether you have one of the latest models or are still enjoying an older-generation tablet, here are some of the best cases out there.
Get one of these cases for Amazon Fire HD 8 or HD 8 Plus 2022 model (12th Gen)
Why you can trust Android Central Our expert reviewers spend hours testing and comparing products and services so you can choose the best for you. Find out more about how we test.
Amazon Fire HD 8 Tablet Cover
Staff pick
There's a lot to like about Amazon's own folding cover, from the nice fabric finish to the built-in kickstand. Available in a choice of black, gray, rose, and denim colors, this case is a good match for the new Amazon Fire HD 8's colors. If you've had an older generation tablet and are ready for an upgrade, this case will feel very familiar to you.
Available colors: Cyber sky, Hello teal, and Rainbow Universe
Kids love their tablets but can also tend to be a bit clumsy when it comes to handling electronics, which makes this case perfect for the little ones. The kid-friendly case from Amazon comes in three colors so your child can choose one that they love, or you can simply use colors to tell the kids' tablet(s) apart. Either way, you get a kickstand on the back with thick plastic bumpers on all sides.
Mission Cables Clear Case With Glass Screen Protector
Show off your style
Not everyone wants to flip open a folio cover every time they need to use their tablet, but a simpler case also demands extra screen protection. Luckily, this clear case from Mission Cables also comes bundled with a screen protector. Apart from the clear option, you also get two colors - Deep Sea Blue and Wild Rose - to choose from.
A pattern for everyone
Fintie's folio cases offer a fairly standard design, coupled with decent protection for the back and side of your Fire HD 8 or 8 Plus tablet. The magnetic flip cover supports auto sleep/wake functionality, and you get to pick from a wide range of twenty awesome patterns and colors. The folio has microfiber lining on the inside for added protection.
Boskin Kickstand Heavy Duty Shockproof Case
Choose from: Black, blue, green, purple, pink, and red
Sturdy and reliable, this Boskin case sports a kickstand for easy landscape viewing or reading. The back looks like a tire with its rubbery material for absorbing the impact from a drop. It's also grippy so your Fire HD 8 or 8 Plus won't slide off a surface on its own. The dual-layer design features a TPU interior as well as a polycarbonate exterior.
DJ&RPPQ Shockproof Rugged Unibody Hybrid Cover
Pick from: Black, cyan, grey, pink, purple, yak-blue, and new-red
With ample protection on the back as well as over the front, the DJ&RPPQ shockproof case is a great pick for anyone that needs extra protection for their Fire HD 8 tablet. The built-in kickstand allows for hands-free viewing, while the precise cutouts let you access all the ports and buttons without any issues. The front is also essentially an integrated screen protector.
Solid protection for the latest Fire HD 8 from Amazon
Amazon's latest Fire HD 8 (2022) is an iterative update over the 2020 version, but it's still one of the best cheap Android tablets you can buy.
The base tablet cover looks nice and professional in all of its colors, making it a great pick for both teens and adults. On the other hand, the folding cover makes allows for easier media consumption and can help protect the screen even if the tablet is in a bag or takes a tumble. The fabric finish should also hold up well over time, without picking up scratches like plastic cases usually do.
Naturally, for the kids, you'll want something with some crumple zones. Ths is where Amazon's kid-friendly case comes into the picture. It offers a lot of protection from most drops, along with an integrated kickstand to make it easier to use. The three funky color options/designs are sure going to be a hit with the kids and will also let them easily tell their tablet from yours.
Great cases for the Amazon Fire HD 8 2020 (10th Gen)
Amazon Fire HD 8 Folio Cover
Staff pick
If you'd settle for nothing less than an official accessory for the 10th generation Fire HD 8, look no further than Amazon's own folio cover. It offers reliable protection and features a subdued design with a fabric finish. There's support for auto wake/sleep functionality as well, and you can pick from two colors, namely Charcoal Black and Sandstone White.
Full-sleeved protection
Want to make sure your Fire HD 8 stays protected fully when you're carrying it around? Take a look at this great felt sleeve from MoKo. Available in Light Gray and Dark Gray shades, it has a synthetic leather hook and loop closure for more security. The sleeve comes with a main compartment for the tablet itself, as well as an extra compartment for keeping accessories or just about anything else you like.
Cute coverage
Whether you're planning on getting a Fire HD 8 for your child or they've already had one for some time, this cute case by MoKo is going to be the perfect accessory for the tablet. Made using premium EVA foam and shockproof silicone, it offers excellent protection against all kinds of scratches, falls, and more. There's also a built-in carry handle and the legs of the bear figure on the back double up as a kickstand.
Classic leather look
If you're looking for a classic two-tone stitched leather look for your 2020 Fire HD 8 or Fire HD 8 Plus tablets, ZoneFoker's offering might just be worth a look. This folio-style cover can not only keep your tablet safe, but also act as a stand to prop up the display. Plus, there's also a stylus holder and a pocket to store papers in. You also get proper cutouts for all the ports and buttons, as well as auto sleep/wake functionality support.
OQDDQO Fire HD 8 Case for Kids 2020
Available in: Black, blue, orange, purple, and red
The OQDDQO Fire HD 8 Case is designed to look good and offer great protection for your tablet. With its easy-to-hold design, a 3D texture on the back, and non-slippery sides, this one's ideal for the kids. You also get easy access to all of the device's ports and buttons, as well as wrist loops for added protection.
Protection with style and substance
Amazon's 2020 Fire HD 8 and Fire HD 8 Plus tablets tout the exact same screen size and dimensions, so you can use the same cases on them. Both Android tablets are excellent devices, so getting a case to keep your tablet of choice protected is a great idea. Not only can you find a case that will help keep your purchase safe, but you can get one that can give it a bit more personality.
Amazon's own case is one of the easiest choices thanks to its simple folio design and a variety of colors. It has one of the most elegant kickstand solutions out there with the front half of the case simply folding in two. The basic color version has a fabric finish that feels nice as well if you want a simpler design.
However, if you are looking for a simple and reliable cover for your new Fire HD 8 or Fire HD 8 Plus tablet, then consider the Fintie silicone case. It will keep your tablet safe from accidental drops without adding too much bulk to it. With textured sides and back, the case will help reduce the chance that your tablet can slide off surfaces.
Awesome cases for the Amazon Fire HD 8 2018 (8th Gen) & Fire HD 8 2017 (7th Gen)
Amazon's Fire tablets are sturdy devices that tend to last quite long, provided they are handled with care. Even if you still have one of the models from 2018 or 2017, it's still a good idea to get one of these cases for it so that you can get even more use out of it. Check out our collection of the best cases for the 7th Gen and 8th Gen Fire HD 8 tablets, so you can determine which one best fits your needs.
MAOMI Fire HD 8 Case 2017/2018
Tough and stylish
This MAOMI Fire HD 8 Case is made up of two different layers to provide extra protection from any and all kinds of bumps and drops. There are three different options - Blue, Green, and Red - to choose from, and each comes with a tire tread patten on the back for the best grip. The integrated kickstand makes it easy to prop up the tablet for hands-free viewing.
JETech Case for Amazon Fire HD 8
Slim cover
If you want something simple that can protect your Fire HD 8 tablet's screen, we suggest taking a look at JETech's offering. Its front flap doubles up as a kickstand and uses a magnet to stay in place, while also enabling auto sleep/wake functionality. The case is quite slim and lightweight so it doesn't add any bulk to the tablet either. We just wish there were more color options to choose from.
UUCovers Embossed Pattern Folio Case
So many choices
Arguably one of the best covers for the earlier-generation Fire HD 8 tablet, this folio case from UUCovers has a high-quality PU leather exterior and a TPU shell. It also features a built-in stylus holder, as well as an extra pocket for holding your credit/debit cards or some spare cash. But the best part about this folio is that it's available in a choice of thirty-nine (yep, you read that right!) patterns and colors.
Keep your Fire HD 8 and HD 8 Plus tablets protected
Considering how many generations of Fire HD 8 and 8 Plus tablets have been out in the market so far, choosing the right case isn't exactly an easy task. Whether you have the latest generation tablet or one of the older models, getting one of the best Fire HD 8 or 8 Plus cases allows you to keep it protected from falls, scuffs, and much more. That said, there are plenty of different options out there, so you can find the case that specifically fits your needs for what we consider the best of the Fire tablets.
Our favorite pick is the Fintie silicone case for several clever reasons. This heavy-duty Fire HD 8 case not only provides a handle and kickstand, but also fully covers every side of your tablet for extra protection. The built-in screen protector will also prevent scratches from destroying the display, which most other cases don't do. It comes in a bright blue shade that we like quite a lot.
If you plan on taking your tablet with you just about everywhere, you should consider getting the official Amazon Fire HD 8 case. It offers well-rounded protection and has a great design as well. The cover's ability to fold over and prop up the tablet in a variety of orientations will make binge-watching your favorite movies or shows a walk in the park.
For the models from a few years ago, we recommend taking a look at the embossed patten folio case from UUCovers. It offers great build quality along with handy extras like an extra pocket for your credit/debit cards. And with thirty-nine designs/patterns to choose from, you're sure to find one (or more) that you like.
Sign up for Black Friday email alerts!
Get the hottest deals available in your inbox plus news, reviews, opinion, analysis and more from the Android Central team.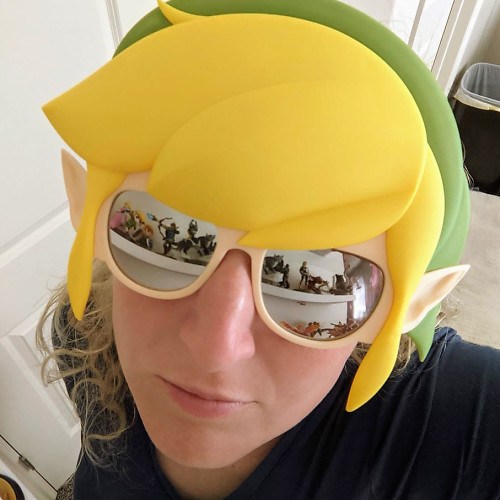 Rebecca Spear is a staff writer for Android Central who loves following the latest tech, drawing with her Wacom, and playing video games. You can find her posting about her pets, art, and video game preferences on Twitter @rrspear.