Best Accessories for Moto G5 Plus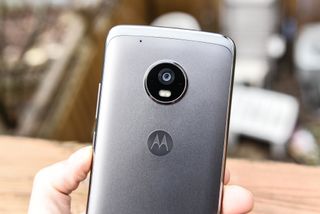 Motorola's latest budget phone, the Moto G5 Plus, is shaping up to be quite the successor to the Moto G4. It's faster, shinier, and equipped with an improved rear-facing camera.
You'll want to take advantage of everything the Moto G5 Plus can do, including procuring accessories that can make life with your new mid-range mobile device more dynamic. Here are a few accessories to consider equipping yourself with for future adventures with the Moto G5 Plus.
Incipio NGP case
Why you can trust Android Central Our expert reviewers spend hours testing and comparing products and services so you can choose the best for you. Find out more about how we test.
If you're looking for a lightweight rugged case, Incipio's NGP case is the right voice for you.
Featuring a textured back and bumper to ensure you maintain a solid grip, this one-piece polymer case is designed with enhanced drop protection — you'll notice the honeycombed interior which helps to disperse the shock when your phone inevitably hits a table or floor.
Precise cutouts means you'll have full access to the charging port and headphone jack as well as the volume and power button on the side.
Choose between black and berry pink and keep your Moto G5 Plus protected!
See at Incipio
LK Screen Protector (3-pack)
Planning to go bare with your Moto G5 Plus? At least consider a screen protector to shield its 5.2-inch LCD display. This three-pack of oleophobic screen protectors are precisely cut to fit the Moto G5 Plus. They're made from 9H tempered glass and are both scratch-resistant and shatterproof. Each protector is easy to apply and LK offers a lifetime replacement warranty should things go awry.
iXCC USB Car charger
Get this Qualcomm Quick Charge-certified car charger for your next adventure on the road with the Moto G5 Plus in tow. This affordable package comes with a 3-foot Micro-USB cable, though you can grab another if you need something longer. The charger also comes with a two-year manufacturer's warranty.
The charger itself can charge any Quick Charge 2.0-compatible device. It also features built-in safeguards to help protect any device from overheating and overcharging.
Raki 3-in-1 clip-on camera lens
The Moto G5 Plus's 12-megapixel rear-facing camera is actually quite capable, but you can take even more dynamic photography with a clip-on camera lens, like the affordable Raki 3-in-1 camera lens.
This multi-use concoction features an 180-degree Fisheye lens, a wide-angle lens, and a macro lens. It comes in four different colors, too, so you can get one that matches the color of your Moto G5 Plus. Best of all, the clip-on is compatible with any smartphone, so if you switch devices in the future you won't have switch clip-on camera lenses.
Anker Waterproof Case
You'll inevitably come across a body of water in your adventures with your smartphone, even if that water is just in your bathtub. Keep the Moto G5 Plus's water-repellent nanocoating safe from deep water with this pouch from Anker. It's rated IPX8 for water resistance, which means it works in up to 100 feet of water. You can still use the touchscreen and the camera while it's inside the pouch, too, and it comes with a handy neck strap so your phone won't float away.
Maono Selfie Stick
Yep. We're suggesting you purchase a selfie stick, but not just any selfie stick. This one is both a stick for extending the Moto G5 Plus in front of you for selfies and a tripod for keeping still for landscape shots and self-timed panoramas. It's also made of metal and features a programmable Bluetooth remote. And since there are no circuits inside the selfie stick, it's verifiably rainproof.
Sign up for Black Friday email alerts!
Get the hottest deals available in your inbox plus news, reviews, opinion, analysis and more from the Android Central team.
Florence Ion was formerly an editor and columnist at Android Central. She writes about Android-powered devices of all types and explores their usefulness in her everyday life. You can follow her on Twitter or watch her Tuesday nights on All About Android.