A beginner's guide to the Samsung Gear VR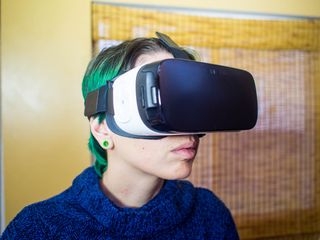 The Samsung Gear VR is finally coming to a retailer near you. So if you've had an eye for this fantastic VR headset, or you know somebody who has, this is the guide for you. We'll give you the details on getting started, watching movies, and even a few great accessories. You might want to check out how smartphone-based VR works before diving into the full guide.
Create an Oculus account
To get started with a Samsung Gear VR you'll need to create an Oculus account. It's a pretty easy and intuitive process, and it looks pretty familiar. You'll need to create a Username, Password, and pin number, along with entering info like your birthday. Each screen is clear and easy to use, which makes creating your account a real breeze.
Each piece of required information will get its own screen, rather than a large registration form that you can fill out all at once. It can make things a little bit repetitive, but does ensure that you never get confused trying to enter your information. After registering yourself, the Oculus team will send a verification email to the address you signed up with. It arrives fairly quickly, which means you won't be stuck waiting for long before diving into the Oculus store and getting a peek at everything. Validating your account brings you to the final portion of setup, where you can add a payment method. After either entering your credit card info, or skipping it, you're ready to start, and transported to the Oculus app store.
Using the Oculus Interface
The most difficult part of getting used to using the Oculus is the interface. Rest assured though, it isn't difficult at all. Like using Google Cardboard you can view your surroundings within apps by turning your head to see everything. There is a full 360 degrees of immersive virtual background even when you are just hanging out in the home menu.
Samsung has also added a few bells and whistles to make navigation even easier. The app or experience you are looking at will pop out a bit to show that it has been selected. On the right side of the headset is a touchpad, by swiping it you can move between screens and tapping it will select or open a selected app or experience. There is also a small button which will take you back a screen. Using all three of these features together makes for a superbly easy and intuitive navigation process.
There is also a menu that can be reached by pressing and holding the back button on the side of the Gear VR headset. It opens up a setting menu that allows you to make a few tweaks, or activate a particular feature. The icons pop up in a line allowing you to navigate back to Oculus Home, use the Passthrough camera, reorient the Gear VR, activate "Do Not Disturb" mode, and adjust the brightness.
The Passthrough camera uses the back camera on your phone to view the room, as the name might suggest it's a passthrough. We will warn you that while you're seeing the room around you, it can still be extremely disorienting to walk around — so do so cautiously. Reorienting the Gear VR will just readjust things around you to make the experience most comfortable. The Do Not Disturb function is fantastically helpful, it means that notifications or updates won't pop up across your screen and helping to make sure that the experience is as immersive as possible. The last option on the menu allows you to turn the brightness up or down to where it's most comfortable for you.
One thing that you should stay aware of, that can highly frustrating is the lack of a search option. That's right, for the time being there is no search function available for the Oculus store, which means you'll need to scroll to find the specific app or experience you want to download. It can be a bit of a hassle, and we're hoping that a search function will be added with later updates. You can still get around pretty easily without it, but it's strange and makes finding the one app you've been looking for slightly more difficult.
More: Where to buy the new Gear VR
Watching Movies in VR
At this point most, if not all of us, have caught a movie in 3D at the theater in the last couple of years. So your next question might be along the lines of, Can I watch movies in VR? The answer to that is yes, but it won't be a full 3D pop out experience in your living room — at least not yet.
Right now the easiest way to watch movies or television in VR is by using the Netflix app. It's got a really spectacular setup that transports you to your very own cabin to watch the television, with a full portrait of Bo Jack Horseman on the wall above it. You can settle in for a movie, or binge watching television alike, and transport yourself somewhere else while you do it.
Full-on binge watching might be a bit rough though. By the end of a full length movie, your eyes will probably be begging for a break — ours certainly were. There are also Oculus VR movies and experiences to check out, along with occasional tie in experiences like the first democratic debate. Not all of them work out perfectly, but it's been a blast to watch as we get more content and we should be seeing Hulu pop up as an option soon too.
Still, the ability to watch a movie and feel like you're transported elsewhere while doing it is fantastic, and it's well done too. With the headset on, and a pair of earbuds in, it can be easy to forget where you are and transport yourself somewhere else, if only for an hour and forty-five minutes. If you've got a long train or bus ride during the holiday season, it might just pass easier if you forget you're riding while catching up on Agents of S.H.I.E.L.D.
Read More about Movies on the Gear Vr
Playing Games in VR
This begs the most important question for VR, can I play games on it? The unequivocal answer to that questions is "yes!" You can play a variety of games in a variety of genres, and you can do it both with, and without a controller to help you out.
If you scroll through the Oculus Store, you'll see plenty of games float by. There are quite a few free ones, along with paid games, and even a few meant to be played with friends. If you don't already have a controller, you may end up wanting to pick one up. While there are definitely some great games that don't require a controller, some of the best ones out there do. For non-controller games, most of them will explain the controls when you first load it up. You can generally be assured that it will primarily use your vision, paired with the touchpad on the side of the headset.
When it comes to the type of controller you need, you'll want a bluetooth model like the Samsung game pad. Each game has a different control setup, as you might imagine, but it's no more difficult than learning the controls on any new video game. Playing with a game pad does generally means you get access to some of the larger or more expansive games. Playing VR games with a controller was little bit weird at first, primarily because you can't look at your controller during game play to make sure you are hitting the correct button. Still after some initial trial and error it becomes easy and you're good to go.
Each game has an info page, same as you'd find on any app in the Google Play Store. It'll give you all the information you'd expect to find, along with letting you know if you'll need a controller to play. The one thing we will warn you about, is that there are a ton of demos out there that don't yet have a full version of the game available. That being said, many of the more popular games in the Oculus Store, like Dreadhalls have a demo mode available so you can try it out before purchasing the full game.
Read More: 5 Great games on the Gear VR
More: 5 Controller required games on the Gear VR
Gear VR Accessories
When it comes to accessories for the Gear VR, there isn't much out there just yet. There are at least two items you should make sure you've got though, headphones or earbuds, and a bluetooth controller. The best part about VR is the ability to use it to transport yourself somewhere else, and these accessories will help to make sure you get the most immersive experience possible.
Samsung Circle
Having a good pair of earbuds or headphones is always a good call, and they are even more important if you want a truly immersive experience.
The Samsung Gear Circle worked out fantastically and since they were bluetooth enabled there were no worries about getting caught in audio cables. As always you want something that is going to be comfortable for you, and having earbuds instead of full headphones was just far more comfortable with the straps from the Gear VR. Wireless headphones or earbuds also mean that you don't need to worry about plugging into your phone which makes things much easier in the long run. You're going to want headphones to really fall into the immersive experiences that the Oculus Store offers, whether it's to block out distractions while watching a movie, or seeing a whole new world with Oculus Videos.
Buy a Samsung Circle headset from Amazon
Samsung Gamepad
The second, and equally important accessory to keep in mind, is of course a gamepad. You'll want to make sure you find something that feels good in your hands, since you won't be able to see it while you're playing. Since your phone is sitting in the Gear VR, you'll also need to make sure that it's a bluetooth enabled controller. There are plenty of controllers out there to choose from, but the Samsung Gamepad worked very well in tandem with the Gear VR and we definitely recommend giving it a shot. A controller isn't necessary to enjoy the Gear VR, but it does get you access to some of the best games currently available in the Oclus store.
Get the Android Central Newsletter
Instant access to breaking news, the hottest reviews, great deals and helpful tips.
Jen is a staff writer who spends her time researching the products you didn't know you needed. She's also a fantasy novelist and has a serious Civ VI addiction. You can follow her on Twitter.