BBM update makes attaching photos and files simpler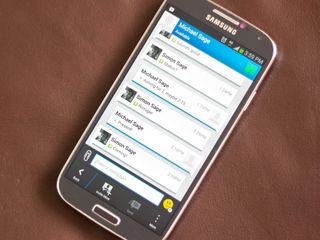 The cross-platform BlackBerry Messenger app has received an update today. It's not too big an update but it does seem like BlackBerry has made it simpler to attach photos in BBM. Currently, by default, when you tap the paper clip icon to attach a photo, the voice note option is selected. You then had to tap the picture icon to then get the option to attach one. Now, it defaults to attaching file or photos when you tap the paper clip icon.
What's new in BBM?
Simplified flow for attaching pictures, files and other content to BBM chats
In app upgrade notifications helps users to download the latest version of BBM
The ability for users to rate their call experience for BBM Voice calls
Let us know of what you think with the new BBM update.
Good for the. 000000000000000000000000000001% who use BBM Posted via Nexus 7 2013 or Galaxy S5

Yeah...its more than that.

You're right it's. 00000000000001% Posted via Nexus 7 2013 or Galaxy S5

OK fine. 000000001% Posted via Nexus 7 2013 or Galaxy S5

OK fine. 000001% Posted via Nexus 7 2013 or Galaxy S5

Who cares? Blackberry is long DEAD!!! I don't know a single person that uses BBM.

I use it everyday on my Android phone. Especially for Channels. Posted via AC App from my S4 mini WITH an LED CrackLight ;-)

You guys should check out PPLCONNECT, its like a messaging app but does regular SMS & free messages between users of the app.

You guys should be happy BBM got an update. Now there's an article on the first page of AC that is not a case review. Silver linings people.

It must get a lot of use around the AC office the way these guys promote this app.

My, and my circle's, IM client of choice. Simply the best there is. Posted via Android Central App

This article will probably have 50+ comments, by the end of the day. We all know why, lol.

Cuz BB is dead and no one cares?

Yep, you guessed it. They are so friggin dead, brah, lol. /s

It's always amazed me how on any tech blog the comments on BB related articles almost always trumps any other article. Not bad for a dead horse. I'm just here for the popcorn

That's because it's fun to poke dead horses. Have you never poked a dead animal with a stick? BEST. FUN. EVAR!!! Please, pass the popcorn, when you're done, lol.

Whipping post? Posted via the Android Central App with my OnePlus One.

Love BBM. All my friends use it. Just because you don't, don't assume the company is dead. That's silly. Posted via Android Central App

True that! Posted by my G3 or my 1+

I know I use BBM with my family, friends and co-workers and you are so correct. People here see BlackBerry and go nuts. But I can't fault them too much as their comments clearly shows the lack of critical thinking. Posted via Android Central App

Again.......... Not another one of these ignorant posts. People like you make me loath the comments. Posted via Android Central App

Would it be so difficult for them to offer something basic, like landscape mode? Good grief! Every other messaging app out there does. And I'm still trying to get my head around the persistent BBM icon in the notification tray. I understand that it's there to keep Android from closing BBM if memory gets too low, but, if that's so, why don't other apps, such as Hangouts or even Facebook, have similar icons? Are they at risk of being closed down as well?

As a BB user I can sort of agree, but it's a communication app first and foremost, in landscape it makes no sense. When BBM is in landscape and the KB is up, you only see one message, the most recent sent or received in the thread, and this is actually 2 lines at most. While it might be ok on a Galaxy Mega, for the vast majority between 4-5" it's really not ideal. I understand that you may not want to be told how to use your phone, which is why you have an android and not an iphone, but in cases like this it makes sense to omit it. the most efficient and ergonomic way to type currently is in portrait. It would be kinda like wanting to drive your car sideways, it would give you a larger view out the front and back, but the steering wheel it best accessed and used when facing forward.

I would like Landscape mode to be available for my Galaxy tab 3 7.0. That would be nice. Kind of a pain to always have to turn it to type. Posted via AC App from my S4 mini WITH an LED CrackLight ;-)

I would like to see them update the app and use the Google UI. The Blackberry port just isn't that appealing because it doesn't fit the Google UI. Posted via Android Central App

I'm still a bb fan even though I don't own any of their products nor use this app. It was like wrestling with an angry monkey trying to get others to use this app with me. I only had two people that were willing so I deleted it. Posted via Android Central App

I don't use Snapchat or Whatsapp, so because I don't use it should I say it sucks? My entire family, friends, and co-workers all use BBM. We count on it for it's reliable message delivery and more importantly the group functionality. Being able to share private family photos within our group is awesome! Not to mention sharing calendars and lists so we're always connected and on the same page. Stop hating on something just because you don't use it.

He didn't say it sucked.. Posted via Android Central App

I'm referring to the long list of haters who pounce anytime anything Blackberry is reported.

I hope blackberry survives and all the haters can suck it, I have android now but will go back when the passport is available, long live blackberry Posted via Android Central App

I am right there with you. When there's a post about Blackberry in AC, all of these people just hate. I use BBM like a champ on all my devices (different pins...lol) and can't wait until the Passport.

Loving BBM. There were a few bad updates but this one and the last before it seems to be solid. Posted via AC App from my S4 mini WITH an LED CrackLight ;-)

Do u think the passport will ever be available Posted via Android Central App

Been using BBM for Android since Official launch. Have tons of friends and family who are BB owners. This made it possible for me on my Android phone to join in with them. I don't see myself becoming a BB user, but BBM has been a great tool for me. Posted via Android Central App on my Samsung Galaxy Express i437p on AT&T's 4G LTE Network

Terrible update , sometimes fails to load and I've suddenly lost all contact and data, I'm considering getting rid of it. The process of asking friends and family to provide their BB pin is too tasking Posed via Nokia 3310 smartphone

Still waiting for video calls. BBM the best voice and video calling hands down. Skype, hangouts, viber and face time are rubbish in comparison. Posted via the Android Central App
Android Central Newsletter
Get the best of Android Central in in your inbox, every day!
Thank you for signing up to Android Central. You will receive a verification email shortly.
There was a problem. Please refresh the page and try again.