Android Central's 2020 Back to School Gift Guide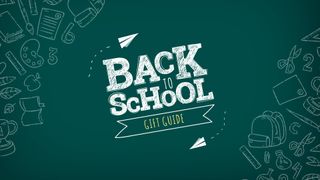 Summer's almost over, which means the leaves will soon turn orange and Fortnite will be replaced by homework (at least in theory). Here at Android Central, we want the transition back to school to be as painless as possible, so we're recommending some essential items, from tech to coffee to music, that will make the year that much easier.
Moto G6
Back to school means buying a lot of stuff at once, and if that includes a great new phone, leave some room in your budget for other things with the incredible-value Moto G6. This phone does everything well but costs under $250. Seriously, you won't find better value for money when it comes to a smartphone anywhere else.
from $235 Buy Now $110 at Walmart
ASUS Chromebook Flip C302
Schools are increasingly going Google, and that's why we're recommending a Chromebook. While you can always go for something a bit cheaper, our Chromebook recommendation is as powerful and capable as any Windows or Mac laptop and costs just $449. For that, you get a convertible aluminum chassis with an Intel M3 processor, 4GB of RAM, and 64GB of storage.
from $459 Buy Now $350 at Best Buy
Lenovo 500e Chromebook
For the younger crowd, the Lenovo 500e Chromebook is the perfect combination of durability, portability, and productivity. Featuring a spill-resistant keyboard and reinforced chassis, the 500e Chromebook supports Google's pen interface (and comes with a pen in the box), allowing you to turn the Chromebook into a blank slate of awesome potential.
from $309 Buy Now
iOrange-E 6.6 ft braided USB-C cable
I know what you're thinking: what a lame BTS gift. Except that this is probably the most important one, since cables go missing all the time, and having an extra high-quality USB-C cable is ESSENTIAL for charging, transferring, and being that awesome friend with a spare at the right time. Trust us: get a couple of them.
$10.99 Buy Now
Tile Mate Bluetooth Tracker 4-pack
It's pretty obvious that when you're in school, things go missing pretty easily. Tile Mate is a tiny tracker that attaches to anything — keys, a laptop, or stuffed in a backpack — and can be used to locate a missing item using Bluetooth. The beauty of Tile is its ease of use; the Android app is super simple and totally reliable.
from $33 Buy Now $22 at Walmart
OnePlus Travel Backpack in Morandi Gray
Did you know that OnePlus makes backpacks? And that they're really, really good? We didn't either until we tried this travel pack and, MY GOODNESS it's awesome. At $69, this tri-tone bag is big enough to fit a laptop (there's a padded side pocket) and plenty of extra stuff, including books, cables and maybe a Nintendo Switch, with plenty of room left over. Because it's made of nylon and polyester, it's water-resistant, scuff resistant, and — well, it's just resistant, OK?
$69 Buy now
UE Wonderboom Bluetooth speaker
Ultimate Ears' Wonderboom takes everything we love from UE's more expensive Boom and Megaboom speakers and shrinks it down into a little floating cube that stays waterproof while sounding great. It's seriously one of our favorite things and the perfect little speaker for some pre- or post-homework jams.
$99 Buy Now
Zojirushi Stainless Steel Mug
Everyone has to drink, be it water or hot chocolate, and the Zojirushi Stainless Steel Mug is the best bet for both. Say that three times fast. We're big believers in staying hydrated, and this Japan-made water bottle doesn't leak — guaranteed with its awesome lock feature — and will keep liquids hot or cold all day.
from $27 Buy Now
Google Home
For the kid with a YouTube addiction and a Spotify account, Google Home is just awesome. It connects to Google to answer homework questions or offer some much-needed distraction, and as a speaker, it's pretty darn good, too.
$129 Buy Now
Nintendo Switch
In between bouts of homework, there's the need for some gaming, and the Nintendo Switch is the one to buy right now. It's fun, unique and portable, and has some amazing games, like The Legend of Zelda: Breath of the Wild, and the upcoming Super Smash Bros.
from $299 Buy Now $299 at Walmart
Lenovo Smart Display
If the Google Home isn't enough smart for you, Lenovo's new $250 Smart Display does everything that speaker does and more. Its 10-inch screen is bright and touch-friendly, so you can see what you're asking Google Assistant to do while watching YouTube and HBO, or listening to Spotify and Deezer.
$250 Buy Now
Amazon Fire TV Cube
Is your student addicted to video streaming? Amazon's Fire TV Cube allows them to watch all their favorite shows and movies from popular services like Netflix, Hulu, HBO Now, Amazon Video, and more. With Amazon Alexa support built in, all it takes is a simple voice command to start watching. On sale for $90!
$90 Buy Now
Sonos One
Is your grad looking for something a bit more permanent than Bluetooth? The Sonos One is incredible. Not only does it connect to Alexa (and soon, Google Home), it sounds so, so good. And if you end up buying two, they can be paired together for whole-home audio!
$199 Buy Now
Amazon Kindle
How do you fit thousands of books into a dorm room? With an eReader! Amazon's Kindle has a glare-free touch display, Wi-Fi connectivity, and a battery that lasts for weeks at a time. If your student is a bookworm, there's no better gift than a Kindle.
Mpow Thor Bluetooth Headphones
Everyone needs a good pair of headphones, and the best way to listen these days is sans wires. Mpow is an up-and-coming brand that delivers quality products at prices you'll be willing to pay — and then pay again when your student inevitably loses them. They are comfortable and sound great for up to 8 hours of battery.
$24.99 Buy now
Koss Porta Pro Wireless Bluetooth headphones
A classic re-imagined. If you like the good things in life, get these awesome-sounding retro-looking Koss Porta Pro Wireless headphones. They bend into a tiny portable pod, but they have 12-hour battery and in-line controls for $80.
$80 Buy Now
Anker PowerCore II Slim 10000 Battery
Give your student the gift of a phone that doesn't run out of batteries! This Anker PowerCore pack can charge most phones two or three times and is portable enough to bring anywhere.
$36 Buy Now
Anker PowerCore+ 26800 battery pack
For something a bit more capacious, the Anker PowerCore+ 26800 is a huge portable battery with a USB-C port and two USB-A ports, making it versatile enough for any situation. At $120, it's on the expensive side, but it's also great value, especially when paired with the Moto G6, Nintendo Switch, and a Chromebook!
from $120 Buy now $50 at Walmart
Samson Meteor USB Microphone
Whether you're starting a podcast or just want better quality audio for your Skype calls with your professor, it never hurts to have a decent microphone sitting around. For just $65, the Samson Meteor sounds just as good as it looks, with a USB port for wide compatibility and a built-in kickstand. Best of all, it folds neatly into a portable package that you can easily toss into your bag on the way to class.
$65 Buy Now
Audio-Technica ATH-M40
Everybody needs a good pair of headphones, and the Audio-Technica ATH-M40s are just that. At $79, there are definitely cheaper headphones out there, but the ATH-M40s offer clear audio, a collapsible design for easy traveling, and a removable cable in case anything goes wrong. In fact, Audio-Technica includes two cables in the box — one straight and one coiled — and both can lock into the headphones for an ultra-secure connection.
$99 Buy Now
Get the Android Central Newsletter
Instant access to breaking news, the hottest reviews, great deals and helpful tips.
Daniel Bader was a former Android Central Editor-in-Chief and Executive Editor for iMore and Windows Central.