AT&T starting to push Galaxy S3 Jelly Bean update OTA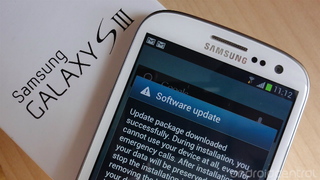 After 6 weeks of availability only through Samsung Kies desktop software, the Jelly Bean update for AT&T's version of the Galaxy S3 is finally available over the air, as noted by the folks in our forums and confirmed to us by AT&T. (Engadget also has received separate confirmation.) Users were pretty confused as to why AT&T chose to only offer the Android 4.1 update via its desktop-based Kies program when it came out at the start of December, but the carrier has finally decided to make an OTA available for users that haven't updated -- and our guess would be a majority of users haven't. The update is still only available for download via a Wifi connection, but this is still a far better way to push out the update than with Kies. We're still scratching our heads wondering what AT&T was thinking the first time around.
Has your phone notified you of the update yet? Head to the forums and join in on the discussions with other users who woke up to a software update notification this morning.
Source: AT&T Galaxy S3 Forums
Android Central Newsletter
Get instant access to breaking news, the hottest reviews, great deals and helpful tips
Andrew was an Executive Editor, U.S. at Android Central between 2012 and 2020.
Guess everyone in the forums saying there wouldn't be an OTA update will be eating crow now.
Great news!

AT&T was saying in their press release at the time that the update wouldn't be coming OTA. ATT changing their minds in favor of customers is always a good thing.

Yasen Posted via Android Central App

Yea mine got the Jelly bean update.... back in August via Cyanogen Mod

Any differences between the Kies-only update and this one? (I was really hoping this was the dual screen update.)

And the HOX JB update is still not here...SMH...enjoy yours S3 owners...

Dude relax; Other than Google Now, you're not missing anything.

I have JB and Project Butter on my Nexus 7 so I think I'm missing something like a little more smoothness. Plus, I think I would love Sense 4+ than Sense 4.

Good luck on getting Sense updated..

It's updated already. It's what the One X+ have. You good?

OH wow, OTA, congratulations ATT!!! Screw this stupid
"Keis" stuff. Updates should very OTA, or a good Wi-Fi network.

+1 on that, keis is rubbish.

It's rubbish, but it let me get my update weeks ago.

I got really excited at first, thinking this was the 4.2 update. Then you broke my heart. D':

The bigger the carrier the slower the updates.
Tmobile got theirs.
Sprint got theirs.
US Cellular got theirs. Did Verizon get theirs?
AT&T got theirs, partially? International model has been had theirs. Unlimited data and quicker updates...

Remember, Kies is not an AT&T product... it's a Samsung product. I would not be surprised if there was a lack of sync between when AT&T wants to do something, and when Samsung wants to. When the update was officially ready almost two months ago, Samsung likely charged forward and offered it through Kies... while the slow corporate wheels turned at AT&T and they finally got around to it today to release it OTA. I am no fan of Kies as a product, but it helps to keep an eye on both options, as you never know which partner in this relationship (Samsung or AT&T) is going to move first. I try to link up with Kies and scan what may be available OTA at least once a week.

**cough**...update ATT Note to JB...**cough**

**cough**...ATT Note over year old lol...**cough**

Still had the horsepower to run it, and Samsung plans on updating it as well as the GSII. They updated the Ruby for gods sake to JB..

I could really use Jelly Bean on my Galaxy Note, AT&T.

WARNING! Even though this is an official update, back up your information somehow, maybe even via kies. It does not hurt to do this. The update caused a bootloop that could not be fixed in any kind of soft or hard reset on my GF's phone. If you get stuck in this bootloop, you will have to use KIES to truly clear and wipe your phone using your serial number in KIES. This will COMPLETELY wipe your phone of everything, even SD cards. Fair warning.
Android Central Newsletter
Get instant access to breaking news, the hottest reviews, great deals and helpful tips
Thank you for signing up to Android Central. You will receive a verification email shortly.
There was a problem. Please refresh the page and try again.