AT&T rolls out 4.4.4 update to Galaxy S4; brings Knox 2.0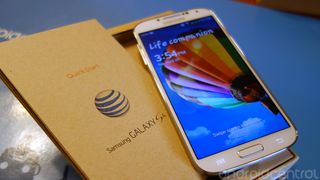 AT&T is rolling out an OTA update for the Galaxy S4 today, bringing the device up to Android version 4.4.4. The update's most notable feature is the inclusion of Knox 2.0. In addition, you'll also snag the usual spate of bug fixes and, unfortunately, some added bloatware.
You can check out the full change log below:
What's changing?
Android 4.4.4 Update includes:
Miscellaneous improvements, bug fixes and security updates
E911 Call issue fix
Added Knox 2.0
Applications added:
Keeper
Mail
Live
Uber
Remote Support
Device Help
Be sure to check for the update and let us know if you see any improvements in the comments below.
Source: AT&T (opens in new tab)
Better late than never I guess right?

5.0 maybe next Dec Posted via the Android Central App

My thoughts exactly Posted via the Android Central App

S4 came out how long ago though? If you(not you specifically, unleso it applies to you) want new features get a new phone

It came out last year. It's still a capable phone Posted via the Android Central App

I'm not saying is a bad phone at all. I had an S4 and I loved it. My point was that it doesn't make sense for people to complain about not getting features on their old phone, that come with new phones. Phone companise would never make money that way because people would never upgrade their phone if they could just keep getting updates

it's not much older than the Nexus 5 which got the 5.0 update yesterday, or the Moto G which is currently splash testing the new update. It's not so much AT&T, it's Samsung having to edit every single visual detail and bloat it up like a pig for slaughter to the point of it almost no longer being Android which is the problem.

Oh please. Stop with the Samsung hate. It's actually the carriers that add bloat and cause more testing. You may hate TW but that's not the major cause of the delay. Posted via Android Central App

About 18 months, which is within Samsung's general window for flagship updates. It's reasonable to expect that it will get the update.

More like, if you want new features, root it. Posted via the Android Central App

What about s5 att Samsung S5

Yaaaay, and it'll get lollipop in march, lol. As long as the note 4 and S5 get lollipop within the next 2 months, all is well. However, knowing at&t, they're gonna poss alot of people off with lollipop delays, myself included

Which is why if I buy a new phone by year end it will already have lollipop Posted via the Android Central App

Good idea, I just couldn't wait to get the note 4. And I do t regret it. even with kitkat it's phenominal, and when it gets lollipop it'll be the top handset on the market, even with touchwiz

Was told sometime in April for 5.0. Reliable source,

Holy shit. That's 6 months from now lol Posted via...The One

That's some shameful shit right there Posted via...The One

Don't want Keeper, Uber, Live, or any other added shit. Keep your bloat-shit off my phone.

Root and remove. So what if you trip Knox, most carriers won't hold it against you. Posted via the Android Central App

Don't have to trip knox. Downgrade the kernel and use towel root.

How would I do that? Can I do this with the locked boot loader on at&t?

Its amazing to me that they add more bloatwear with each update. As if Samsung devices don't have enough already. (Especially at&t versions) Posted via My Beastly Galaxy Note 4...(T-Mobile)

To bad i have an s5 Posted via the Android Central App

I gotta question
Huh huh When will I get an ota for my note 3
Huh Posted via Android Central App

Will this fix the rebooting of my phone when it reads "could not detect Sim card etc" hope so. Or its a new Sim for me. If that dont fix it. Guess a new phone. Thinking a nexus 6

Be nice to get it for the S5 Posted via Android Central App

A little late AT&T? While nice to see this finally on my S4, what are the chances of me getting 5.0 in the next year? I'm not as excited to update to this as I have been on other updates. I' can do without the added apps that I'll never use, thanks.

I was wondering where the 4.4.4 update was. T-Mobile updated their variant a few months ago. I was beginning to think this update went the way of the dodo, and 5.0 was going to be the focus. In theory, maybe the Verizon and Sprint variants will receive the update in the not too distant future? We shall see what happens. Not really too concerned, as 4.4.4 was just some bug fixes.

So here it is, a day later and my S4 tells me I'm up to date. (It's 4.4.2)
What update? Posted via the Android Central App

Update is rolling out. Give it some time. You've already waited this long. If you really need to update now, check the forums here, and on XDA. You might be able to download the OTA, and flash it via ADB. If you don't understand what I said in the last sentence, wait for your phone to notify you the update is ready.

So how do we find out what these new added bloatware features do without doing like Congress and passing it to find out what's in it? Before I delete them, I'd like to know what they do. I see them mentioned only by name here:
https://www.androidcentral.com/e?link=https2F2Fcli... And no description as to what they do or how to use them.

Is anyone else having issues when installing the update? It will download for me and when it restarts to update, it gets to 27% and says update failed and restarts. My phone isn't rooted either, but it was at one time.

Hurricanes17, are you on stock recovery? If not, the OTA will not work. Maybe you un-rooted, but kept your recovery, such as TWRP, or CWM? If that's not the issue, you might want to ODIN back to stock (system, bootloader, recovery, etc), and try again.

I'm trying that now, hoping it works

I'm having the same issue as mentioned, I used to have towel root but I don't see it anymore on my applications list. Any help is appreciated!

I still can't get it installed. The last little update before this one worked just fine so I wonder why this one isn't. I haven't tried odin yet though. It keeps downloading it though.

Yeah I'm still having the same problem. I tried factory resetting through the phone and through recovery and still nothing. Stops at 27%. Any suggestions anyone?

I'm having the same issue and i'm not rooted. Fails every time at 27%

Any one else having any issues?

I've been talking to AT&T and told them it's not just me having problems. They're looking into it and talking to Samsung also and I hope hear back from them soon.

Yeah. Mine gets to 27% and stops also. I'm on a Galaxy S4. Are all of you that are having this problem also on the S4? I think it's because the update isn't ready for the S4. It shows there's an update in settings but once it realizes our device is an S4 it fails.

Thank you. Please let me know if you get an answer from them. I even tried a factory reset and same results.

What about the Galaxy S4 Active? Did gracefully left in the back by AT&T.
That is why I will never buy a other AT&T-branded cell phone; they promote and forget about their customers.

"Disgracefully". Fat thumbs.

Downloaded it, turned off the Apps I am not interested (can not root it) and no problems so far. Does anyone knows what or where is this "Remote Support" ? I did not get any App or option named Remote Support. Thanks

Still waiting for AT&T to allow me to have 4.4.4 on my Samsung Galaxy S5. My Verizon friends have had it for weeks.

so I got this 4.4.4 update on my galaxy S4 and ever since my email stops working multiple times a day, any ideas how to fix ?

My s4 is only 9 months old. Was forced to install 4.4.4 update. Next day the phone doesn't recognize sim card. ATT is aware of issue and was almost willing to swap mine out . But bc I have a small crack in my screen that I did my third day with phone, warranty is void. So bc of update I am out 450 bucks. NICE. any suggestions?

Does this update work or is it broke?

Why do US cell companies not allow us just to root phones and no contract we have the highest cell bill in the world?

Got update two months ago and since then it appears they added a memory leak with 4.4.4. RAM usage is way up and performance way down. AT&T says wait for next update and maybe bugs will be fixed for bugs that were supposed to be fixed with 4.4.4. I tried factory reset to try getting back to 4.4.2 with no luck. Ideas?

If anyone is still having trouble installing the 4.4.4 update, just go to Best Buy and go to the Samsung Experience part and they will flash the update to your phone. It only takes about 10 minutes to do. I told them the problems I was having with it and they understood right away and got me squared away.

Tried to download pics at kodak kiosk. NO LUCK. S4 said disable auto network setting ?????????
Android Central Newsletter
Get the best of Android Central in in your inbox, every day!
Thank you for signing up to Android Central. You will receive a verification email shortly.
There was a problem. Please refresh the page and try again.