AT&T getting exclusive 'aurora red' Samsung Galaxy S4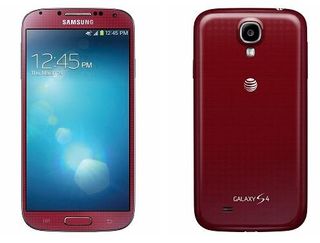 Pre-orders start tomorrow, in-store from June 14
Last night we heard that new colors of the Samsung Galaxy S4 would be arriving this summer, and now we have the first details of when and from whom. AT&T has confirmed that it'll exclusively stock the "aurora red" Galaxy S4 in the U.S., and sends word that the device will be available to pre-order from tomorrow, May 24. Brick-and-mortar AT&T stores will have the device from June 14. The red color will be available for the 16GB model, AT&T says, which costs $199 on contract.
The new red Galaxy S4 makes for a fitting successor to the "garnet red" Galaxy S3 that AT&T debuted last year. If you're tempted to pick up this new, more colorful S4 when it lands, be sure to shout out in the comments.
Source: AT&T (opens in new tab)
Alex was with Android Central for over a decade, producing written and video content for the site, and served as global Executive Editor from 2016 to 2022.
this is the answer to the question: could the gs4 look any cheaper?

I really wish more carriers would get these different colors. I love my Note 2 on Sprint but I'd love a bright red phone.

in addition to their exclusive 32gb model...

They need to release all colors at once.

You would think with Verizon known as Big Red that they would try and get the red gs4 as their exclusive....... smh

Does the color make it run faster?

In some people's minds yes! :-P

I can see it already. Lady walks into store, lady asks for red s4, lady buys ugly otterbox case, lady covers up red s4.

Have to see this in person. Either way doesn't matter. Only S4 that interests me is the nexus experience version.

Call me crazy but I do not understand these "exclusive deals" that the carriers enter into with Samsung/LG/HTC, etc. The iPhone aside, are there really that many people who are going to switch carriers because they want phone X?? I would guess there are but their numbers are few. I was all geared up to get an LG Optimus G Pro until I learned that only AT&T was going to get it and rumor was that Sprint would get it one day. Did I switch carriers? No, I just got an HTC One instead and couldn't be happier. Had Sprint had the LG I would have gotten it so in the end LG loses out.

I bet my wife would love the that red color. If it was a shade of red similar to the nokia 920, I'd probably pick it up myself.

Remember the old days when if you didn't like your case, you could go to a show or flea market and pick up a case in the color or design that you wanted and take off the old and snap on the new? I'm also noticing what's the point in buying a phone when it comes out new and then a month later the next greatest version of that phone comes out. I would be pissed to be locked in with contract and a month or two later the sweet color or 32gb version or HD version or crazy capacity battery is released. Samsung and Motorola definitely guilty of this. Shucking out $600++ for each phone is not an affordable option either.

The Samsung Galaxy S4 Active will be red too, and hopefully more widely available! its also waterproof.
Android Central Newsletter
Get the best of Android Central in in your inbox, every day!
Thank you for signing up to Android Central. You will receive a verification email shortly.
There was a problem. Please refresh the page and try again.