ASUS Zenfone 4 Max now available in Canada and the U.S.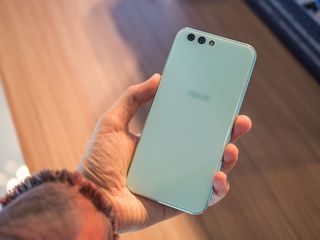 ASUS announced its Zenfone 4 range last month, and began releasing the devices in Asian markets. North American sales tend to lag a few months behind these initial releases — the Zenfone 3 Deluxe did not come to the States until four months after releasing in other markets — but it seems ASUS is doing things differently this year.
In a press release, ASUS says that the Zenfone 4 Max is now available to purchase at select Canadian and U.S. retailers. Said retailers seem to only include Amazon (opens in new tab) and B&H Photo (opens in new tab). Both of these come with full warranty support, which is nice for prospective buyers. No word on when or if the standard Zenfone 4, Zenfone 4 Pro, Zenfone 4 Selfie, or Zenfone 4 Max Pro will become available in Canada or the U.S.
The Zenfone 4 Max's claim to fame is its 5000 mAh battery, and the ability to act as a battery bank for other devices. The phone uses Micro-USB instead of USB-C, so users will need an on-the-go adapter to actually use the reverse charging feature. There are also two rear cameras, a feature not seen at the $200 price range. The phone uses a Qualcomm Snapdragon 430 processor, 3GB of RAM, 32GB of internal storage (expandable via microSD), and features full compatibility with GSM carriers in the U.S. and Canada such as T-Mobile, AT&T, Rogers, and TELUS. The device features Android 7.1.1 Nougat with ASUS's newer, less bloated version of ZenUI on top. ASU expects to update the Zenfone 3 and 4 ranges to Android 8.0 Oreo by the middle of 2018.
Are you interested in the Zenfone 4 Max? Let us know down below!
See at Amazon (opens in new tab)
Android Central Newsletter
Get instant access to breaking news, the hottest reviews, great deals and helpful tips
Verizon and Sprint combined has about 200 million subscribers and if you add US Cellular that's another 5 million subscribers. T-Mobile and AT&T has a tiny bit less combined. Having said that Asus phones only work for GSM Networks, which is T-Mobile and AT&T. So they have the potential of missing out on a whole lot of phones because there's doesn't have CDMA radios in them. The reason I said this is because I'm not leaving Verizon under any circumstances, but, I would love to have an Asus phone. So what am I supposed to do, switch to T-Mobile?? I personally know about 10 people off the top of my head that would also purchase Asus phones tomorrow. They're losing a lot of business.

We need to understand world moved ahead of CDMA and we should stop supporting the carriers who doesn't compliant with universal standards. Either carrier or company needs to adopt universal standards and us as consumes should do our part.

"We?"
That would be wonderful if I could get a signal from a carrier other than VZW.

Well, there are other budget choices around that support CDMA bands. I strongly recommend to check them out, especially since ZenUI on Nougat still sucks. It still has the same cartoonish UI(Launchers, I know, I know), slow updates, sluggish performance, and average cameras for the price.

Nothing wrong with a cartoonish UI. Apple and Samsung phones sell just fine with cartoonish UI.

I actually tried the phone at my local Best Buy and the performance isn't slow at all. The camera is pretty fast too

Verizon is moving away CDMA and is using GSM so depending upon what LTE radios that phone has it will work on Verizon.

It will work on Verizon just fine. It supports their LTE bands.

The Zenfone AR is a VZW device, so they do carry at least one.

Moto has a pretty good selection of truly unlocked phones

The ZTE Blade Zmax available at MetroPCS is $129 has the same processor etc and dual rear cameras. So there are other phones under $200 with dual rear cameras.

Might get this but the Moto G5 Plus has better specs for around the same price.

I tried this phone at Best Buy. It's surprisingly really good for the specs, with a fast camera and smooth performance.
Android Central Newsletter
Get instant access to breaking news, the hottest reviews, great deals and helpful tips
Thank you for signing up to Android Central. You will receive a verification email shortly.
There was a problem. Please refresh the page and try again.