Are the Sony WH-1000XM3 & WH-1000XM4 earpads replaceable?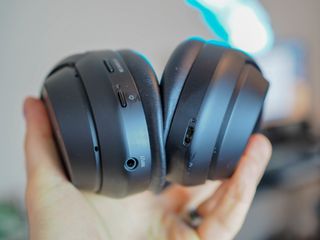 (Image credit: Daniel Bader / Android Central)
Best answer: If your Sony headphones are longer under warranty, you can remove and replace the earpads yourself, though the process can be tricky. Sony now sells replacement earpads for both the WH-1000XM3 and WH-1000XM4 through a partnered supplier, though you may not find the right colors or parts in stock or receive proper install instructions. As an alternative, you can try our favorite third-party WH-1000XM3 earpads, though these may differ in terms of comfort or noise cancellation. We haven't found third-party WH-1000XM4 earpads yet.
Why would I need to replace my earpads?
Because nothing lasts forever, you may need some Sony WH-1000XM3 replacement earpads. Both the WH-1000XM3 and its upgrade, the WH-1000XM4, are among the best noise-canceling headphones you can buy today. Unfortunately, some users aren't fans of the earpads that the 1000X lineup uses, complaining about their headphones' overall comfort and seeking out different earpads to change factors like sealing, driver distance, cushioning, and minimizing sweat.
Even if you like your earpads at the start, it's very common for over-the-ear headphones to begin to crack and fray over time. Sony markets both as travelers' headphones with active noise canceling. If your WH-1000XM3s show some wear and tear around the ears after years of use, that wouldn't be shocking.
Whether you're a new WH-1000XM4 owner hoping to keep the sound but improve the fit with new earpads, or a seasoned WH-1000XM3 user looking to replace the earpads without having to buy an expensive new pair, we're here to help.
What happens if my earpads wear out or get damaged?
The easiest way to replace the earpads on your WH-1000XM3 or WH-1000XM4 headphones is by filing a warranty exchange with Sony. Sony offers a one-year limited warranty that will let you mail in your headphones for repair for free, though you'll be left without headphones until yours are returned to you. The more pressing concern is that Sony has a long list of damages not covered by its warranty, such as "outdoor exposure...accidental damage...cosmetic damage...contact with liquid, humidity or perspiration." Depending on the cause of damage or level of wear and tear, Sony may not honor the replacement.
If your earpad damage isn't covered or it's been longer than a year, your next step is either to buy a replacement headset or try to repair it yourself. We'll guide you through the repair step-by-step in the next section; for now, we'll start by helping you find out if the Sony WH-1000XM3 replacement earpads you need are available.
Sony has started to sell replacement parts for its devices through Encompass, a licensed partner, including both the WH1000XM3 and WH1000XM4. Enter "earpad" in the Filter by Description box, and you'll find all the available earpads for each model. The WH1000XM4 part pages are split up by color, while the WH1000XM3 page groups all its multicolored parts together — so make sure to pick the correct color for your headset.
These earpads aren't always in stock, and some parts may end up being somewhat expensive. You may also have clicked on this post hoping to find better earpads than the ones Sony provides out of the box. In either case, there are some third-party replacement earpads on Amazon. The best we've found is this popular set from SOULWIT, which can be installed in a snap.
We didn't find any third-party WH-1000XM4 earcups, unfortunately. As a newer device, there isn't as much demand for replacements. You'll have to use Sony's own parts, assuming the damage isn't still covered by your warranty.
Keep in mind that using replacement earpads can have a significant impact on your listening experience. Variations in material and construction can change the way your headphones isolate sound and block out surrounding audio. That's especially the case for noise-canceling headphones that have very specifically tuned algorithms. That difference isn't always a bad thing, and you might find that earpads from a different manufacturer actually sound better to your ears.
Sony WH1000XM3 and WH1000XM4: How to replace the earpads
Once you've acquired your Sony WH-1000XM3 or WH-1000XM4 replacement earpads, it's time to take off your old defective parts and insert the new ones. Thankfully, the process shouldn't be too difficult if you follow the steps below:
With one hand, grasp one of the earpieces on the plastic behind the foam earpad.
Using the other hand, pull on the underside of the earpad along the plastic frame of the pad.
Working around the earpad frame, slowly lift up to release the plastic clips from the headphones.
Once the earpads have been fully removed, you can begin installing the replacement by lining up the earpad clips to the headphones.
After everything is lined up, gently press around the earpad to lock in the earpad's clips to the headphone.
Repeat the above steps for the other earcup.
Don't be afraid to cut your losses
If you don't mind spending the time and money to find your perfect earpads, then install them, there are several options to choose from, starting with getting them directly from Sony's warehouse. Still, don't throw good money after bad. If your Sony WH-1000XM3 headphones are getting on in years, no new earpads are going to make them brand-new in terms of sound production and firmware.
We were impressed during our Sony WH-1000XM4 review by its sound quality, battery life, and new features like wear detection and improved padding. It certainly won our Sony WH-1000XM4 vs. WH-1000XM3 showdown as well. It may be more expensive than just buying new earpads for your XM3, but should more than justify the cost in the long run.
If your new WH-1000XM4 is damaged, or the earpads are uncomfortable to you, then that's an entirely different problem. We rated it number one on our best wireless headphones ranking, but if it isn't working for you, we'd recommend returning or selling them instead, and investing in a new pair on that list that makes your ears happier.
DIY Repair
Sony WH-1000XM3 replacement earpad
Shipped straight from Sony
Sony has started selling replacement parts for all of its devices, letting you try to fix them yourselves. If you feel you're up to the challenge of taking off the defective earpads and installing the new ones yourself, these parts should make your WH-1000XM3 headphones feel brand new on your ears.
Fix the latest model
Sony WH-1000XM4 replacement earpad
Comes in black, blue, or silver
We sincerely hope nothing has gone wrong with your WH-1000XM4 headphones so soon after you purchased them. If you can't get them repaired through the warranty, Sony is selling these replacement parts for cheap. Sony differentiates between left and right earpads for the XM4, so make sure to buy one of each.
Third-party option
SOULWIT Replacement Earpads
Your best option for user-replaceable earpads
SOULWIT makes high-quality leather earpads for the WH1000XM3. Third-party earpads can change a headset's sound signature, especially on headphones with active noise canceling, but SOULWIT claims its earpads are fully optimized for the Sony noise-canceling headphones.
Silent bliss
ANC all day
Sony's WH-1000XM4 headphones offer excellent noise canceling, have a 30-hour battery life, can pair with two devices at once, will pause your music automatically when you take them off, and have wider ear cups than the WH-1000XM3. They're the best wireless headphones available today.
Sign up for Black Friday email alerts!
Get the hottest deals available in your inbox plus news, reviews, opinion, analysis and more from the Android Central team.
Hayato was a product reviewer and video editor for Android Central.