Arcus Motion Analyzer 'smart ring' announced with Kickstarter campaign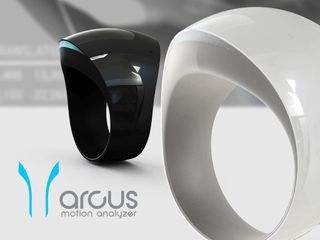 Arcus Motion, a Hungary-based company, has launched a Kickstarter fund raising campaign for the Arcus Motion Analyzer, a "smart ring" that it claims can be used as both an activity tracker as well as a motion gesture controller for several platforms.
The Arcus Motion Analyzer can be used to track the movements by athletes in a number of sports. The company states, "For example, while swimming, Arcus can gather several different metrics such as determining your stroke style, stroke efficiency, total distance and total effort."
In addition, the Bluetooth support inside the smart ring should allow for the device to control applications and products with gestures. The company says:
Users could buy more than one of these smart rings for use in other applications, such as PC gaming, controlling toy helicopter drones and more. The Arcus Motion Analyzer will come in a variety of colors, sizes and art designs and will also come with a wireless charger.
The company says it will release apps for the smart ring that will support Android 4.3 and higher, among other platforms. Arcus Motion is looking to raise $320,000 via Kickstarter to launch the device, with a minimal pledge of $149 needed to secure one of the first Arcus Motion Analyzers. Higher donations will be needed to obtain more limited edition versions with things like hand-painted designs and more. The first products are expected to start shipping in February 2015, assuming the goal is reached.
What do you think of this Arcus Motion Analyzer and, assuming its Kickstarter is successful, will it be a rival to the many upcoming smartwatches that are due for release later this year?
Get the Android Central Newsletter
Instant access to breaking news, the hottest reviews, great deals and helpful tips.
Any Continuum fans here? Kind of familiar?? H.A.L.O. predecessor. :)

So I guess the only way to get smaller are ocular and dermal implants. Oooo!!! Terminator read out!!

I'd like to see the new Android Wear smartwatches do something like this with their accelerometer. Posted via Android Central App

Wouldn't something on your rist be able to do the same thing without being so obtrusive. I don't know of any specific device I'm just saying they could have mad this product for the rist. It probably would be thinner and less bulky. Posted via Android Central App

If they put a big mood ring stone on the top, they'd hit the fundraising goal in no time...

Real big like a candy sucker ring size. Posted via Android Central App

Very interesting but to do anything actually cool you need more than one. that can get expensive

Green Lantern anyone?
Posted via Android Central App