An Android theming expert shares her favorite apps and utilities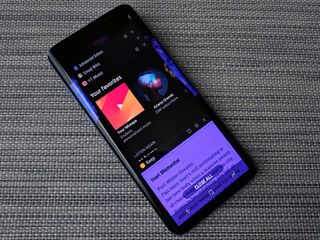 Few items have become as essentially to our everyday lives as our smartphones, but what makes our smartphones so vital isn't the hardware itself, it's the software it runs. The apps and the services our smartphones serve up to use turn these slabs of glass and metal into tools of productivity, procrastination, and mass communication. Everyone has a different set of apps that they put first in their phone and in their life, and these are mine. Some help me work. Some help me play. Some help me do nothing at all except kill time.
And they all have become apps I can't live without.
For energy & throwbacks
YouTube Music
I've included it in my bio for years: if you see me without headphones, run. Music amps me up, tears me down, calms me, hurts me, moves me, come what may. Having music that's easy to get going, doesn't need a lot of pulling playlists together, and won't throw off my groove with algorithmic misses is a wonderful thing, and it's a bit alarming how quickly I've grown to love YouTube Music's Your Mixtape.
Read more: YouTube Music, a mixtape full of promise
Don't get me wrong, I'm still very much a Google Play Music user, especially since a lot of the uploaded collection music that I've curated over the years isn't on YouTube Music (yet), but YouTube Music has already become my go-to music app for just about all on Wi-Fi listening. Yeah, offline mixtape gets me by when I'm running errands, but until YouTube Music gets Android Auto support, Play Music will still get my vote when I'm driving any real distance.
Download: YouTube Music (free, subscription)
For notes, outlines, and reminders
Google Keep
Google Keep is one of those apps that's still something of a hidden gem among the vast suite of Google apps. Keep is a totally free note-taking, checklist-keeping, inspiration-organizing app that's part Evernote, part Pinterest, and all awesome. Keep's checklists and do-tos are way better than Google Tasks. The technicolor notes are easier on the eyes for typing out article outlines and new character ideas at 3am than Google Drive. Google Keep's notes also allow recurring location- and time-based reminders, which is amazing for things like:
Effortlessly pulling up an over-lunch meeting itinerary when you reach the restaurant
Having your shopping list pop up as you walk into H-E-B after a double-shift
Checking your post-shift list every night before you leave
Gathering notes as you arrive at your weekly book club or D&D night
Reminders are especially important to me because I use Google Keep a lot, so reminders help important items avoid getting lost in a sea of article ideas and theme element links — oh, did I forget to mention that you can save images, voice memos and rich hyperlinks in Keep notes? Silly me. This is why I need Google Keep reminders!
For syncing article photos, timelines, and sharing work photos
Google Photos
Google Photos is a lifesaver. No more waiting for screenshots to send through Google Drive, no more hassling with cables every time I need to edit a photo, and everything is indexed and searchable. If I want to know when I took delivery of my car, I type in the car and look for the photos I took when I drove it home. I can also check my shots on my Chromebook as I'm in the middle of a photography session to make sure the images I'm taking with my phone are turning out the way I want them to.
Google Photos' keyboard shortcuts are fairly simple, but they've been an excellent help in keeping photos organized, getting things downloaded and archived quickly, and letting me get on with my life. And it's free, too!
Download: Google Photos (free, in-app purchases)
For a simple, consistent home screen
Smart Launcher 5
I'm always hopping launchers for theme building or trying out new beta features, but sometimes at the end of the day, it's nice to come home to a home screen where everything's just like you let it and everything works. I've been a Nova Launcher die-hard for years and year — and it's still the best theming and customization launcher on the market, especially once the new 6.0 features make their way out of beta — but somewhere between Icon Pack Studio, gridless widgets, and the categorized app drawer, I fell in love.
Smart Launcher 5 review: balancing customization and simplicity
Smart Launcher 5's layout borders on painfully basic for a themer like me, but when I'm not banging out a new theme, Smart Launcher's dock and widget page layout works just fine for me, especially after I hide a second app or folder behind each and every app on my dock. Then there's the categorical app drawer, which does by default what I've done manually on Nova for years: a tabbed app drawer organized by activity and/or type. All my theming and customization apps get a tab. Refreshing best keyboards? Throw them all in a new tab so I can keep them together as I review and re-evaluate them. It's easy, easy to theme, and it's nice to come home to at the end of a long day.
Download: Smart Launcher 5 (free, in-app purchases)
For passion projects and all the feels
Reddit
Reddit is somewhere I've lurked for a long time, but over the last year or so I've graduated from lurker to occasional contributor to semi-regular redditor, at least in a few niche subreddits. As I've delved deeper and deeper into YouTube Music, I've found myself answering more and more questions I encounter on /r/YoutubeMusic. Likewise, as I shift from relying on pre-built widget packs to building my own Kustom widget, I've drawn inspiration and given back to users seeking help in equal measure, and I've found fellow nerds to debate strategy, events, and future emoji in /r/DisneyEmojiBlitz. Other reddits I'm still strictly a lurker on, like /r/WritingPrompts.
While there are lots of great Reddit apps out there, I've found myself coming back to the official Reddit app recently, especially whenever I have replies and messages to the reply to. The only time I really find myself reaching for a third-party client is when I need to upload images in a reply quickly, especially on subbreddits that ban link shorteners (and thus Google Photos links).
For scratching my theming itches and even more reminders
KWGT
I am a themer, and KWGT is a linchpin for most if not all of the themes I build today, both for readers like you and just for me. Widgets on Android have always left something to be desired, but KWGT is like the Photoshop of widget-makers: if you can dream it, you can do it. Just as people can build brush packs and share PSD templates for Photoshop, Kustom users can build komponents, fonticon packs, and presets to enrich their own projects and to share with others.
This collaboration means that KWGT has a robust community built up around on it, so newcomers can come ask questions and get help when they stumble with early projects — I go ask questions myself about the limits of KWGT's widgets from time to time — and since Kustom presets can be packaged and sold in Google Play, newcomers can get their feet wet playing with pre-made widgets before they dive into building their own from scratch. In addition to being completely customizable, third-party music widgets work with multiple music apps, which is great when I'm switching back and forth between YouTube Music and Google Play Music.
Download: KWGT (free, in-app purchases)
For wallpapers, comics, and stress relief
DeviantArt
I'm a themer, and I'm a comic lover, and I'm an art lover. DeviantArt is the best place online to come look for art of all kinds, and whether I'm looking for a new wallpaper for a theme, a new comic series to fall in love with, or some truly magical artwork to get lost in, this is the app I turn to. While I've used DeviantArt for years, I didn't get an account until about two years ago, because while using it on desktop is fairly straightforward whether you have an account or not, the app is ten times easier to use once you log in, regardless of if you're ever going to comment or post art of your own.
Logging in and favoriting pieces will allow you DeviantArt to better tune search results to your tastes, and watching artists will give you a Watch feed full of new art every time you log in. At the very least, get logged in and get your filters set the way you want them — it's not called Deviant for nothing.
Download: DeviantArt (free, in-app purchases)
For a daily Disney fix in match-three magic
Disney Emoji Blitz
Everyone needs some stress relief and I get mine in adorable Disney packaging. Disney Emoji Blitz is a match-three game like Candy Crush or Bejeweled, with two simple twists: all the characters and items are Disney emoji or Disney-related, and everything you unlock in the game is accessible through the Disney Emoji Blitz keyboard. Now, the keyboard itself sucks, and like all custom emoji keyboard, the number of apps that can use them is still fairly small, but the game is fun enough to play on its own, especially now that they've taken to having one or two events per week for users new and old to replenish their power-ups and coins through while unlocking new emoji or powering up ones they already had.
I'm finishing most events within 48 hours of them starting — though finishing them within 24 is nice when it happens — and I unlocked Fairy Godmother at Level 200 last week. I've played this game for two years, and I don't see myself putting it down anytime soon.
Download: Disney Emoji Blitz (free, in-app purchases)
For home control, web searches, and even more reminders
Google Assistant
Google Assistant was once limited, in both devices and in features, but now the helpful AI is available just about everywhere, and I use it just about everywhere. I use Google Assistant in the car to control my music, pull up directions, and read/dictate replies to text messages. I use it in the kitchen to set timers, control my music, and listen to the latest BBC Minute. I use Google Assistant in the shower to hear how much time is left until my meeting, what the weather will be like today, and control my music. I use it at work to look up scores while I update baseball graphics, to make sure supers are spelled correctly, control my music, and fact-check seemingly infallible producers.
I use Google Assistant in bed to fall asleep to nature sounds, to wake up using the new time-trigger function in Google Assistant Rountines, and — you guessed it — control my music.
Google Assistant's music controls are what I've dreamed of for years
If there's any big trick to Google Assistant, it's the simple adage that the more you use Google Assistant, the better it gets. The voice match and speech recognition improve the more you use it; the Google Home in my bedroom even understands me with my nightguard in. Oh, and my other suggestion is to change the voice away from the standard "Red" voice; it helps Assistant feel more personal and comfortable to use. I'm using Green, but I mix things up with Pink or Blue every now and again.
Download: Google Assistant (free)
What apps power your life?
So, these are the methods to my madness, but everyone's Android experience is different — be different, not the same — so which apps are must-haves on your phone? Which services get your money, your data, and your devotion? Share with us in the comments; which apps do you use the most, and which apps would you like to see us cover more here on Android Central?
Get the Android Central Newsletter
Instant access to breaking news, the hottest reviews, great deals and helpful tips.
Ara Wagoner was a staff writer at Android Central. She themes phones and pokes YouTube Music with a stick. When she's not writing about cases, Chromebooks, or customization, she's wandering around Walt Disney World. If you see her without headphones, RUN. You can follow her on Twitter at @arawagco.