Google Keep vs. Google Tasks: Two productivity extremes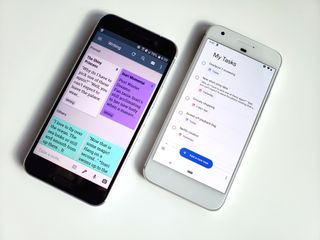 Google believes in giving its users choice, which may be part of why it has two email clients, four reminder systems, an ever-growing number of chat apps, and now two music subscription services. Google has two to-do services — Google Keep and the newly-revived Google Tasks — with two remarkably different feature sets and integrations. If you're wondering which one you should trust to keep you on task, the choice is pretty easy.
Google Tasks takes minimalism to the limit
Google Tasks was given a shiny new look as part of the recent Gmail redesign, but unfortunately wasn't give any new features apart from the publishing of a standalone app for Android and iOS. You can make tasks add descriptions, subtasks, and a due date, but you can't add a due time to a due date. You have to date every subtask in a task to the same date to have them stick together when sorted by date, and you can't give anything a priority.
You can make separate lists in Google Tasks, but you can't view tasks from all lists in one master list view. You can't archive tasks to get them out of the way; you can send them to the trash or you can keep them in the Completed section at the bottom of the list. Oh, and you can only access the Trash folder of Google Tasks by going to the original Google Tasks site, which has not received the shiny new look the Gmail panel and app are sporting, making it look very 2003.
Google Keep has everything but the kitchen sink
Google Keep, by comparison, looks the same on just about every platform it's available on, from its website to its mobile app (opens in new tab) to Wear OS to Google Docs, where you can summon a Google Keep toolbar on the right side of the Docs editor and even drag and drop Google Keep notes into your document. The only place Google Keep is a little different is in the newly redesigned Gmail, where Keep notes have more softly rounded corners, the same font as Gmail, and an extremely simplified creation/editing interface.
Where Google Tasks has very few options and features, Google Keep has just about everything but the kitchen sink. You can give your notes one of 12 colors, you can label your cards using hashtags, and you can have simple text notes, list notes, doodles, image notes, and even voice notes on the mobile app. You can add people to notes in Google Keep, such as adding your significant other to your grocery list or adding your classmates to an outline for your midterm project.
You can clone notes in Google Keep or copy them to Google Docs when you're close to the 19,999 character limit on an individual note — line breaks and list items count towards that limit, by the way. You can set a location-based reminder to a card or a time/date reminder to a card, and reminders can be recurring, so my end-of-shift checklist pops up as a reminder on my phone and my watch 15 minutes before I clock out every day.
You can archive cards that you've finished so they're out of the way, but still accessible and searchable if you need to dig them back up later. You can filter notes by color, date, note type, labels and of course using the search bar at the top of Google Keep. You can also pin important notes to the top of your Google Keep feed, where they will sit above all the other notes you take.
The winner is clear — for now
Google Tasks looks shiny and new with its new app and Gmail refresh, but it's just too bare bones compared to Google Keep. Google Keep may have a lot of bells and whistles, but it's also got more robust reminders to keep you on-task, and it allows you to do more than just jot down a goal. Google Keep is a fantastic brainstorming and planning tool; one that I use almost every day, be it for organizing my thoughts for an article, building my grocery list, or whatever else I need it to do.
At the same time, Google Tasks is just getting started, and it's likely Google will add features to it quickly, as it did for Keep when it debuted a few years ago.
In the meantime, let us know which you prefer — ultra-minimal or the kitchen sink?
Ara Wagoner was a staff writer at Android Central. She themes phones and pokes YouTube Music with a stick. When she's not writing about cases, Chromebooks, or customization, she's wandering around Walt Disney World. If you see her without headphones, RUN. You can follow her on Twitter at @arawagco.
I use Google Keep for so many reminders, and the number one thing I use it for is a Shopping List for the Grocery store. Just wish Google bring back the Shopping list to Google Keep. I miss being able to ask my G Home to add something to shopping list and it adding it. Yes I know it adds it to the Google Express Shopping list but that is so clunky and annoying to use, compared to Google Keep.

((coughcough))Allegedly if you threaten your Google Home it'll add it to Google Keep instead of Google Shopping((coughcough))

I use Google Keep almost everyday. I really like the ability to add people to the note and the ability to store images and voice. This is a GOOD and useful app that I use on all my devices including WearOS.

wish you could add photos to individual list items or as its own list item in keep.

That's a nice wish. Send feedback through the Google Keep app and maybe it'll come true.

Ultra-minimal for me. I want to be able to add a note with minimal taps. I don't like that when you check a task, it goes away (into completed). I'd like there be an option to keep completed tasks in place until I dismiss them (like how Tasks works in Gmail). Perhaps I should be using Keep for this functionality, but Keep takes one too many taps to add a note and doesn't integrate with Gmail. I'll probably continue to use the GTasks app until it no longer works.

Google Keep integrates with the new Gmail redesign. The Keep icon is right between Calendar and Tasks, and the UI for it on Gmail is drastically paired down, which sounds like something you wanted.

Google Keep all the way for me. I use it on Android and iOS, love the cross compatibility.

I'd love to use Google Keep for recurring tasks, but the reminder functionality is ridiculously awful. There are so many different actions, in Keep, Inbox, Tasks, Calendar, Android notifications, Google Feed, and Google Assistant, which seem to do different things depending on the timing of the reminder, and whether the reminder has fired yet or not. I tried several times and couldn't consistently figure out exactly what each thing does, and I just couldn't get to a point where I trusted that I could complete a task and get the recurrence to appear for next month. I've now got my recurring tasks as regular Calendar entries, and I consider the reminder email to be my "reminder", so I can delete or snooze the email as I need, and get exactly the results I need, and I'm guaranteed that the recurrence behaves properly.

I use a Google Keep checklist with a daily reminder. It always triggers on time. Whether or not I actually open and act on it is another matter.

Google Keep because it's very useful for more than just tasks and reminders; it runs outside Android and I can sketch or speak my notes as well as type them in.

Haha Ara, love your list of Bader's bad words 🤣

He won't let me write Texan..... (sniffles) But I shouldn't be using them in most articles. Except editorials. I wanna use gonna in an editorial if I'm writing about my personal habits/tastes.

At least with keep it's not white, with a little more white...with a sprinkling of white. Why does google hate dark mode?

They don't. Regular users think dark themes look old-fashioned and ugly and THEY'RE WRONG.

Well I use google keep every day. For work purposes, it keeps me organized when I'm traveling. I make list and send reports to the office. It's a great app

I had to remove Tasks since Keep already does the things I want it to do for me: note keeping, reminders, lists.

I've moved away from Keep. The app works fine - but the user interface is - so - dated, its hard to look at... I personally like the structure of a good Task list, child tasks etc. Some are designed for professional services, contractors, engineers etc. who manage multiple teams. I wish Google would rework Keep's interface - and I would probably go back. Keep does a lot of things very well. Don't change that. Keep already has the backend built - just re-work the front end - please - please...

Yes, me too. Wanted to stay but went back to Todoist.

Given the look Keep was sporting in the Gmail redesign, that might be on the horizon.

Tasks is nice if you want the positive reinforcement of completing bullet form tasks. Hacker tip: I use Google Keep to store all my passwords. Granted, it's protected by fingerprints and also in a Knox secure folder.... Good luck with that.... Except CSIS or the CIA... I know, you have access to all my stuff... But they must be forewarned! I'm harmless and boring... Unless you are an Android Central cliché writing hack that over uses empty, meaningless phrases like 'pure Android experience.' Nice review here... My complements.

Pure Android is a myth. Thank you, I try.

I use Keep but, as the article says, it's way too early into Tasks' development for it to seriously compete –and don't get me started on why Google keeps doing this to themselves.

I use Asana! Task sharing, projects, images, subtasks, reminders and a nice widget.

I prefer Google stick to ONE app in each field!

I like, and use, both apps every day. Keep is like post it notes for me (as opposed to Evernote which I use for more intensive note taking). Keep is also great for making lists, where the items can be easily moved up and down in the list. Tasks has been my favorite ToDo list for years. Yeah, I know there wasn't a standalone app, but a few companies had good interfaces to it. The thing I absolutely need in a task manager is the ability to manually move things up and down in the list. That's more important to me than setting priorities. If I've got a bunch of things I have to get done, I want to be able to order them in any way I choose. So, happy to have both of them.

I find Keep much more useful. I also use Reminders, because it works on Calendar and Inbox

I use Google Keep for notes, lists, bits and pieces of information that I want to keep and have accessible from all my devices. But, I use Life Reminders for my daily reminders. I have used this app for years and would be lost without it.

I would use Tasks if they had a calendar view option to show the tasks on a monthly calendar. The list view isn't useful.

A Tasks feature you didn't mention: from the menu of an email choose "Add to Tasks". A Task referring to the email will be created. Personally I don't mind that there's no option to add a time to a Reminder. To me that's an Event. However it's too bad that a Task with a date doesn't show up under Reminders in Inbox or anywhere else AFAICT.

jus wanted to add, if you have a Windows PC, Microsoft's To-Do is better and cross platform using MS acct.

I'll be keeping and using keep.
Android Central Newsletter
Thank you for signing up to Android Central. You will receive a verification email shortly.
There was a problem. Please refresh the page and try again.