Google Tasks: Everything you need to know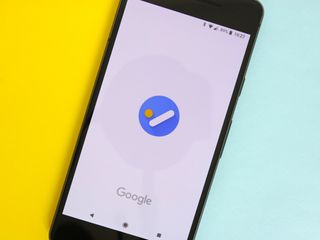 Over the years, Google's allowed you to create basic to-do lists through its Tasks platform from a variety of different apps – including Google Calendar, Keep, etc. The system technically worked, but up until now, there's been no single app that's allowed you to view your reminders/tasks in one single area.
Thankfully, alongside the launch of the new Gmail redesign, that's finally changing.
In addition to the new Tasks section found on Gmail's desktop site, Google's also released a dedicated mobile app for Android and iOS. It's pretty barebones in its current form, but for folks that want to give it a shot, here's what you should know.
The UI looks very Googely
As you'd probably expect, the user interface for Tasks is about as Google-like as they come. There's a lot of white space, Google's Product Sans font is in full effect, and there are plenty of rounded corners.
The overall design is a bit different compared to some of the company's older apps, but it could be yet another glimpse into the rumored Material Design 2 scheme that we'll see with Android P (and how about that bottom navigation bar? 👀)
It's not the best-looking app I've ever used, but it's clean, functional, and keeps your tasks front and center.
You can make tasks as simple (or detailed) as you'd like
To create a new task, all you need to do is tap the large "Add a new task" button near the bottom of your screen. You'll then get a pop-up with your keyboard to type in whatever you need to get done, and tapping the Save button will add it to your list.
If you want to add a bit more detail to your task, touching it in your list will show options for adding a description, due date, and any subtasks you want to go along with it.
There's currently no way to add priority levels to tasks you create, and while this isn't too big of an issue for basic lists, it could prove to be an annoyance if you've got a lot going on at once. Should Google decide to add this later on, we'll be sure to let you know.
Tasks can be sorted manually or by date
By default, your tasks are listed in the order they're created. If you want to move them around as you wish, you can hold down on a task and move it above or below any other ones you've created.
Alternatively, tapping the three dots near the bottom right will bring up an option to sort your tasks by the date they're due.
Google Tasks ties in beautifully with the new Gmail
Once you've got access to the revamped Gmail experience, you'll also have easy access to your Tasks from your desktop.
By clicking on the Tasks icon in Gmail's new right-side panel, you can either manually type in new tasks or drag and paste emails to your list. If you do the latter of these two things, you'll be able to quickly jump to the email the task was created from via the mobile app.
There are a few missing features
As positive as my early impressions are of Google Tasks' new app, there's still a lot that needs to be added. Some of the missing things I noticed include:
Adding a time of day to due dates
Recurring tasks
Priority levels
Snooze tasks
Integration with Google Assistant
Location-based reminders
Etc., etc.
It's still worth checking out
Despite its shortcomings, Google Tasks is still worth checking out. I imagine Google will be adding a lot more to Tasks over the coming weeks, and for anyone that's been waiting for a proper to-do list app from the company, this is a decent start.
Joe Maring was a Senior Editor for Android Central between 2017 and 2021. You can reach him on Twitter at @JoeMaring1.
Interesting. I wonder though if Google should've combine Tasks with Keep, because I feel there's a bit of overlap between those two apps. What do you all think?

I really don't understand google with all these redundant apps. This looks a little more feature rich than keep, but why not just update keep?? So strange.

I agree with you. I use Keep for to-do's and it seems more versatile than Tasks.

Or integrate Keep's functionality into Tasks... 'Keep' always seemed dated and lack luster - I didn't like the layout (cards) - it didn't work for me. So I installed various Task Managers (like Tasks: Astrid ToDo List...) That had functionality that I could use. I still don't have 'Keep' installed...

I like the Google look. I agree with the comments about Keep as it allows for much more. However, if Google is to maintain the two, I hope just a few more features are added to Tasks.
I need to rearrange the order of tasks by dragging and dropping.
The ability to set reminders for what time tasks need to be completed would be nice.
The ability for GA to mark tasks complete through voice command. For example, if I'm near a home device or out and about on my phone, I could say "Hey Google, I just went grocery shopping." And it will mark that task complete. If they're going to get fancy with it, and integrate it with location services then a notification could pop up and ask, "Did you just finish grocery shopping?"

No recurring tasks is a killer. Can't take a to-do or task app seriously that lacks that.

Yep. My needs for a task app are pretty minimal, but recurring tasks is absolutely necessary. I like the look and feel of this app, and I like how it ties in nicely with Gmail, but holy crap, I have no use for a task manager whose entire feature set is "enter something once, mark it as done once."

Maybe Google will create an entirely new app called "Repeat" just for repeating tasks. :)

hmm. simple and clean on iOS. will try the android version. looks clean and functional. like it

Same on android. syncs across devices via google acct. I disagree on the merging with Keep. always hated keep. it's ugly and just not a good. the post it note look and colors are terrible.
This is a new app that will get features and like Allo will be integrated Later. I like it. I will continue to use it. others can continue to hate, as usual

I use Google Calendar reminders for timed and reoccurring nudges and Google Keep for more complex lists. It would be nice to combine this all in Google tasks but with such basic functions missing it's not there for me yet. I see David Pierce of Wired tweeted earlier that at some point, Google says it'll combine Tasks and Reminders, I'll wait until that happens I think.

Agreed. Reminders, especially tied in with Google Assistant work quite well. I would love to see Reminders, Keep and Task app combined somehow or well well together.

Is GT fully integrated with Google Home?

No. It doesn't even list the task on your Google Calendar.

Add NO WIDGETS to the list of missing features...that is kind of big for me.

Tasks will be useful once those missing feature mentioned in this article get implemented. I find it lacking and rather use Google Calander to give me my tasks.

Thanks for the great article. It's definitely worth checking out, but in the meantime my loyalty is still with GQueues. They seem to have figured out how to create a useful task manager that integrates with Google.

Why not integrate it with google keep? That way its a single app for keeping notes and to-do lists. Keep already has the reminders in them..so it was a small modification to it's theme instead of another app. Few months down the line Google will kill one of these

Their graphic designer needs a human anatomy lesson . . The person on the opening page looks like a 400 lb human with an infant-sized head and feet . . What's up with that?

Well, that's bare-bones alright, and as usual Google seems determined to burn people's retinas out with white on white, with an extra helping of white. Seriously, what is their problem with a dark mode. Either way, this is even more basic and feature lacking than Microsoft's ToDo, which is still a pale imitation of Wunderlist. In a year or so this might be something, but not much use as of now.

Really need for this to Integrate with assistant. That's when it'll be useful for me.

NO WIDGETS! Can they do anything right?

Will stick with Wunderlist...

Microsoft To-Do is there in android since last 1 year. Give it a try. It is fully functional & has options which are missed in google tasks

So Google is starting Keep over. 5 months from now, Google Keep will be discontinued, and they'll say they're focusing on Tasks (which will still be missing a few functions that Keep already does). Wonderful!

The reason I left Google Tasks previously is that you cannot share a list with someone else. Seems this is still the case, shame. I don't really need anything fancy, just want to share the shopping list, wish list, etc. with my wife... Currently on Wunderlist.

If you want Google integrations and sharing, you might want to check out GQueues: https://www.gqueues.com

Absolutely! Also need to be able to share separate lists with different people. Eg groceries with my wife, office tasks with co workers. Have used Wunderlist and Asana for this and both are great. However would love to have this integrated as part of my g suite domain

I use the new Tasks on my phone and desktop, but man is it slow when sorting a long list. Did Google use a Boy Scout for coding?

Google Tasks has a good start but requires major enhancements to become really useful.

My quick review after actually using it for a week: https://medium.com/@csl.supernova/how-good-or-bad-is-google-tasks-326a35...

Dumb idea when you halready have Google keep
Android Central Newsletter
Get the best of Android Central in in your inbox, every day!
Thank you for signing up to Android Central. You will receive a verification email shortly.
There was a problem. Please refresh the page and try again.