Another Nexus 7 leak shows wireless charging feature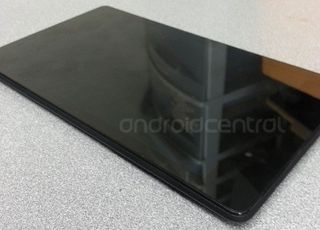 The new Nexus 7 leaks are shifting from a light drizzle to a full downpour. The folks at Engadget got their hands on a photo of a product info tag, confirming much of what we already know. The following specifications all seems to agree with our previous exclusive leak:
1.5 GHz quad-core processor
7" screen size
1.2MP front-facing and 5MP rear-facing cameras
Android 4.3 operating system
The new information comes from the 'Key Features' side of the info tag, which lists:
Slim port supports 1080p output for playing HD content
Charges wirelessly
It is also being reported that the new Nexus 7 will go on sale at Staples on July 31st, with units arriving in-store as early as July 24th. That date sounds familiar, doesn't it?
Source: Engadget
Wireless charging on a tablet would be pretty handy. Can't wait until this is released. Posted from my Samsung Galaxy tab with Android 4.2.2

Is it qi? Or something else like powermat or ??????

I would guess Qi, since that's what the N4 uses. It would seem weird to have two different wireless charging standards on Nexus devices released within a year of each other.

Isn't wireless charging a lot slower process?

Yes and no. Depends on what amperage your wired charger puts out. My N4 charges close to the same speed on the Qi charger than a normal 1000 mA charger, plus it's waaay more convenient. Posted via Android Central App

Time to buy a new tablet!

Same here. I have been really considering the Galaxy tab 3 8.0, but if the Nexus 7 can maintain a lower price, it is clearly the winner due to the better internal specs. I have not gotten a Nexus 7 due to lack of camera, but that looks like that will not be a problem on the new N7. Posted from my Samsung Galaxy tab with Android 4.2.2

Maybe I missed it previously but what will the screen resolution be on this?

nothing confirmed but rumors suggest WUXGA (1920x1200)

Any chance for a N10 refresh? Feel like we would have heard something by now.

i'd like to think so too, but they'll probably do a refresh in the fall along with a new nexus phone like they did last year. my nexus 10 has been pretty slow compared to my nexus 4. probably gonna sell it and pick this guy up.

Hate to say it but there is something wrong with your nexus 10 if it seems slow compared to the nexus 4.

maybe "slow" was a bit of an overstatement....haha. I meant not as fluid. Which is expected since its pushing out 4x the pixels. im nitpicky like that.

This is a definite release day purchase for me. I already have a wireless charger for my DROID DNA, so that'll be perfect. Can't wait! Posted via Android Central App

I'd like to see a specs comparison between the original Nexus 7 and the new one. I've had the original from day 1 and if the new one is significantly improved, I'd consider getting it.

All it has to do is fix the lag issues that plague 90% of nexus 7 owners and it's a good deal. The last update google pushed out made the nexus7 almost unusable unless you use an fstrim app. Posted via Android Central App

Nexus 7 / Nexus 7 dos Laggy Tegra 3 / Snappydragon S4 Pro
1GB RAM / 2GB RAM
1280x800 / 1920x1200
No rear camera / 5MP

I love my OG Nexus 7 Wif+3G. Can't wait for the new version myself.

Why do I have a feeling the resolution will stay the same with with much improved colours and contrast. Posted via Android Central App

Other than a change in resolution I am not sure why anyone would upgrade to this over the current N7. You wouldn't notice a performance difference.

A lot of people (Not me mind you) want video out. Some might want the camera. I want more storage than the 16GB in my current one, so I might as well wait for the newest shiny out there.

Have you used a Nexus 7 alongside the Nexus 4? The current N7 is a turd at times. The performance will be greatly increases with a Snapdragon SoC. Posted via Android Central App

Keep in mind that your Nexus 4 is 720P resolution and not 1080P like the new N7. Your Nexus 4 will still be faster. Just an FYI...

Thinking I will pick one of these up!

What's a slim port? Is it a proprietary type format that's a pain in the ass to useand needs hard to find adapters or is it easy plug and play like hdmi?

http://www.slashgear.com/slimport-hdmi-adapter-review-06272852/ Here is a link to a Slim Port Adapter for the Nexus 4

Wonder if the new Nexus 7 will support video out.
A micro HDMI port, or MHL capabilities would be a great addition.
Will be picking one up regardless. Been without a tablet for far too long now.

Looks like the links on this post got screwed up. All of them link the "Exclusive Nexus 7 pictures" post. Including the Source link.

Looking great for me Posted via Android Central App on my Galaxy Note 2.

Why does it look twice as Fat as my iPad Mini?
And.. Why hasn't the specs on resolution been leaked?
I agree with what another commenter said.. same res.. And me thinks, maybe a dash more contrast.

Current Nexus 7: Screen 1280x800 HD display (216 ppi)
New Nexus 7 (leaked specs from 1-6 wks ago) 1920 x 1200 plus 2 cameras and maybe 4GB RAM!

4GB of RAM would blow my mind. I'm not sure what we would use all that for. Stranger things have happened, though... Posted via Android Central App

Why does your iPad mini have such a low resolution and 4x less RAM but cost $100 more?

Will the people who order directly from Google get them a week or two after they go on sale in stores? :D :D

4gb RAM? Lol. Keep dreaming. I wish it'd have the Snapdragon 800 instead of the 600,but if this gets 2gb of ram and smallest config is the 32gb of storage for $250, this would be the tablet to beat. I'd rather have an IR port than wireless charging so this could double as a remote, phones are taking off with that feature now. Wireless charging is a joke. I'd prefer standard micro usb for cross compatibility any day. Posted via Android Central App

Wut... Posted via Android Central App

This. Posted via Android Central App

Will be picking this up,my first Android tablet Posted via Android Central App

Staples can take my $$. Ill be there at opening. I cant wait to get rid of this laggy nexus 7. The new model should be 10x better.

If performance is at least as good as the Nexus 4, it will be. :) I still use my Nexus 7 occasionally but every time I do I just wish it was as fast and smooth as my phone.

Please tell me this has SD expansion!?

Nope. You'll never see SD slots in a Nexus device.

Don't wait for this if you're looking for an SD slot. There will certainly be a 32 GB model though, which may be enough for you. Posted via Android Central App

I had a Nexus 7/32GB for about 3 weeks and went back to the iPad Mini...I couldn't take the lag any longer. I hope they did a better job on this one. We shall see. Posted via Android Central App

Oh boy, oh boy, would i love to charge my baby Nexus tablet on my Nexus (4) Qi charger! I can dream, can't I? I'll be grumpy if the new N7 model doesn't work with my dock, though.... Splattered for your amusement... via the AC App

Finally another tablet with wireless charging, might be time to retire the HP Touchpad! Posted via Android Central App
Android Central Newsletter
Thank you for signing up to Android Central. You will receive a verification email shortly.
There was a problem. Please refresh the page and try again.